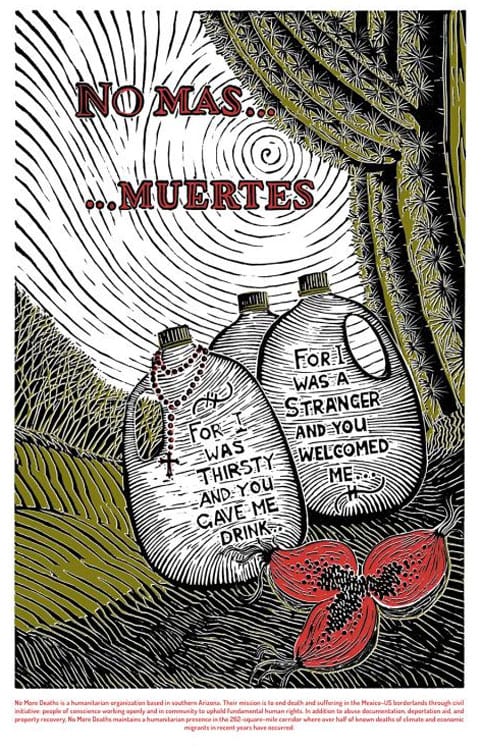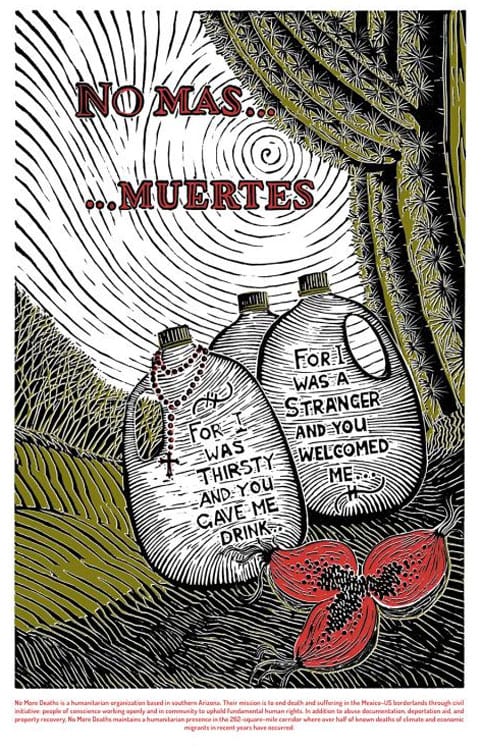 Fernando Martí
12″x18″, screenprint.
Image by Fernando Marti in collaboration with No More Deaths.
Fernando Martí, originally from Guayaquil, Ecuador, grew up crossing borders all his life. Now a San Francisco-based printmaker, architect, and writer, he brings his formal training in architecture and urbanism, as well as his engagement with urban politics, to his prints, constructions, and public projects.
No More Deaths is a humanitarian organization based in southern Arizona. Their mission is to end death and suffering in the Mexico–US borderlands through civil initiative: people of conscience working openly and in community to uphold fundamental human rights.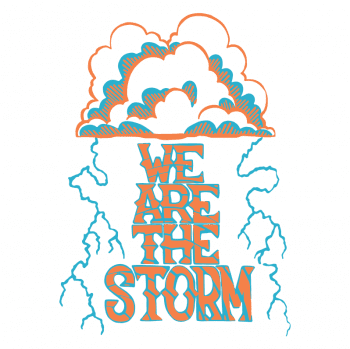 CultureStrike, in collaboration with Justseeds Artists' Cooperative, has forged partnerships between artists and frontline environmental justice organizations to create a provocative, limited-edition art print portfolio, called We are the Storm, that highlights the urgency of climate change on these communities.
The portfolio draws inspiration from the powerful work of grassroots groups that are championing creative and community-based solutions to combat climate change. The artworks bring voices from frontline communities that are being the most impacted by climate change and destructive environmental practices, to the forefront of the climate change discussion.
Portfolio contains 23 12″x18″ digital and screenprints from the following artists:
Agana/Southwest Worker's Union (SWU)
Micah Bazant/Indigenous Environmental Network (IEN)
Kevin Caplicki/Marcellus Shale Earth First!
Thea Gahr/Everglades Earth First! (EEF!)
Thomas Greyeyes/The San Carlos Apache
Nicolas Lampert/The Michigan Coalition Against Tar Sands (MICATS)
Fernando Marti/No More Deaths
Colin Matthes/Missourians Organizing for Reform and Empowerment (MORE)
Mazatl/Reclaim Turtle Island (RTI)
Nicolas Medina/People Organizing to Demand Environmental Justice
Roger Peet/Portland and Wild Idaho Rising Tide
Gilda Posada/California Environmental Justice Alliance (CEJA)
Jesse Purcell/The Unis'tot'en (C'ihlts'ehkyu/Big Frog Clan)
Pete Railand/Occupy Sandy
Favianna Rodriguez/Movement Generation (MG)
Julio Salgado/Texas Environmental Justice Advisory Services (TEJAS)
Meredith Stern/Bridge the Gulf
David Tim/ClimateTruth.org
Rommy Torrico/Kentuckians for the Commonwealth (KFTC)
Mary Tremonte, -Tar Sands Blockade
Erin Yoshi/Asian Pacific Environmental Network (APEN)
Bec Young/Radical Action for Mountain People's Survival (RAMPS)
https://queerculturalcenter.org/wp-content/uploads/2019/04/FernandoMarti.jpg
750
481
C Q
https://queerculturalcenter.org/wp-content/uploads/2019/11/QCC-Logo-Updated.png
C Q
2019-04-22 21:36:12
2019-04-24 22:51:18
Fernando Marti