History Panel: Ruth and the Wild Iris, Kent and "Her Belligerently Masculine Attitude."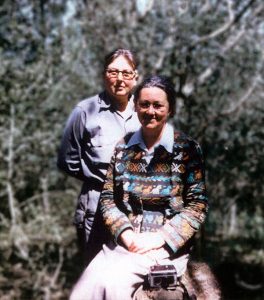 History Panel: Ruth and the Wild Iris, Kent and "Her Belligerently Masculine Attitude."
Sunday May 18th, 5-7pm
GLBT History Museum
San Francisco
Special guest Dr. Karen Charman from Melbourne, Australia joins Jacquelyn Marie, author of "Wife of a Lesbian" and GLBT Historical Society artist E.G. Crichton for an evening of story-telling. Together, they will call forth the lives of Ruth Reid and Kent Hyde through impressions left in both memory and archive. Jacquelyn met Ruth in a 1970's writing group led by feminist author Susan Griffin; both Ruth and Jacquelyn wrote for the journal "The Wild Iris". E.G. and Karen, inspired by the 450-page memoir Ruth wrote (now part of the GLBT Historical Society collections) carried the couple to Evora, Portugal in the form of a visual dialogue presented at a conference called Landscape of the Self.
Who else knew Ruth and Kent? Where is the ring Kent gave Ruth, inscribed "K to R, March 28 1939- forever"? How do we interpret their relationship across generations, across gender definitions, and across feminisms? Come join us in breathing new life into this special archive story.
Admission: $5.00 (general); $3.00 (California students with ID); free for GLBT Historical Society members.
Dr. Karen Charman, a lecturer at Deakin University in Melbourne, Australia, works on issues related to memory, representation and community. She has developed an approach to civic cultural engagement called a Memory Space in which she works with a specific community in partnership with organizations such as the Sunshine Historical Society. Her Memory Spaces have resulted in several exhibitions, including Industrious Sunshine. Views from a Signal Box and Cartographies of Memory.
Jacquelyn Marie is a retired women's studies librarian from UC Santa Cruz. She was a friend of Ruth Reid, and wrote Wife of a Lesbian based on Ruth's unpublished memoir.
E.G. Crichton is an interdisciplinary artist and professor of art at the University of California, Santa Cruz who has been creating participatory projects with the GLBT Historical Society since 2008.
https://queerculturalcenter.org/wp-content/uploads/2014/05/10262027_10151997558441176_2358538442447431191_n.jpg
816
720
C Q
https://queerculturalcenter.org/wp-content/uploads/2019/11/QCC-Logo-Updated.png
C Q
2014-05-12 17:24:49
2017-11-10 20:21:02
History Panel: Ruth and the Wild Iris, Kent and "Her Belligerently Masculine Attitude."