ABOUT NATIONAL QUEER ARTS FESTIVAL
Our signature program is the National Queer Arts Festival (NQAF), an annual multidisciplinary Festival held May through July throughout the San Francisco Bay Area. Each year we commission over twenty performances, visual arts exhibitions, and interdisciplinary showcases and in the process, we support hundreds of artists and production crews.
Since 1998, NQAF has presented more than 800 different events that have featured more than 2,300 LGBTQ+ artists including Bill T. Jones, Alice Walker, Robert Rauschenberg, Meredith Monk, Adrienne Rich, Marga Gomez, Justin Chin, Thom Gunn, Cherrie Moraga and Dorothy Allison. Many artists find their start at the festival. NQAF is the largest queer arts festival in North America.
This year's 25th Anniversary National Queer Arts Festival will take place June 9, 2022 through June 23, 2022 and will be a hybrid festival, in-person around the Bay Area and virtual worldwide. The 2022 NQAF theme "Our Destiny" honors the work of artists in the present and all the abundant possibilities for our community in the future. The National Queer Arts Festival centers Queer, Trans, Gender Nonconforming, Intersex, Two-spirit, Black, Indigenous, People of Color (QTI2SBIPOC artists) and honors their work.
COVID-19 PROTOCOLS AND ACCESSIBILITY
To honor community care and wellness, this year is our very first hybrid festival with in-person and virtual gatherings. Our aim is to produce a festival where each of you can participate in a manner that feels safe and good to you. Our in-person events range from small workshops to large concerts. At all our events, proof of vaccination and masking is required. In addition, we have masks and hand-sanitizer on-hand and are providing testing for our artists and team.
Request ASL interpretation for in-person events a week before the event. Please send request to [email protected]
To help Queer Cultural Center (QCC) get a better idea of who is in our audience and the impact of our shows, after attending an event we would be grateful if you could please answer a few questions about the event you attended and yourself: Audience Survey
If you would like to share additional comments about the Festival or an event you attended, please do so by emailing [email protected]!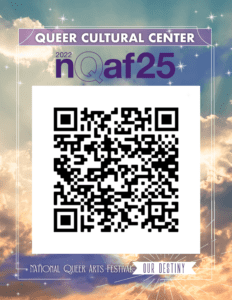 Thank you to Queer Cultural Center Funders:
Bill Graham Memorial Foundation
California Humanities
California Arts Council
Fleishhacker Foundation
Horizons Foundation
Minnesota Street Project Foundation
National Endowment for the Arts
National Endowment for the Humanities (NEH)
San Francisco Arts Commission
San Francisco Arts Reopening Fund
San Francisco Grants for the Arts
Sankofa Fund for Cultural Preservation
Tegan and Sara Foundation
Trans Justice Funding Project
Walter & Elise Haas Foundation
WESTAF
Zellerbach Family Foundation
William and Flora Hewlett Foundation
Yerba Buena Center for the Arts