Nazbah Tom @ Bead by Bead: Native Writers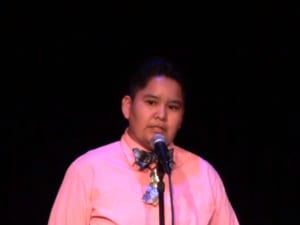 Nazbah Tom is Dine, born and raised on her ancestral homelands in Northeastern Arizona. She is published in Turtle Island to Abya Yala: A Love Anthology of Art and Poetry by Native American and Latina Women and in an online journal archive curated by Kim Shuck, Rabbit and Rose. Her first CD of poetry, Language Nest, is out and available by request at [email protected] Nazbah is currently working on a biospiritual allegorical play called Sacred Script that explores and deconstructs "dilbaa" the masculine presenting women of the Dine as well Sheep Chronicles, poetry woven into folded paper, watercolor, and wool. She performs all over the Bay Area and does her best to capture poems haunting her at all hours of the day.
Bead by Bead: Native American Writers
African American Art and Culture Complex, San Francisco
National Queer Arts Festival 2014
Bead by Bead: Contemporary Native Writing, is a literary salon featuring Two-Spirit authors making critical contributions to the fields of poetry, fiction and creative
non-fiction. Join Jewelle Gomez, Kim Shuck, Indira Allegra, Greg Sarris, Qwo-Li Driskill, Nazbah Tom and Moon Flower as they offer up narratives that attest to the brilliant, ongoing vision of Two-Spirit people today. These authors labor over their texts bead by bead, writing stories that can be sewn together to create complex legacies of love and survival for the future to inherit.
https://queerculturalcenter.org/wp-content/uploads/2014/08/N_tom.jpg
480
640
C Q
https://queerculturalcenter.org/wp-content/uploads/2019/11/QCC-Logo-Updated.png
C Q
2014-08-29 00:40:23
2017-11-10 20:21:00
Nazbah Tom @ Bead by Bead: Native Writers