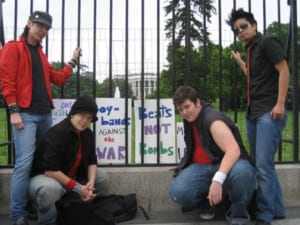 June 18, 2017
Kentucky Fried Woman & Starr69 Present
Rally! Queer Explorations of Resistance and Resilience
SOMArts, Doors 7 pm; Show 7:30
wheelchair accessible
$15-$20 sliding NOTA
Tickets: https://www.eventbrite.com/e/rally-tickets-33984673072
Discipline: Performance Art, Dance
In these times, we need community and art more than ever to fuel our resistance and power queer resilience. Join us for an evening of performance and collective liberation hosted by Kentucky Fried Women and Starr 69. This evening of dance, drag, multimedia and literary art features performers from the Bay Area and beyond including The Brush Arbor Gurlz, Billy "the Poof" Elliot, Charleston Chu, Elena Rose, Brock Cocker, Tyrone Peaches, Ricky T. Smiles, Lance Armstar, Lotta Hollandaise, Natalia Vigil, Open Mike, Savory Sweet, Sugarbush Lane, the One-Night Only reunion of the Transformers and many more.
Rally! is brought to you by the folks behind Rally the Troupes, Flabulous!, Hogwarts Express: The Musical, and White Lies – featured in NQAF 2005-2013.
Biographies
The Brush Arbor Gurlz, or the BAGz is composed of Native American drag queens representing several tribal nations such as the Chickasaw, Cherokee, Choctaw, Navajo, Ojibwa, and Tohono O'odam Nations and even sports one non-Native. These drag queens are out and about in the San Francisco Bay Area and larger Native Two-Spirit communities. The group's name is based on the building of brush arbors by Southeastern tribes for social and religious occasions. Founded in 2004 by Landa Lakes (Chickasaw), the BAGz has continued to contribute to the Native LGBTQ scene from politics to comedy. Current members include Kenya Pfister (Cherokee) Samantha Richards (Diné) Uphoria (Squamish), Cis-Sy Fitt (Choctaw), Miss Shugna (Kowlitz), Miso Hornay and Arbor matriarch Landa Lakes (Chickasaw). 


More Biographies
| | |
| --- | --- |
| | Charleston Chu is a fussy Chinese American genderqueer, femme drag king/queen, and everything in between, dancer, and musician who has performed with The Bromantics, Mangos With Chili, ButchTap, The Transformers, The Fly Guys, and Freeplay Dance Crew. On stage, Charleston strives to bring together progressive yet playful political consciousness, a celebration of genderfucking, dance, and a love for all things sparkly and fabulous. Charleston has been involved in production and performance in queer arts events in the SF Bay Area and New York City since 2004. |
| Sweet-talking trans mestiza monster queen Elena Rose rode stories out of rural Oregon and hasn't stopped burning since. An internationally-recognized preacher, poet, and educator, she has performed with the Fresh Meat Festival, Writers Resist, Mangos With Chili, Queer Rebels, Brouhaha, the Speak! Radical Women of Color Media Collective, and Girl Talk: A Trans and Cis Women's Dialogue, which she co-curated. With Nia Levy King, she co-edited the book Queer and Trans Artists of Color, Volume 2, and has been published in magazines including Aorta and Make/shift. Rose lives and works here in the Bay, and you can find her on Twitter at @burnlittlelight. | |
| |  House of Lordes is a performance collective with members Tyrone Peaches, Brock Cocker, and Ricky T. Smiles. Mr. Peaches is a down home boy with a lot of sugar in his tank. He was a founding member of the All-Black drag king troupe, Nappy Grooves. Performing for over a decade, Mr. Cocker appreciates all kinds of people especially those with a little jiggle in the middle. He's 300lbs of bountiful butch queen love.Mr. Smiles has danced his heart out with the always effervescent tap group, ButchTap. and has collaborated with various Bay Area queer performers. He likes pie and smooth jazz music. Mr. Smiles is honored to perform alongside Brock Cocker and Tyrone Peaches! |
| Kentucky Fried Woman spent the first 24 years of her life in the Bluegrass State before heading to the west Coast in 1999.  Happiest when frying chicken, making grits, sharing recipes, and gossiping in the kitchen, KFW is a Dancer, Singer, Writer, Speaker, Event Producer, and Wildcat who has been seen on the stage as a soloist, in collaboration with other queer performing artists, and in troupes such as the Queen Bees, CHUBB and ButchTap. KFW has appeared in many NQAF events over the years, including Rally the Troupes, Flabulous, Hogwarts Express: The Musical, White Lies, Breaking Code, and Y'all Come Back. She feels immense gratitude to those that paved the way for a Southern-bred, white, kinky, fat, queer, tap-dancing, femme to practice her art in the spirit of visibility, connection, tender vulnerability, resilience, and joy. | |
|   |  Lotta Hollandaise is ready to share her sauce with the world again after a lengthy hiatus which involved tending a small herd of fainting goats, roaming the hills perfecting her yodel and eating cheese. Lotta can't wait to emulsify your heart and mind with her bump and grind. and cramp roll turns. |
|  Natalia M. Vigil is a queer Chicana writer, multi-media curator, and big sister born and raised in San Francisco. Her multi genre writing arises from the voices and stories of the people  around  her. Her work has appeared in numerous publications and shows around the Bay Area.  She is a proud 2016 Lambda Literary Fellow, VONA alumni, and co-founder of Still Here San Francisco a performance and community dialogue project amplifying the experiences of queer and trans people raised in S.F. |   |
|   | Open Mike loves those moments when we create connections across the things that cultures of dominance have tried to convince are separations. Open Mike is happy to be here with you. |
| Savory Sweet brings playful moves and smiles to the stage that will make your mouth water! Excited to return after several years, she had a fertile beginning with the Queen Bees in Seattle 15 years ago. |   |
| | Starr 69 (aka Corky St. Flair) has brought laughter and sparkle to Bay Area stages since 2001. A former member of such troupes as Burlesque-Esque, the Transformers, and Titland, she appreciates the healing power of jazz hands in the moments and movements of our time. Two of her proudest past NQAF creations include Hogwarts Express: The Musical and White Lies. |
|  Sugarbush Lane has been dancing all the way up and down the road to your glitter-encrusted heart since 2008, when she made her stage debut at The Kentucky Fried Woman Show. This sweet, sassy, savvy femme has been lucky enough to share the stage with some of the Bay Area's most babely performers, shook it an awful lot at the KFW Show, and graced the FemmeCon stage several times. She's excited to return to the Rally! stage to bring you some of what your sweet tooth's been craving! |   |
|   |  The Transformers are a crew of boy banders unites by their shared loves of dance, rip away pants, pop  music and political action. Founders of Rally the Troupes and Boy Bands Against the War, but now scattered across the continent, this group of heartthrobs is reuniting for one night only in honor of the 20tj anniversary of NQAF. |
| Misia Denéa is a licensed Body Positive Facilitator. She owns Hatha Holistic Integrative Wellness (www.hathaholisitc.com) She has a B.F.A in Dance (Temple University College of Music and Dance) and trained at The Institute for Integrative Nutrition, the Raw Food Institute, East Bay Meditation Center's  Practice in Transformative Action and Urban Permaculture Institute. Her writing can be found in "People of Color Mental Health Narratives". "Psycho-Spiritual Experience Of African-American Buddhist Lesbians" and  FULL MOON & FULL FIGURED. She's a member of  the Association for Size Diversity & Health and leads yoga trainings, dance workshops, and speaks at Universities & Colleges. She taught at NOLOSE and appeared in the  Wear Your Voice  body positive campaign #BeyondBeauty. Misia  appeared in Topsy Turvy Queer Circus, Sheena Johnson's REBEL/home, the  Queer Shimmy Ensemble, Big Moves Bay Area, and has a short film "BI/BLACK/ BODY POSITIVE/BLISS that will be featured in the 2017 Queer Women of Color Film Festival.  Check Misia out at The 2017 Fat Activism Conference. | |