Sister Spit
CD Release Party: Greatest Spits
Saturday, June 2; 9:30 pm
Location: Women's Building, 3543 18th St @ Valencia
$7-$10 Sliding Scale
Phone for Tickets: NQAF: 415.552.7709, Buy Tickets onLine: NQAFestivalTickets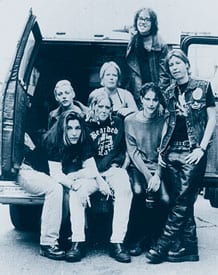 Greatest Spits
The National Queer Arts Festival celebrates the release of Sister Spit's latest CD, Greatest Spits, (Mr. Lady Records) with a dozen artists from past Sister Spit tours. Sini Anderson and sound engineer Cari Campbell mastered the new CD, which is a collection of over six years of Sister Spit history.
Sister Spit's Ramblin' Road Show is a national all-girl performance group that has been touring the U.S. and Canada for the past five years. Cofounded in 1994 by Sini Anderson and Michelle Tea, Sister Spit quickly became the epicenter of creative expression for queer women doing live performances.
Anderson and Tea hit the road with Sister Spit for the first time in 1996, breathing life into the Ramblin' Road Show. The group had already grabbed the attention of many folks in the literary and spoken word communities from two years of hosting Sister Spit shows every Sunday in the Mission district. In 1997 Mercury Records contacted the duo and signed them to the label, producing the first of four Sister Spit CDs: I Spit on Your Country. Grabbing contacts from wherever they could get them, Anderson and Tea booked a national tour that would travel to 28 U.S. cities and perform 34 shows in six weeks. More Web information: www.sisterspit.org
Sister Spitters scheduled to perform:
Ida Acton & Tour 98
Ida's intro is always "Kickin Ass for the Workin Class." Ida has performed all over San Francisco and the U.S., naming the injustices of the lower class along the way. She is working a novel due to be finished in 2001; we'll see who is smart enough to publish it.
Sini Anderson & Tours, ALL
A performance poet, producer, and director based in San Francisco, Sini is the cofounder and cohost of Sister Spit. She has a solo CD I'm Havin a Good Day, I'm Not Kidding I'm Happy, but you probably wont find it. She is published in The Outlaw Bible of American Poetry (Thunder Mouth Press).
Marci Blackman & Tour 97
Her novel Po Man's Child is on Manic D Press. You can also find her work in several other anthologies, including Beyond Definition. Marci is finishing her second novel this year.
Cooper Lee Bombardier & Tour 97
Cooper is a brave and brilliant writer and artist living in San Francisco. She is the main muscle behind Sister Spit's artwork, including the cover of the new CD. She has shown her visual art all over San Francisco and is one of the visual artists also featured in this year's National Queer Arts Festival.
Lynn Breedlove & Tour 98
Lynn is the lead singer in the dyke band Tribe 8! She is finishing her first novel God Speed. It is scheduled to be released next fall. Go to the Tribe 8 web site (www.tribe8.com) and get their CDs.
Tara Jepsen & Tour 97
Tara is a performance artist, actress, and writer. Her one woman show Turtle Heart was staged in San Francisco in '98. She just finished her first film with Beth Lisick called Fumbling Towards Rock. She also starred in Pump, a short film.
Kassy Kayiatos & Tour 99
Hip hop-infused slam poet and beatboxer, Kassy is a former member of Youth Speaks San Francisco and is also featured in the documentary Slam Nation.
Beth Lisick- Tour 98
Beth has an amazing book of stories called Monkey Girl (Manic D Press), and she is working on another book that is due out this year. She has released a CD with her band The Beth Lisick Ordeal on DeNord Recordings and will release her first film Fumbling Towards Rock sometime in 2001.
Miranda Mellis & Tour 98
Miranda was born and raised in San Francisco. She is a dancer, trapeze artist, and poet. She has performed all over the country doing shows on the ground and in the air with both Sister Spit and the Turn Buckles. Her work can be found in the amazing 'zine Perfection.
Eileen Myles & Tour 97
Eileen is the author of many kick-ass books. The latest is Cool for You (Soft Skull Press). Others include School of Fish, Chelsea Girls, Maxfield Parrish, and Not Me.
Sara Seinberg & Tour 97
Sara has toured on several occasions with Sister Spit and is an amazing photographer. She is published in Will Work For Peace and in The Color of the Longest Day.
Michelle Tea & Tours, ALL!
Michelle is a cofounder and cohost of Sister Spit and has two books out, The Passionate Mistakes and Intricate Corruption of One Girl in America (Semiotext) and Valencia (Seal Press). You can find so much of her other work in several anthologies.
https://queerculturalcenter.org/wp-content/uploads/2019/11/QCC-Logo-Updated.png
0
0
C Q
https://queerculturalcenter.org/wp-content/uploads/2019/11/QCC-Logo-Updated.png
C Q
2016-12-27 23:22:35
2019-12-13 06:05:47
Sister Spit