The News NQAF 2015 preview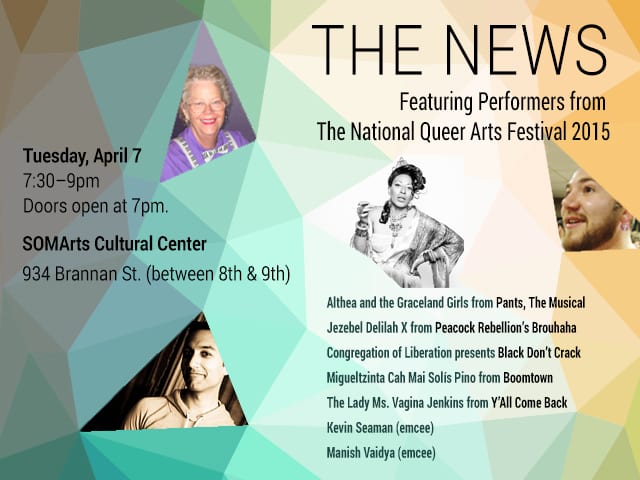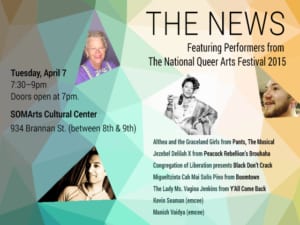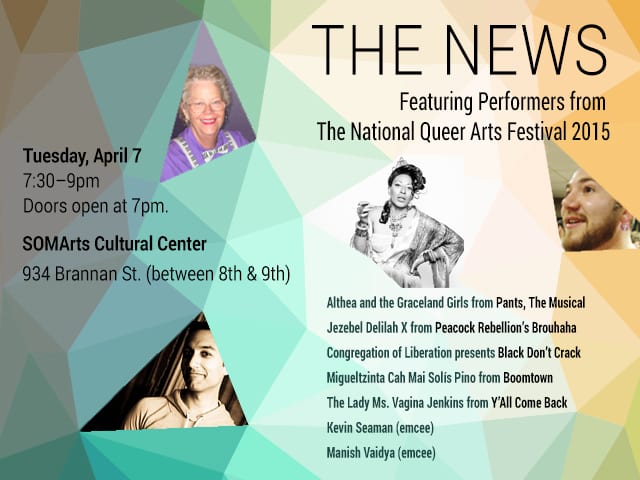 The News
NQAF 2015 Preview
Tuesday, April 7, 2015
7:30–9pm.
Doors open at 7pm.
On Tuesday, April 7, the Queer Cultural Center's (QCC) Kevin Seaman and Manish Vaidya curate The News with live performance previews of 2015 National Queer Arts Festival shows. The evening will include stand out performances by artists participating in QCC's Creating Queer Community program, including Althea and the Graceland Girls, Migueltzinta Cah Mai Solís Pino, Peacock Rebellion, the Congregation of Liberation and The Lady Ms. Vagina Jenkins. Seaman and Vaidya will emcee the event.
On the first Tuesday of each month The News, presented by SOMArts Cultural Center, features new, queer work by Bay Area artists. The News is a monthly cabaret evening that spotlights 10-minute or less performance pieces, experiments, and works in progress by pre-selected solo artists, groups, or troupes.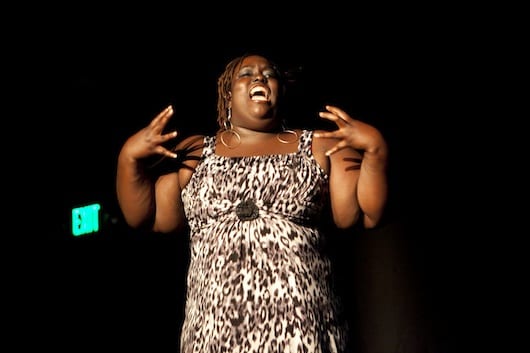 ARTIST BIOGRAPHIES:
Althea and the Graceland Girls from Pants, The Musical: Pants is a cartoon-esque romp through a lesbian life from age 3 to 83.  We're with her during her loves and losses, as she bravely marches on in this crazy life with great bravado and spirit.
Jezebel Delilah X from Peacock Rebellion's Brouhaha: They're baaaaaaaack! After sold-out runs of debut Brouhaha shows in SF and Oakland, Peacock Rebellion's Micia Mosely, Manish Vaidya and Jezebel Delilah X train the second crew of queer and trans artists of color in stand-up comedy for social justice. Check out this sneak (/snark) preview by a current Brouhaha participant, Jezebel Delilah X.
Congregation of Liberation presents Black Don't Crack: Black Don't Crack is a multi-media musical that will affirm the healing and liberation that happens when queer black people connect through art, love and the intentional development of community.
Migueltzinta Cah Mai Solís Pino from Boomtown: Migueltzinta Cah Mai Solís Pino was raised in Mexico and California. He has been a woman, a man, and the queer sum of these things. He earned his B.A. from The Evergreen State College in interdisciplinary studies. Migueltzinta's work has appeared in MidnightBreakfast, Lunch Ticket, PANK, and Apogee, and he is an alumnus of VONA/Voices. He is also a visual and performance artist.
The Lady Ms. Vagina Jenkins from Y'All Come Back: The Lady Ms. Vagina Jenkins is a burlesque performer of over 10 years and a funny ass femme for her whole life. Through her comedy she seeks to turn trauma into triumph. www.VaginaJenkins.com
Kevin Seaman (emcee) is QCC's General Manager and oversees the Creating Queer Community program as well as administrative and development activities. He has led workshops on grantseeking in collaboration with QCC and the Center for Cultural Innovation and brought Bay Area queer arts to the attention of national funders by co-facilitating Queering the Arts at a Grantmakers in the Arts 2012 conference. As a multidisciplinary artist, he has been commissioned by RADAR Productions, THEOFFCENTER and the San Francisco Arts Commission.
Manish Vaidya (emcee) is QCC's Community Engagement Coordinator working with the Creating Queer Community program and overseeing a 2016 national conference for queer dance, theatre and music. He is the founding Artistic Director of Peacock Rebellion, a Cultural Equity Fellow with Emerging Arts Professionals, and a life, career and wellness coach to artists and activists.
https://queerculturalcenter.org/wp-content/uploads/2015/03/TheNewsKey.jpg
480
640
C Q
https://queerculturalcenter.org/wp-content/uploads/2019/11/QCC-Logo-Updated.png
C Q
2015-03-27 18:48:37
2019-12-13 22:12:29
The News NQAF 2015 preview