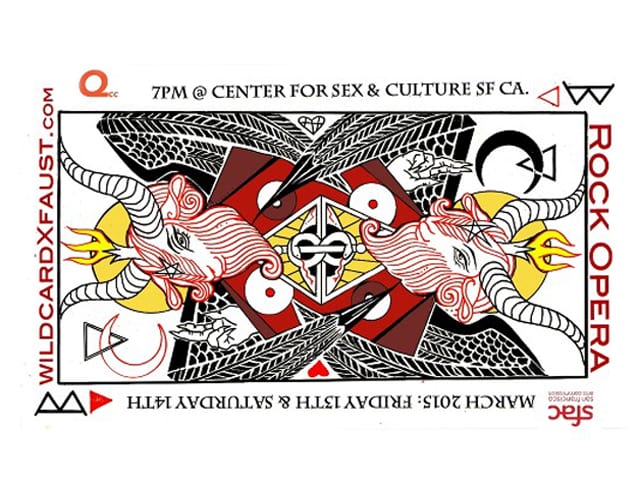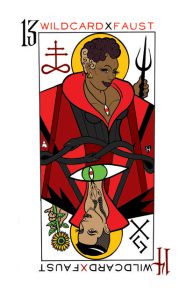 WILDCARDXFAUST – Rock Opera
March 13 and 14th, 2015
Center For Sex and Culture

Apaulo Hart, D. Faust and Jay Very are Co-Producer Masterminds of WildcardxFaust.
TICKETS:
The Rock Opera, WildcardxFaust is a true collaboration between D. Faust and Jay Very. The integration of their narratives creates a 2-fold path of heroes sharing the same journey:
Written and envisioned by Fabienne Delacroix, FAUST is an adaptation of F.W. Murnau's film of Goethe's "Faust". Inspired by striptease as a form of psychological revelation, the concept of the performer as a demon with a double life, and the process of artistic evolution, it is a Jekyll and Hyde-esque church of brimstone, nudity, vulnerability,
Wild Card the Rock Opera features a self-actualized, transmasculine sex worker in a kinky, queer, uplifting comedy that ends on a refreshingly positive note. The main character survives isolation through making connections with others and focuses on our similarities rather than our differences.
BIOS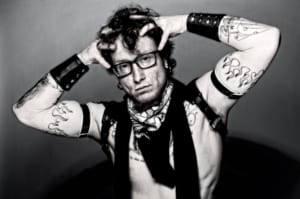 Apaulo Hart shines on stage showcasing a range of talents from "aerial theatre", which combines clowning and burlesque with aerial rope to a one-man band of accordion and drumming.
As a leather craftsman, Apaulo creates custom-made, fetish wear from only the highest quality of leather. Trained in the production department at Mr.S Leather in San Francisco, he specializes in designs that transform humans into animals. Apaulo values creating looks that are comfortable, functional and versatile. Apaulo is chief illustrator, costume and set designer for WildcardxFaust
Fabienne Giselle Delacroix, also known as D. FAUST, is a Burlesque inspired performance artist, creative visionary, YouTube blogger and sorceress of the Left Hand Path. She has been dragging souls to hell since 2008. Of Brasilian and Creole lineage, she is a "stage witch" and is known for creating supernatural and subliminally layered atmospheres within the medium of Burlesque. Her most recent endeavor is the founding and organizing of Cult of Gira, an organization dedicated to the preservation of African Traditional Religions in Brazil, and the empowerment of woman-identified creatures of the universe.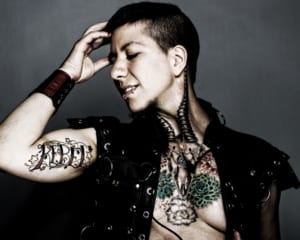 Jay Very B.F.A, M.A.T, and a Ph.D Student in Human Sexuality is Co-Founder and Director of Tongue in Chic Gallery, a sex worker and BDSM inclusive community that empowers transgender and gender variant identified people who work as artists and entrepreneurs.
Jay uses film, self-portraiture, sculpture, installation, performance and musical composition to reflect on societal constructs around gender, kink and sexuality. Jay has studied cello for 20 years and has played in orchestras throughout his life. Jay composed Wildcard the Rock Opera, because the world needs more uplifting narratives about transgender sex workers; unique and beautiful human beings desiring love and family like everyone else.
https://queerculturalcenter.org/wp-content/uploads/2015/01/wildcard.jpg
480
640
C Q
https://queerculturalcenter.org/wp-content/uploads/2019/11/QCC-Logo-Updated.png
C Q
2015-01-26 19:39:58
2019-11-26 21:27:00
WildCardXFaust