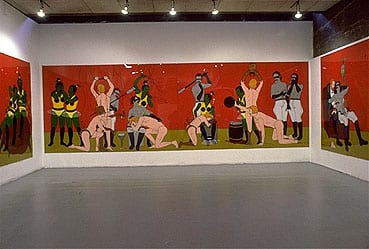 "In 1993 San Francisco artist David Cannon Dashiell took Pompeii's Villa of the Mysteries frieze as a framework within which to explore queer sexuality, plugged and unplugged. Consisting of twenty-eight acrylic emulsion reverse paintings on Plexiglas panels, Queer Mysteries was first exhibited at the San Francisco Art Institute and is now part of the permanent collection of the San Francisco Museum of Modern Art. While there are other full-scale variations on the Pompeian mural depicting a ritual initiation into the mysteries of Dionysus, (13) Dashiell's is the only one to revisit the equation of Pompeii's destruction with that of Sodom and Gomorrah in order to extend the comparison to the AIDS crisis. His mystery cult threatened by persecution (14) and looming catastrophe is the homosexual community threatened by prejudice and ravaged by a lethal virus. San Francisco, with its highly visible gay population, its bathhouses (pre-1984), and its fault line, is not an inapt modern counterpart to Roman Pompeii. By inviting this comparison, however, Dashiell, who died of AIDS the same year he created the work, was hardly aligning himself with the religious right.
More than any other ancient artifact, the Villa of the Mysteries frieze has been subject to psychoanalytic interpretation: it is said to represent psychoanalytic principles, the mechanisms of identification, and even the analytic progression itself. (15) Taking the idea of Pompeii and the Mysteries frieze in particular as the symbolic bedrock of Western psychoanalysis and psychosexual identity, Dashiell's work constitutes an archaeological exploration of the formation of individual and group identities. Employing a system of visual-verbal punning akin to Freudian dream logic, Dashiell's alternative archaeology both recovers and remakes a monument to queer identities and communities, past, present, and future. (16)"
Excerpt from:
Love among the Ruins: David Cannon Dashiell's Queer Mysteries
Art Journal, Winter, 2004 by Alison Mairi Syme
---
An introduction to Queer Mysteries
1993 Adaline Kent Award
San Francisco Art Institute
San Francisco, California
DAVID CANNON DASHIEL
David Cannon Dashiel is the recipient of the 1993 Adaline Kent Award. The award was established in 1959 in recognition of the support given to the San Francisco Art Institute by sculptor Adaline Kent (1900 – 1957) and her husband Robert B. Howard. It is bestowed annually by the Artists Committee of the San Francisco Art Institute to a "talented, promising and deserving California artist."
David Cannon Dashiel has been an important member of the Bay Area art community for the past ten years, working in many forms — installation, sculpture, painting and conceptual art. More recently, he has been producing important work while living with AIDS. AIDS has become an omnipresent part of his life and art. Queer Mysteries, his most recent work, is a large-scale mural that mutates the imagery of the Dionysian murals at the Villa of the Mysteries at Pompeii into a contemporary artistic and social statement. The award has occasioned the completion of this ambitious work and its premier in this exhibition.
1993, San Francisco Art Institute
---
https://queerculturalcenter.org/wp-content/uploads/2019/11/QCC-Logo-Updated.png
0
0
C Q
https://queerculturalcenter.org/wp-content/uploads/2019/11/QCC-Logo-Updated.png
C Q
2018-12-26 20:39:47
2019-12-29 22:28:23
David Cannon Dashiell