Home Queer Home
June 12, 7:30pm
Readings
Ceremonial Room | LGBT Center 4th Floor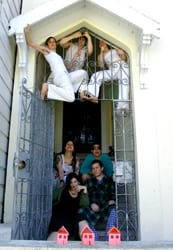 Home Queer Home: A queer cabaret exploring the journey from family of origin to Family.Queers come from all over the country to live in San Francisco. In cars, on busses, planes, but what happens along the way? Who do our travels turn us into and then what happens once we get "home"? The journey of gay isn't just coming out. It's moving out, defining out and somewhere in our travels – redefining family and what exactly home means. This show seeks to examine the transient culture of queer and home with stories from writers, dancers, singers and artists from around the country. From New York City to Michigan to Stockton to San Francisco natives – everyone has their own journey to what home is.
Join us at this multi media cabaret featuring dance, film, spoken word, stories, songs, smut and more as we all try to work out, define, examine and create a new vision of home.
Featuring: Cindy Emch, Daphne Gottlieb (including a collaboration with filmmaker Sabrina Alonso), Storm Florez, Justin Kolling, HumiltySwim, Esther Zinn and Mollena Williams.
Cindy Emch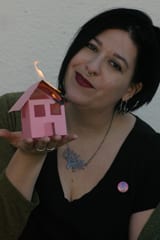 Photo: Lyric Agent
Swirling together the wholesome and the wicked, emchy is a poet, performer, DJ, curator, and all around community building hell raiser who wants to rock your socks off.  She has work in the upcoming anthologies Tough Girls 2: More Down and Dirty Dyke Erotica and It's So You: 35 Women on Fashion, Beauty and Personal Style. She has published five chapbooks, has written for the Hillgirlz.com blog, a variety of film and pop culture mags and has been published in Lodestar Quarterly. She has also featured at K'vetsch, Varnish and other neato places and is very proud to have founded the Queer Open Mic which makes its home at the Three Dollar Bill Cafe.
Daphne Gottlieb


Photo: Lyric Agent
Daphne Gottlieb is the award-winning author of six books of poetry and fiction, most recently "Kissing Dead Girls" and "Jokes and the Unconscious".  Her work has been adapted for the dance floor, the theater, the small screen, and hopefully, a few back alleys.  She teaches at New College of California and is Curator of the Intimate Museum of Absence.
Storm Florez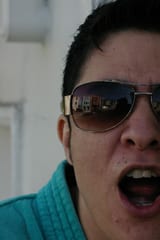 Photo: Lyric Agent
Storm Florez is a pervert. Besides that, he's a faggy, butchy, skirt and kilt chasin' genderqueer singer/songwriter, budding exhibitionist and live tranny porn producer. Storm has performed his music across the US and co-produces and performes in the sexhibitionistic, pornarific cabaret, Trans as Fuck, which debuted in San Francisco in 2004 and made it's way to LA in 2006.
Be on the look-out for Trans as Fuck 2007!
Justin Kolling

Justin Kolling writes heart-in-cheek poetry that makes all the genders cry. He also breeds Chia pets and is pretty handy at the barbecue.
Mollena Williams

Photo: Mollena Williams
Mollena Williams (aka Mo) is a founding Member of the Crowded Fire Theater Company, and former Mentor Director for The Society of Janus.  Her writings have appeared in the Society of Janus newsletter Growing Pains, and featured in issue 41 of Prometheus, published by The Eulenspiegel Society.
Esther Zinn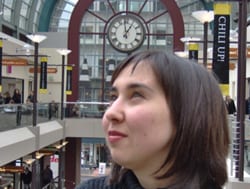 San Franciscan born and bred Femme Mestiza Esther Zinn (MA, New College of California; BA, University of San Francisco) remains committed to taking cross-genre risks in her writing, to reflect the bi-racial and cultural experience of being born to a Filipina mail-order bride and a Texan cryogenicist. Her short stories, opinion columns, as well as art and film critiques have been featured in: The Bay Area Reporter, GO NYC Magazine, Suicidegirls.com, and Shecky's Bar and Lounge Guide. She is the winner of the first annual University of San Francisco Creative Non-Fiction award, recipient of a departmental merit scholarship in creative writing, and has received positive reviews from Maximum Rock and Roll magazine for her appearance in Fork, Knife, and Spoon. Esther is now finishing up her first novel two years in the making. She currently lives in San Francisco with her newly emigrated wife from New York, who has a high-pitched accent and occasionally chases her throughout the house with a frying pan. They have one child together, if by child you mean cat, conveniently stolen from the ghetto of Trenton, New Jersey.
HumilitySwim

Photo: Lyric Agent
HumilitySwim is a Contact Improvisation based performance ensemble, think-tank and nomadic classroom, which was formed in 1999 in San Francisco by director Ali Woolwich.  Showing in venues both traditional (Noh Space, Jon Sims Ctr, CellSpace) and atypical (public crosswalks,houseparties, offices), HumilitySwim pushes the boundaries of how movement can be shared, and stretches space for community.
Sabrina Alonso*

Photo: Marc Liiv
Sabrina Alonso recently completed her 30 minute short documentary about the history of a corner in San Francisco's Mission District entitled "Mischief at 16th and Florida". She is currently working on a feature documentary about the California grizzly bear.
*collaborating with Daphne Gottlieb
https://queerculturalcenter.org/wp-content/uploads/2019/11/QCC-Logo-Updated.png
0
0
C Q
https://queerculturalcenter.org/wp-content/uploads/2019/11/QCC-Logo-Updated.png
C Q
2016-11-18 19:19:20
2019-12-13 06:15:55
Home Queer Home