Lesbians in the Visual Arts: Recognition
Exhibition & Symposium
Exhibition: June 7 – 23
Location: SomArts, 934 Brannan @ 8th Street
Opening reception: June 10; 4-7 pm
Location: SomArts, 934 Brannan @ 8th Street
Donation Requested
Gallery Hours: Tuesday – Sunday, June 7 – 23; Noon – 7:30 pm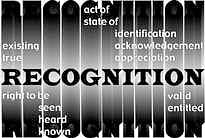 LVA: Lesbians in the Visual Arts invites you to celebrate its tenth anniversary by joining them in an act of Recognition. The exhibition and conference approach Recognition from a variety of perspectives – lesbian identity in art/as artists; community; diversity; family/found family/culture – and from personal, historical, political and generational standpoints – including the concept of going full circle.
Conference
Friday, June 23, 5-9 pm & Saturday, June 24; 10 am – 4 pm
Location: Harvey Milk Civil Rights Academy, 4235 19th Street @ Collingwood
Tickets: $50 / $40 members, limited scholarships available
LVA: 415.788.6118, [email protected], www.lesbianarts.org
Conference workshops range from the hands-on using sculptural tools to the planning of studio sales to learning about art goddesses and mythology.
Volunteers are welcome to work with these exciting and powerful events.
LVA is supported in its anniversary events by Astraea National Lesbian Action Foundation, BACW's A Fund of Our Own, San Francisco Hotel Tax Fund/Grants for the Arts, Horizons Foundation and individuals.
https://queerculturalcenter.org/wp-content/uploads/2019/11/QCC-Logo-Updated.png
0
0
C Q
https://queerculturalcenter.org/wp-content/uploads/2019/11/QCC-Logo-Updated.png
C Q
2016-12-29 19:43:10
2020-01-28 01:58:17
LVA: Recognition