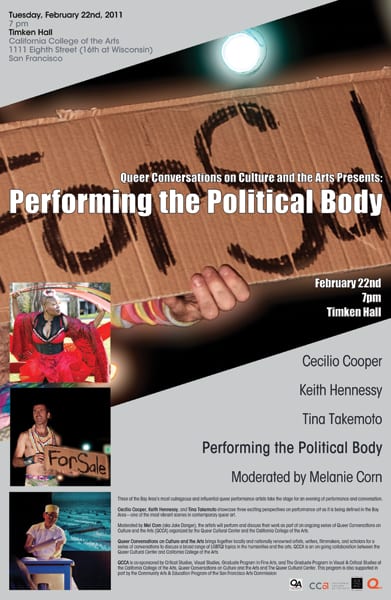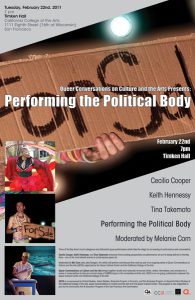 Queer Conversations on Culture and the Arts (QCCA) Presents:
Performing the Political Body

Tuesday, February 22, 2011
7pm
Timken Hall
California College of the Arts, San Francisco
1111 Eighth Street (16th Street at Wisconsin)
Three of the Bay Area's most outrageous and influential queer performance artists take the stage at California College of the Arts' Timken Hall on February 22nd, 2011.
Cecilio Cooper, Keith Hennessy, and Tina Takemoto showcase three exciting perspectives on performance art as it is being defined in the Bay Area—one of the most vibrant scenes in contemporary queer art.
Moderated by Mel Corn (aka Jake Danger), the artists will perform and discuss their work as part of an ongoing series of Queer Conversations on Culture and the Arts (QCCA) organized by the Queer Cultural Center and the California College of the Arts.
About Queer Performance Art
Performance art has become an important site for the articulation of theoretical questions and issues in late twentieth and early twenty-first century culture. Ephemeral in nature, performance art has been embraced by queer artists as a means of challenging the very idea of "traditional" in the arts and in the greater social and political sphere.
With an emphasis on action and time over object production, performance art is an enigmatic and controversial art form. Rather than producing an object, the artist generates an event that may last anywhere from mere seconds to many years. This temporality is a radical challenge to traditional conceptions of painting and sculpture, which are generally created with permanence in mind.
Unlike conventional drama, performance art does not usually employ plot development nor does it require suspension of disbelief. The artifice of theater is deconstructed as the emphasis is placed on the here and now.
Many performance artists have also been drawn to philosophical questions regarding aesthetic experiences versus ordinary life experiences. What is it exactly that makes something art rather than just a regular thing?
Many performance artists have explored the capacity of ritual and meditative attentiveness to transform the ordinary or simply appreciate the everyday in an art-like way. In some cases, the artist is the art; body and life are at once the subject and object of the art, both canvas and content.
As queer artists have embraced the means to communicate to a wider audience, they have also critiqued the power structure maintained by the media. The use of parody, drag and camp are often used to interrogate issues of race, class, and gender in the context of queerness.
The ability to be both familiar and foreign is what makes performance art such a powerful tool particularly well suited to the queer community. Performance art is a practice as all encompassing as the community itself.
(from Performance Art, GLBTQ: an encyclopedia of gay, lesbian, bisexual, transgender and queer culture.)
About Queer Conversations on Culture and the Arts
Queer Conversations on Culture and the Arts brings together locally and nationally renowned artists, writers, filmmakers, and scholars for a series of conversations to discuss a broad range of LGBTQI topics in the humanities and the arts. QCCA is an on-going collaboration between the Queer Cultural Center and California College of the Arts.
QCCA is co-sponsored by Critical Studies, Visual Studies, Graduate Program in Fine Arts, and The Graduate Program in Visual & Critical Studies at the California College of the Arts, Queer Conversations on Culture and the Arts and The Queer Cultural Center. This program is also supported in part by the Community Arts & Education Program of the San Francisco Arts Commission
Artists' Biographies
Cecilio Cooper
ThiswayThatway (aka Cecilio Cooper) regards fabulosity as a kind of science and sparkle as a high art. As a solo performer and collaborator, ThiswayThatway wreaks havoc on stages across the country in art festivals and academic conferences.  They debuted a solo show entitled Laye(red) about blackness and fashion during the 2009 National Queer Arts Festival. Cooper is currently pursuing a doctorate in Performance Studies at the University of California at Davis, with an emphasis in practice-as-research. Cooper maintains a scholarly interest in slavery, neo-slavery, gender-variance and sexuality through theories of performance, philosophies of race, and histories of the human. Ultimately, ThiswayThatway is a dandified performance artist who enjoys the messy collision of glitter and theory. http://thisway-thatway.com/  
Keith Hennessy
Keith Hennessy is a performer, choreographer, teacher and organizer. Born in northern Ontario, he lives in San Francisco and tours internationally. His interdisciplinary research engages improvisation, ritual and public action as tools for investigating political realities. Hennessy directs Zero Performance, and was a member of the collaborative performance companies: Contraband (85-94), CORE (95-98), and Cahin-caha, cirque bâtard (98-02). Recent awards include a NY Bessie (2009), two Isadora Duncan Awards (2009), a Goldie (2007) and the Alpert/MacDowell Fellowship in Dance (2005). Recent works include Delinquent, a critique of juvenile crime and punishment commissioned by YBCA, and Crotch, a solo performance developed in Lausanne, and presented in NY, Minneapolis, SF, Zagreb, and Liverpool. Hennessy is a PhD candidate in Performance Studies at UC Davis. www.circozero.org
Tina Takemoto
Tina Takemoto is an interdisciplinary artist and writer whose work explores issues of race, illness, queer identity, memory, and grief. Her current work explores the gay and lesbian experience of the Japanese American Internment Camps during WWII. She has received grants from Art Matters, San Francisco Arts Commission, and James Irvine Foundation. Her articles appear in Art Journal, Performance Research, Afterimage, Women and Performance, and the anthology Thinking Through the Skin. Takemoto is associate professor of visual studies at the California College of the Arts, and she is a board member of the Queer Cultural Center. On occasion, she makes guerilla appearances as Michael Jackson and Bjork-Geisha. www.ttakemoto.com
Melanie Corn
Melanie Corn is the associate provost at the California College of the Arts. Her administrative work focuses on development, diversity, and assessment of faculty and curriculum. In addition, she has taught in the Critical Studies, Visual Studies, and MFA Fine Arts programs at CCA and in the Art History and Women's Studies departments at University of California Santa Barbara. Her academic work combines interests in contemporary visual culture and theories of gender and sexuality, and her graduate work focused on the visual crisis of the AIDS epidemic. Mel Corn (aka Jake Danger!) is also a performance artist and social activist, often integrating these vital practices into her studies and teaching.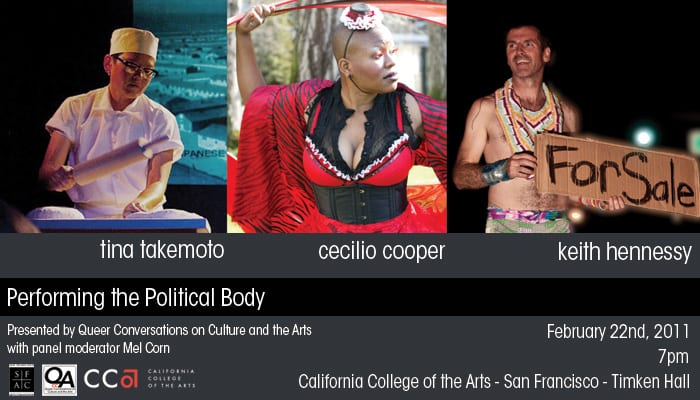 https://queerculturalcenter.org/wp-content/uploads/2013/12/Performing-PBqcca.jpg
600
391
C Q
https://queerculturalcenter.org/wp-content/uploads/2019/11/QCC-Logo-Updated.png
C Q
2011-02-01 18:01:44
2020-04-10 01:34:07
Political Body