A Fire in My Belly: Short film by David Wojnarowicz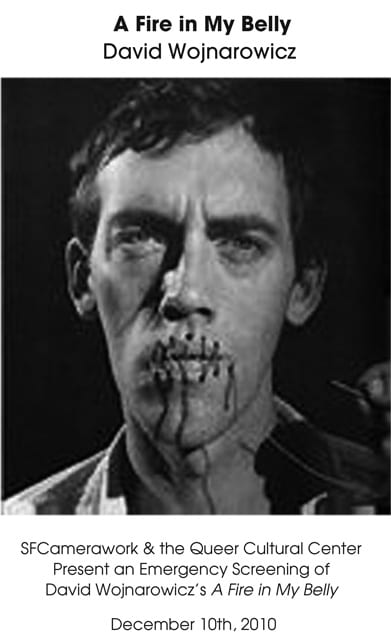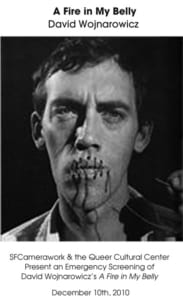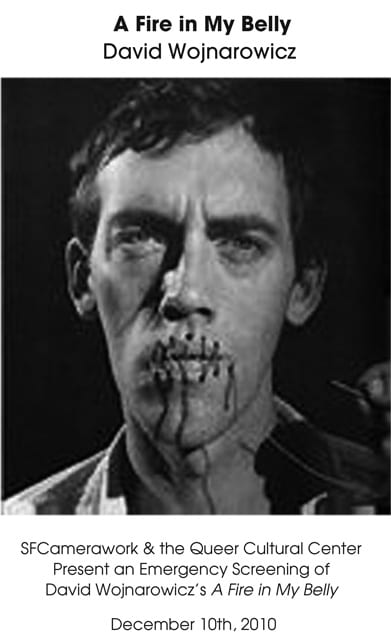 SF Camerawork and Queer Conversations on Culture and the Arts (QCCA) Present:
Emergency Screening
A Fire in My Belly – a short film by David Wojnarowicz and Panel Discussion
December 10, 2010, 7pm
SF Camerawork
657 Mission Street
SPEAKERS
Chuck Mobley, Julia Haas, Alison Maurer, Irene Gustofson, Jonathan Katz, Kim Anno, Julian Carter, Robert Atkins
The Queer Cultural Center and SF Camerawork presented an emergency screening of David Wojnarowicz's A Fire in My Belly on Friday, December 10th, 2010.
The event was supported by the San Francisco Arts Commission Arts in Education program and the California LGBT Arts Alliance.
The Queer Cultural Center and SF Camerawork screened the unedited video by artist David Wojnarowicz recently censored from the National Portrait Gallery's Hide/Seek: Difference and Desire in American Portraiture exhibition after objections raised by members of Congress and the Catholic League without input or discussion with the curator or public.
This Emergency Screening is part of a nationwide movement to screen the film and discuss it publicly.
The 13-minute video was be followed by a presentation by art historian, writer, and activist Robert Atkins who provided historical context for such acts of government censorship. Robert Atkins was joined by, Julian Carter, Irene Guftafson, and Kim Anno for a lively audience discussion with curator Jonathan D. Katz who joined the event from Washington D.C. via Skype.
More
On December 1, World AIDS day, the Smithsonian Institution leadership bowed to pressures from the Catholic League and elected representatives of the new Republican majority, ordering the Director of the National Portrait Gallery to remove David Wojnarowicz's video, A Fire In My Belly, from the current exhibition Hide/Seek: Difference and Desire in American Portraiture.
Spokesmen for the religious right have characterized the film as anti-Christian "hate speech pure and simple" and called the NPG's milestone exhibition, the first at a major US museum to privilege GLBTQ perspectives, an "outrageous use of taxpayer money." They have publicly called for the show's cancellation, along with heightened surveillance of federal support for the arts.
Queer Conversations on Culture and the Arts brings together locally and nationally renowned artists, writers, filmmakers, and scholars for a series of conversations to discuss a broad range of LGBTQI topics in the humanities, architecture, design, and the arts. QCCA is an on-going collaboration between the Queer Cultural Center and California College of the Arts.
Participants
Chuck Mobley is curator for SF Camerawork; a 36-year old nonprofit arts organization focused on the work of emerging and mid-career artists.
Rudy Lemcke is a multi-media artist and Director of the Visual Arts and Humanities programs for the Queer Cultural Center.
Julia Haas lives and works in San Francisco as a photographer and web developer. She is co-founder of HIDESEEK.org and has helped to organize worldwide screenings and discussions of the Wojnarowicz film. She studied with Jonathan D. Katz at Smith College, and with his assistance curated San Francisco: The Making of a Queer Mecca, an exhibition chronicling the transformation of San Francisco into the epicenter of the gay and lesbian movement in the 1970's.
Alison Maurer lives and works in Santa Cruz, CA. She is co-founder of HIDESEEK.org and has helped to organize worldwide screenings and discussions of the Wojnarowicz film. She studied with Jonathan D. Katz at Smith College and is currently the researcher for his upcoming AIDS/Art/America exhibition intended for 2014-2015 at the Tacoma Museum of Art.
Jennifer Sichel is currently a Ph.D. candidate at the University of
Chicago. She earned her MA from Williams College during which time she was also fellow at MASS MoCA – where she curated an exhibition titled Being Here is Better than Wishing We'd Stayed. She wrote her qualifying paper under the direction of Jonathan D. Katz, on Geoffrey Hendricks' queer body-based performances of the early 1970s. She continued on to work closely with Katz and co-curator David C. Ward on Hide/Seek: Difference and Desire in American Portraiture, serving as the primary researcher.
Irene Gustafson is Associate Professor at the University of California at Santa Cruz in the Film and Digital Media Department. She received her M.F.A from Northwestern University. Her film/video work has screened nationally and internationally; her writing has appeared in the Journal of Visual Culture, Spectator, and Camera Obscura.
Robert Atkins is an art historian, writer and activist. A former staff columnist for the Village Voice, he co-curated From Media to Metaphor: Art About AIDS (1991), the first international traveling exhibition of its kind; co-founded Visual AIDS, the organizer of Day Without Art; and is the author of Censoring Culture: Contemporary Threats to Free Expression (2006), among other books.
Julian Carter is Associate Professor of Critical Studies at CCA. He is the author of The Heart of Whiteness: Normal Sexuality and Race in America, 1890-1940 (Duke 2007), and of a number of articles addressing the mass-cultural formation and circulation of norms and normativity. His work on the history of sex education is widely taught, and his original research on the boundaries of modern lesbian identity earned a citation in the Stanford Encyclopedia of Philosophy. Current research seeks to forge connections between trans, dance, and disability studies through an investigation of transition that foregrounds physical movement.
Kim Anno is a multi disciplinary artist whose recent photography and video has been shown at Site Santa Fe, Berkeley Art Center, Launch Pad Brooklyn, Marcia Wood Gallery in Atlanta, Patricia Sweetow Gallery in San Francisco, and will be upcoming at Sky Dive Gallery in Houston. You might have seen a photograph, titled Winter # in Harper's Magazine opposite a john ashbury translation of Rimbaud in October. Anno is also chair of the painting program at the California College of the Arts, a member of the Berkeley Arts Commission, and a recent recipient of a 2010 Zellerbach Foundation fellowship, for her loose ensemble called Ice on the High. Her new work is a video based on Robert Longo's paintings, Men in Cities, called Men/Women in Water Cities.
Jonathan David Katz is the former executive coordinator of the Larry Kramer Initiative for Lesbian and Gay Studies at Yale University. He is a former chair of the Department of Lesbian and Gay Studies at the City College of San Francisco, and was the first tenured faculty in gay and lesbian studies in the United States. Katz was an associate professor in the Art History Department at the State University of New York at Stony Brook, where he also taught queer studies. He received his Ph.D. from Northwestern University in 1996.
Katz is co-curator with David C. Ward of the exhibition at the National Portrait Gallery (United States), Hide/Seek: Difference and Desire in American Portraiture, the first major museum exploration of the impact of same sex desire in the creation of modern American portraiture. David Wojnarowicz's video A Fire in My Belly was removed from the exhibition on November 30, 2010 causing controversy. Katz was not consulted before the work's removal.
THANK YOU
SF Camerawork
Queer Cultural Center
P.P.O.W. Gallery
David Wojnarowicz Estate
California LGBT Arts Alliance
San Francisco Arts Commission