The State of Black Bodies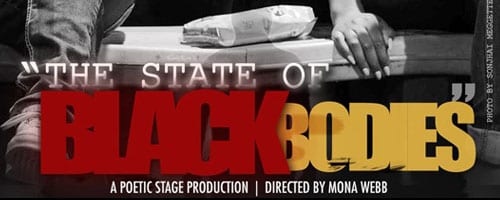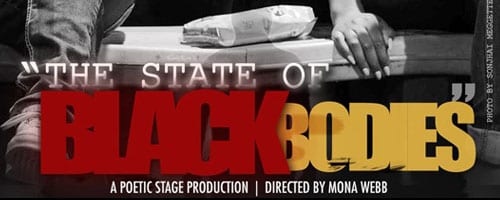 June 2,2018
Audacious IAM and Qcc present:
Pr3ssPlay Poets' The State of Black Bodies
EASTSIDE, 7:30PM
Tickets: $15 – $20
Ticket Link: https://www.eventbrite.com/e/pr3ssplay-poets-the-state-of-black-bodies-tickets-45054228410
The State of Black Bodies is a poetic and interdisciplinary stage production, explores the beauty and audacity of the Black Body. This performance examines the current state of blackness in America and create spaces for awareness through/from the lens and voice of the black woman; allowing black girls and women to be/feel empowered. This performance explores the intersections of the "black body" as a target, and triumph, the conditioning of black male, female, and queer bodies in service of white supremacy, and the collective desire to be freed from its talons.
It is a call to action that seeks to engage the community through the use and power of the spoken word and performance art while providing space for transformation, social change, healing and self-empowerment in the body of a black girl's coming of age story. Further providing the community with the opportunity to affirm the black woman's experience and value by sharing and acknowledging her power, presence and rooted history.
Musical Accompaniment & Director, Valerie Troutt (www.valerietrouttprojects.com )
Directed by Mona Webb (www.facebook.com/mona.webb)
LIT/SPOKEN WORD
Creating Queer Community Program
Pr3ssPlay Poets: Founded in Oakland, CA in 2013, Pr3ssPlay Poets share their talents with the community with sacred intentions in mind. Their art is centered around providing a space for healing, identity exploration, celebration of the Black body and advocacy of social change through the use and power of the spoken word. Poetry is used as both the medium and the message to cultivate and push forward the community to liberation through accessible, poetic and interdisciplinary productions and workshops while providing culturally relevant fine arts experiences. Pr3ssPlay Poets is a female/womyn-centered poetry, spoken word and theatrical performance collective committed to inspiration and social change within the Black community!
The Collective:
Audacious IAM(writer, educator and activist) was recently named Greater Bay Area Teacher of the Year by Youth Speaks (2016), nominated for an Oakland Innovative Artist Award (2017 – 2015), a 2016 National Queer Arts Festival of San Francisco Grant recipient, named Best Literary Works of the Year (2010) and is also a founding member of the Spoken Word Collective Pr3ssPlay Poets. Audacious is the creator and chief-editor of the anthology, Blues Arrival: Stories of the Queer Black South & Migration.

Her art is exhibited through words on the page, performance and film in the attempt to transform, dissect and explore the intersection of blackness, queer identity, fragility and being a woman in America and beyond. As a queer black female artist, she has given and hopes to continue to provide her community with a platform for dialogue, social change and transformation through artistic creation.

Her work has been published by Cooweescoowee Literary Journal (Coming 2018), Black Napkin Press (2017), For Harriet.org (2016) and The Womanist Journal at Mills College (2012). Find her work at www.audaciousiam.com, Facebook, Twitter & Instagram: Audacious IAM.

Chanel Timmons prides her art on being a deviation from most rules and expectations. Born and raised in Oakland, California, she has a bit of home-grown rebellion flowing through her veins. When the times demand for poets to write about loud revolution, count on Chanel to channel that energy into a poem about the hushed moments you thought you forgot in the middle of the chaos. Poetic stories on life, blurred in between the lines of dirty and beautiful: she's all about it.
Shampale Fenessa is a Black queer writer, MC, performance artist, educator, and proud Baltimore native. Since her teens, she has had the fortune of connecting and performing with communities in Western MA, Brooklyn, NY, Oakland and San Francisco, CA, Havana, Cuba, & more. She received her MFA in Poetry from Mills College in 2014, & holds a BA in Creative Writing/Black Studies from Hampshire College in 2009. Her chapbook, flicked/forgotten/FREED, made its debut in May 2014.
 
Uni Q. Mical is a Black queer writer, MC, performance artist, educator, and proud Baltimore native. Since her teens, she has had the fortune of connecting and performing with communities in Western MA, Brooklyn, NY, Oakland and San Francisco, CA, Havana, Cuba, & more. She received her MFA in Poetry from Mills College in 2014, & holds a BA in Creative Writing/Black Studies from Hampshire College in 2009. Her chapbook, flicked/forgotten/FREED, made its debut in May 2014.

Her poems and stories have been published in black and queer anthologies, including The Reader, The Womanist, and Blues Arrival. She currently hosts Baltimore's longest running LGBTQ+ Open Mic, Giovanni's Room. She is a Professor in Humanistic Studies at Maryland Institute College of Art, & a Poetry/Performance Teaching Artist in schools across Baltimore. She is also co-founder of blkottonkandy, an arts and wellness initiative to ensure healing remains accessible to all. Find her on Instagram at @unithaluni.

Cierra Green, Bobbi Kindred, Jolinda's baby, and Storyteller, because there are multiple me's that exist within Me, and I must honor them all. Storytelling is how I honors the wounds within myself that still gape, and how I invoke the spirit of my ancestors tongue when I share communally, and I deeply believe in the power of storytelling to heal the inner child. I am peppermint oil to the scalp regiment, and uke pluck to fast car—Tracy Chapman on mornings with room for ruminating, and "just a girl" on Karaoke nights when singing off key matters less than putting on an honest show. (*newest member of Pr3ssPlay)
https://queerculturalcenter.org/wp-content/uploads/2018/03/StateofBlackJune2.jpg
200
500
C Q
https://queerculturalcenter.org/wp-content/uploads/2019/11/QCC-Logo-Updated.png
C Q
2018-03-10 03:50:08
2020-01-01 00:23:24
The State of Black Bodies