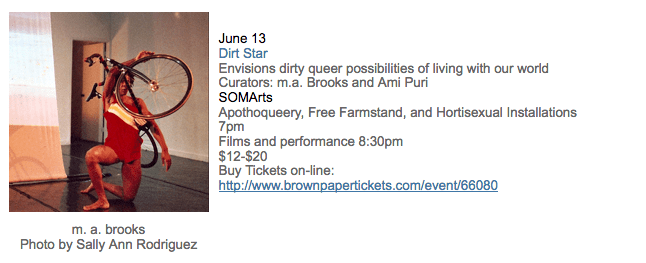 Poking fingers into dirt, food, and friends, Dirtstar connects generations and genres with story tellers, earthen homebuilders, film farmmakers, seed ball sculptors, bike-dancers, greywater-installers and chef-musicians creating visionary peeks at how we could be living with our world. A mix of delicious participation and performance featuring: elixers at the Apothoqueery by Dori Midnight, tastings by Queer Food for Love, film and video by Allyson Mitchell, Bill Basquin, Sabrina Alonso, and Ami Puri, performance by m.a . brooks, Change of State, Alex Cafarelli, seeley quest and others.
Curated by Ami Puri and m. a. brooks
Biographies
Bill Basquin completed a triptych of films about rural life and farming; the third of which, RANGE, was presented at the 2006 Sundance Film Festival. His new film, SOILED, recently awarded a San Francisco Individual Artist's Commission, is both a continuation of themes explored in his previous works and an outgrowth of his experiences of living, growing food, and composting in the City. He will be the Artist-in-Residence at San Francisco Recycling and Disposal, beginning February 2009, where he will create site-specific time-based compost sculptures. www.billbasquin.com

Ami Puri mixes digital media, garbage and dirt to create works that center gender/queer self-determination and hope.
Dancer and performance artist, m.a. brooks creates textured landscapes of movement and voice using different media. m.a. has performed both solo and ensemble works  in New York, San Francisco,and Amsterdam. Currently, m.a. is in collaboration with local aerial dance company, Fly Away Productions, San Francisco based performance artist, Fauxnique and will be an artist in residence at Mama Calizo's Voice Factory Fall 2009. m.a. also teaches gardening and likes to hang out with worms.
Dori Midnight is an ordained interfaith minister and intuitive counselor who has come from a long line of tough ladies who healed people in their kitchens. She believes that healing is an "of the people, for the people" practice and works to keep healing accessible, affordable and full of magic. She teaches magic and folk & community herbalism to kids and adults, provides intuitive counseling and healing for individuals, creates rituals and ceremonies, and makes delicious potions in San Francisco. www.dorilandia.com

Allyson Mitchell is a maximalist artist working predominantly in sculpture, installation and film. Since 1997, Mitchell has been melding feminism and pop culture to play with contemporary ideas about sexuality, autobiography, and the body, largely through the use of reclaimed textile and abandoned craft. Her work has exhibited in galleries and festivals across Canada, the US, Europe and East Asia. She has also performed extensively with Pretty Porky and Pissed Off, a fat performance troupe, as well as publishing both writing and music. She recently completed her PhD in Women's Studies at York University, where she also teaches cultural studies. Allyson Mitchell's work has been generously supported by the Chalmers Foundation, Canada Council for the Arts, the Ontario and Toronto Arts Councils and the Social Sciences and Humanities Research Council of Canada.
Change of State Performance Project was founded in 2005 by Andrea del Moral and K. Qilo Matzen. In January 2006, we became a fiscally sponsored project of CounterPULSE. Since 2003, we have made or contributed to seven dance, dance-theatre and theatre pieces, and performed these works in the Bay Area, Chicago and Urbana, Illinois. In 2003 we produced an evening of our work and that of four other performers in Oakland; in 2006 we produced a fundraiser of socio-political performance, featuring work by thirteen eclectic artists, to raise funds for the Common Ground Clinic in New Orleans. We work annually with choreographer Lisa Fay in Urbana, Illinois. For two years we have concentrated on deepening our creative partnership, performing in living rooms and a cemetery, as well as traditional small arts spaces.
Andrea del Moral provides theatrical direction for Change of State Performance Project. She has studied at Boston University and the School for New Dance Development (Amsterdam, The Netherlands). Her choreography was seen in ODC's PILOT program, and she has performed at Dance Mission, Jon Sims Center, CounterPULSE, in underground venues in Oakland and Chicago, and at the Independent Media Center of Urbana-Champaign, Illinois. Her work is influenced by her training in Skinner Releasing Technique, theatre direction, improvisational dance and theatre, contemporary dance, clowning, and writing.
K. Qilo Matzen brings a technical movement background to the Project, with a BFA in Dance from University of Illinois, Urbana-Champaign, and training in Martha Eddy's Integrative SMTT (Somatic Movement Therapy Training). Ze both works with clients and teaches through a Somatic Movement Therapy perspective. Qilo has performed throughout North America and Europe: touring the Balkans with arts/activist collective Building Bloc, working with European director/choreographers, and locally in residency at Jon Sims Center. Currently ze works as a plumber's apprentice in addition to hir Somatic Movement Therapy practice.
(ze and hir are gender neutral pronouns)
seeley quest is an Oaklander who has featured at the 2002 first international Queerness and Disability Conference, the 2003 national True Spirit Conference, the San Francisco Center's opening week gala Some Kind of Queer, the 2003 Trannyfest, the 2002 Bay Area Ladyfest, the '05, '06, '08 and '09 SF Anarchist Cafes, the 2007 SF Sex Worker Film and Arts Festival, Sins Invalid 2007 and 2008, Writers With Drinks, 848 Community Space and Counterpulse, in residency at the Jon Sims Center, in the 'Trans As Fuck' shows sie also co-instigated, the 2008 National Queer Arts Festival in 'TAF' and 'Marginal Bodies', L.A.'s Trans/Giving, on tour with the Tranny Roadshow in '05, '06 and '09, and elsewhere. Sie also proposed and co-facilitated the 2004 Homo a Go Go and 2004 Bay Area Ladyfest's disability workshops, and is inspired by the idea of explicitly connecting queer identity and motivation to reconnect with and save the earth.
QUEER FOOD FOR LOVE is a collaboration of queer artists, activists, and cooks who create food on a semi-regular basis for community, not profit. queerfoodforlove.blogspot.com
https://queerculturalcenter.org/wp-content/uploads/2019/11/QCC-Logo-Updated.png
0
0
C Q
https://queerculturalcenter.org/wp-content/uploads/2019/11/QCC-Logo-Updated.png
C Q
2016-11-12 03:46:40
2019-12-13 06:18:50
Dirt Star