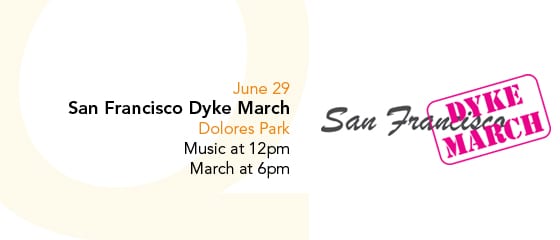 If history is bound to repeat itself, then we are right on schedule.  We are living in extraordinary times and building on the progress of those who came before us; women who moved from the kitchen to the workplace, from child rearing to organizing job opportunities and equal consideration.  However, there remains much to be done.
June 29
SF Dyke March: Dykepocalypse:  Our Feminist Awakening
Dolores Park, 12pm-Music; 6pm-March
This year's Dyke March theme – Dykepocalyplse: Our Feminist Awakening – came out of many meetings, emotional discussions and critiques about what we could bring to our larger dyke community.  We recognize that there is an opportunity to educate others on the roots of feminism and collectively embrace our strength as we step into our own power.
Women, dykes, lesbians, mothers, daughters, sisters, wives – we are coming into our own time, transitioning from a period of male power to an emerging era of women's empowerment. This is the true meaning behind the end of the Mayan calendar.
The definition of apocalypse is an event involving destruction or damage on an awesome or catastrophic scale.  We interpret it as simultaneously destroying that which is no longer useful and creating momentum toward greater balance; exploring our roles in the modern feminist movement and ascending to our natural place of power.
While women are responsible for 66% of the world's labor, produce 50% of our food and constitute almost half of all university students, we earn only 10% of global income and own just 1% of all property. In the United States, full-time, working women make only 77 cents for every dollar men make annually.  Given the pivotal role that women play in our families, our industries, and our communities, these statistics show the alarmingly wide gender gap that persists in our society.
Just as our Dyke March founders led the first two decades of the March, it is up to us to continue to act up, engage, to move, and to stop being complacent.  We must continue to reclaim our identity and be visible and vocal in our demands for equality. We will not stand for injustice.
We will rise in June. Join us.
https://queerculturalcenter.org/wp-content/uploads/2019/11/QCC-Logo-Updated.png
0
0
C Q
https://queerculturalcenter.org/wp-content/uploads/2019/11/QCC-Logo-Updated.png
C Q
2016-09-26 21:54:10
2019-12-13 06:30:12
Dyke March 2013