The Garage All-Stars presents an evening of queer women choreographers, featuring Awilda Rodriguez Lora's Mamá Awilda: El Duet, new work by Anne Bluethenthal that distills dance and spoken word, using breath as a metaphor and celebrating the common woman, Columbia Chasing by dance ceres and new works by Shaunna Vella and Heidi Landgraf.
Biographies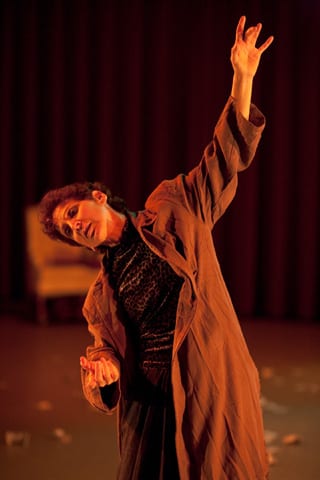 Anne Bluethenthal
Anne Bluethenthal's 3 short solos (June 13) are a distilled triplet of dance and spoken word that cover the broad terrain of breath as a metaphor for imperialism, to the celebration of the common woman, to the granting of constitutional rights to nature. Her newest duet-in-progress (June 14) is a rare romp in the realm of humor, pathos, and lesbian sensuality. Anne Bluethenthal, M.F.A. is the founder and director of ABD Productions, the producing arm of Anne Bluethenthal & Dancers, a San Francisco-based multi-ethnic and multi-cultural modern dance company, dedicated to activism in the arts ABD was founded in 1984 and has developed a repertoire of more than 60 original works, including four evening-length multi-disciplinary pieces addressing issues such as Palestine-Israel, globalization, genocide, the environment, and the gift economy. ABD has received a number of notable awards and honors, including the San Francisco Chronicle's Best of 2001, San Francisco Weekly's Black Box, the San Francisco Bay Guardian's Goldie Award for Achievement in Dance, and the Rhinette Award for Best Choreography. Bluethenthal co-founded the SF Lesbian and Gay Dance Festival and created the Dancing the Mystery series.  She has been teaching her unique approach to dance technique for over 20 years and is currently on the faculties of California Institute for Integral Studies' Creative Inquiry MFA program, Academy of Art University's Motion Picture and Television program, and Institute for Transpersonal Psychology's Women's Spirituality MA program.  She maintains a private practice in the Alexander Technique (certified by both the North American and London Societies for Teachers of the Alexander Technique) and her writing on Dance, the Alexander Technique, and other subjects have appeared in various publications and books.

Shaunna Vella: "During NQAF I am exploring dating, relationships and being single within the queer community using movement, theater and language. Drawing from my personal stories, those of my friends, and queer literature I continue to find patterns of lust, humor, sadness, friendship and strength."

dance ceres
dance ceres presents Columbia Chasing, studying the defining differences between the flow of a river and the fluidity of the individual, revealing the stab of shock and the spark of surprise are one in the same action; immediate state of disbelief renders us motionless. In exploring queer families, the state of constant change for LGBT communities and the purposefulness of the rushing river, our work celebrates the things that profoundly surprise us. Wash out the human in me and let me be like the river. Hailed by dance critic Allan Ulrich as a choreographer with 'genuine craft & individual sensibility,' Brittany Brown Ceres is the founder of Dance Ceres and was associate director of the WestWave Dance Festival from 2003- 2007. She grew up in Portland, Oregon and received her first professional choreographic gig at the age of fifteen. She attended UC, San Diego and secured a BA in Theater, with a double minor in Dance and Biology ('95) in three years, under the mentorship of Jean Isaacs, Nina Martin, Kathryn Irey & Margaret Marshall. In San Diego, she studied extensively with Lower Left Dance, Isaacs/McCaleb & Dancers and performed and choreographed her own work for Synaptic Alternative Dance Project. In 1997 she moved to New Zealand to choreograph and perform with Christchurch's Dance Core, under the direction of Sheryl Robinson and Fleur DeTheir. While in NZ she choreographed for St. Margaret's College and taught modern dance at Hadley College.
Heidi Landgraf will create a comedic performance, based on the Halprin system of Scoring, that includes improvised audience participation as guided by simple instructions and accompanied by a live DJ.
Mamá Awilda: El Duet is an introspective solo multimedia performance that weaves together video, sound, animation and choreography to tell the story of a daughters journey in learning to love, honor and accept her mother. I draw on personal conversations shared between us as well as from parts of journal entries she kept during her 25 year relationship with my father as creative inspiration. The piece is an important reminder of the possibilities of self-discovery through the words of our elders as a celebration of their life. Awilda Rodriguez Lora is a performance artist, film producer, yogi, lover and traveler who has been creating and performing her own work  for almost 10 years. For her, the development of performance art has become a personal therapy session where she constantly challenges her  identity, sexuality and gender. Rodriguez Lora understands the importance of artistic collaboration and has made it a point to work  with other artists to not only create new work but also to challenge  herself as an artist and producer. She has had the opportunity to work with artists from New York, Chicago, Los Angeles, Norway and Puerto  Rico. For more information visit: laperformera.org
https://queerculturalcenter.org/wp-content/uploads/2019/11/QCC-Logo-Updated.png
0
0
C Q
https://queerculturalcenter.org/wp-content/uploads/2019/11/QCC-Logo-Updated.png
C Q
2016-10-28 18:36:14
2019-12-13 06:20:12
Garage – Allstars 2