June 21, 2008
ALL TRICKED OUT
GuyWriters
LGBT Community Center – 4th Floor
8pm
$8-$15 Sliding Scale
For a complete conference schedule, please visit: www.guywritersconference.org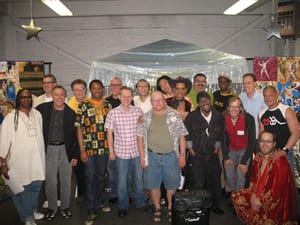 Despite the richness of queer arts in the San Francisco Bay Area, many of us writers are left scratching our heads: Why is there no conference serving gay writers?  What happened to Outwrite?  What happened to San Francisco as a center of queer literature and publishing? 
Is there still a there there?
To revitalize the gay literary movement, GuyWriters calls all gay-identified and bisexual male poets, prose writers, and playwrights to gather for a one-day conference.  Featuring workshops by Joël Tan, Kirk Read, Jay Frazier, Jaime Cortez, Matthew Graham Smith, John Fisher and other home-grown talent, the GuyWriters Conference offers participants the chance to pick up new skills, learn about the craft and the business of writing, and network with some of the most prolific gay writers in the Bay Area. 
This is where the action is, boys.
Be there.  Plug in.
Contact: Phillip Huang 510-697-6027
Artists Biographies/Workshop leaders
Kirk Read is the author of the memoir How I learned to Snap. He has been published in over 30 anthologies and is working on a novel about the Book of Revelation, as well as a collection of humorous essays called This is the Thing. He recently received a grant from the San Francisco Arts Commission to develop a solo show that will premiere in June of 2008 at the San Francisco Queer Arts Festival. www.kirkread.com
Joël Barraquiel Tan, the Director of Community Engagement at Yerba Buena Center, is the author of two poetry collections, Monster and Type O Negative, and the editor of three highly-praised collections of sexual storytelling, Best Gay Asian Erotica, and Inside Him.  His essays, short fiction, and verse have been translated in several languages and appear in numerous academic and commercial venues including: Total Chaos: The Art & Aesthetic of Hip Hop, Ala Carte: Food and Fiction, Fresh Men: New Gay Fiction.  Joël holds a B.A. in Ethnic Studies from UC Berkeley and an M.F.A. in Creative Writing from Antioch University.
Jaime Cortez is a San Francisco Bay Area artist, writer and cultural worker based in Oakland, CA. Jaime's writing has been anthologized in over a dozen anthologies including Besame Mucho, 2sexE, and Queer PAPI Porn.  He has edited the groundbreaking Latino anthology Virgins, Guerrillas & Locas for Cleis Press (1999). He is the writer and illustrator of a graphic novel, Sexile, which was nominated for a National Library Association Award. Jaime received his M.F.A. from UC Berkeley and is currently working on a new graphic novel on the theme of gang violence.
Matthew Graham Smith is the Artistic Director of Precarious Theatre. He is a core member of the Dell'Arte Company, focusing on classical and emerging physical theater forms. Primary Stages (N.Y.) honored him with an award for his first play Strip.  Hotel Obligado (Philadelphia) commissioned his play Beauty Is, about the crystal meth drug crisis. His new play Neverboy deconstructs the myths of Peter Pan with a queer twist. He recently won the SFAC individual artist grant for his upcoming Loveproject.  Graham teaches at A.C.T.'s M.F.A. program, and at New Conservatory Theatre Center, SF State, and Bangkok's Assumption University.
John Fisher, Executive Director of Theatre Rhinoceros, wrote the plays The Joy of Gay Sex, Medea: The Musical, Combat, Partisans, Amnesia, Barebacking, Queer Theory, Titus!, Napoleon, Schönberg, and Special Forces, among others.  John is the only two-time winner of the Will Glickman Playwright Award, and received several grants and awards in L.A. and S.F.  He recently directed Red Scare on Sunset for A.C.T., and What the Butler Saw and Boston Marriage for Theatre Rhinoceros, wrote and directed There's Something About Marriage at the N.Y. International Fringe Festival, and is teaching in the Graduate Playwriting program at Yale School of Drama.
https://queerculturalcenter.org/wp-content/uploads/2019/11/QCC-Logo-Updated.png
0
0
C Q
https://queerculturalcenter.org/wp-content/uploads/2019/11/QCC-Logo-Updated.png
C Q
2016-11-16 18:38:50
2019-12-13 07:22:43
All Tricked Out 2008