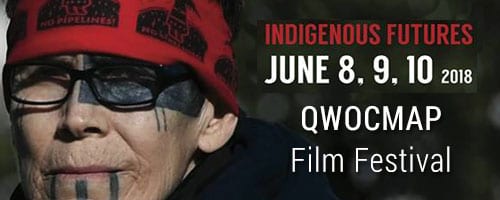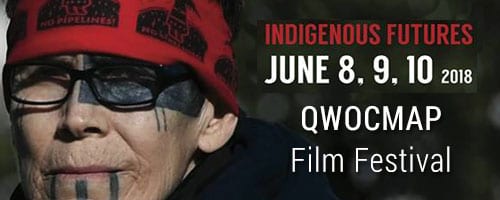 June 8-10, 2018
QWOCMAP presents
14th Annual Queer Women of Color Film Festival
Brava Theater, 2781 24th Street, San Francisco, CA 94110
Various times
Friday, June 8, Opening Night Screening: Fierce & Feral – 7:30pm
Saturday, June 9, Centerpiece Screening: Breaths Intertwined – 7pm
Saturday, June 9, After Party @ Asiento – 9:30pm
Sunday, June 10, Closing Night Screening: Indigenous Futures – 5pm
Sunday, June 10, Audience Award for Best Film – 9pm
Tickets: All screenings are FREE
After Party $10-$25
https://qwocmap.z2systems.com/np/clients/qwocmap/event.jsp?event=8&
FILM/VIDEO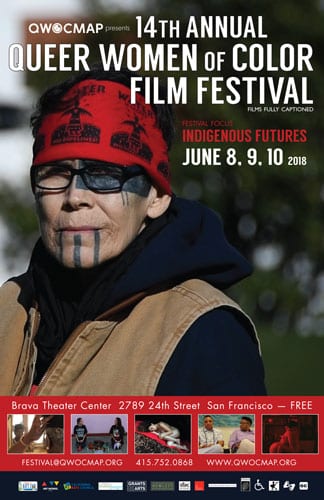 QWOCMAP's 14th annual Queer Women of Color Film Festival will premiere 21 films in 3 screenings, June 8-10, 2018. Feel the thunder of the "Indigenous Futures" Festival Focus as it charges body, mind, and spirit with a keen lightning strike of power, the resonant rumble of decolonization, and a glorious reservoir of indigenous brilliance. From hip hop Native warrior women too feral for the patriarchy to the smoldering romance of two elderly Latina lesbians so hot that it incinerates prejudice, these films are a barometer for our revolutionary tomorrow. All films are Subtitled for the Deaf & Hard-of-Hearing and ASL interpretation will be provided along with many other forms of disability access.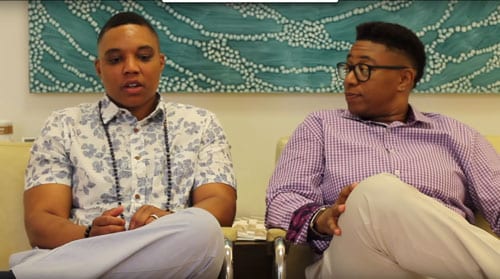 Friday, June 8, 2018
Opening Night Screening
Fierce & Feral
7:30 PM, Doors Open 6:30 PM
TRT: 1:39:46
From the ionized moments in between cancer treatments for a Black femme to the sensitive rumbles of a queer Vietnamese woman seeing her mother after a long time, these films remind us that wild is the wind and heart.
Black High Tea (2017) Jay Gash
Black Enuf* (2016) Carrie Hawks
Sensitive (2018) Ngoc Anh Ha
My Life, Interrupted (2018) Alana Devich Cyril
Scenes: Portraits of QT Artists of Color (2018) VandL Films, The Lady Ms. Vagina Jenkins & Luna Merbruja
A Collage of Masculinity (2018) Davelle Barnes
The Quare in There (2016) Taryn Lee Crenshaw
Gabby Antonio Smashes The Imperialist, White Supremacist Capitalist Patriarchy (2018) Luann Algoso
Community Partners
Asian Pacific Islander Cultural Center (APICC)
Museum of the African Diaspora (MoAD)
National Center for Lesbian Rights (NCLR)
PFLAG San Francisco
Transgender Gender Variant Intersex Justice Project (TGIJP)
Transgender Law Center (TLC)
Trikone
Women's Cancer Resource Center (WCRC)
Young Women's Freedom Center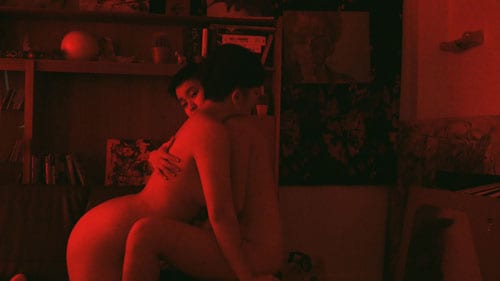 Saturday, June 9, 2018
Centerpiece Screening
Breaths Intertwined
7 PM, Doors open 6:00 PM
TRT: 70:54
These films promise to fill the atmosphere with sparks. In the queer Asian diaspora, the flick of a tongue against flesh sparks a storm of desire and intimacy, the prevailing heat of a romance between elderly Latina lesbians is so hot that it incinerates prejudice, kinky Black lovers come together with an audible crack, and with luminous intensity a queer Latinx couple open into a new love.
Encuentro (2016) Florencia Manovil
Loss, Deal (2017) Alma Herrera Pazmino
Reality Fragment 160921 (2018) Jasmine + April Lin
Roxy Strikes Back (2017) BeyondDeep Productions, Gabrielle Wilson-Sealy & Kei X. Griot
Mariposa (2017) Candy Guinea
Amigas With Benefits (2017) Adelina Anthony
Community Partners
Asian Pacific Islander Queer Women & Transgender Community (APIQWTC)
Chicana Latina Foundation (CLF)
The Exiles
Forward Together
Family Builders
Our Family Coalition (OFC)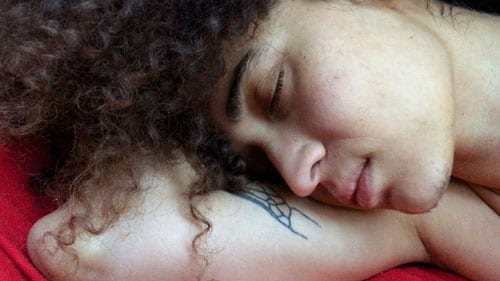 Sunday, June 10, 2018
Closing Night Screening
Indigenous Futures
5 PM, Doors open 4 PM
TRT: 41:24
From Native warrior FemmeCees bringing hip hop flash and sonic boom to the remanent magnetic cry of endangered Indigenous language and resounding susurration of the Two Spirit drum, this day of films, ceremony, song, and a special talk circle on Native communities in film will electrify you.
Tuupash (2018) L. Frank Manriquez
Lady Rainbow (2018) Mónica Ortiz
Her Journey (2018) Charlene Dancing Fox & Perla Guevara-Otwell
Circles of Care: Native Wellness in King County (2018) Sabine Talaugon
The Indian Is Still Alive and The Indian Knows The Songs (2018) Susana Cáceres
Mala Fama (2018) Natalie Contreras & Vreni Michellini Castillo
The Spores They Left Us (2018) jazmín calderón
Community Partners
Bay Area American Indian Two Spirits (BAAITS)
Center for LGBTQ & Gender Studies in Religion (CLGS)
Community United Against Violence (CUAV)
Native American Health Center (NAHC)
Queer Cultural Center (QCC)
San Francisco Women Against Rape (SFWAR)
Funders

California Arts Council
Fund for Shared Insight
Grants for the Arts
Walter & Elise Haas Fund
William & Flora Hewlett Foundation
National Endowment for the Arts
San Francisco Arts Commission
San Francisco Foundation
Zellerbach Foundation
https://queerculturalcenter.org/wp-content/uploads/2018/03/quocmapFF.jpg
200
500
C Q
https://queerculturalcenter.org/wp-content/uploads/2019/11/QCC-Logo-Updated.png
C Q
2018-03-10 03:56:04
2020-01-01 00:19:31
QWOCMAP 2018