Teenage Papí: The 2nd Coming of Adolescence
Butchlalis de Panochtitlan (BdP)
Co-presented by QueLACo & QCC
June 16 at 8:30pm (following Mission Girls at 6:30pm!)
LGBT Community Center, Rainbow Room
Tickets: $7 – $15 sliding scale; under 21, pay what you can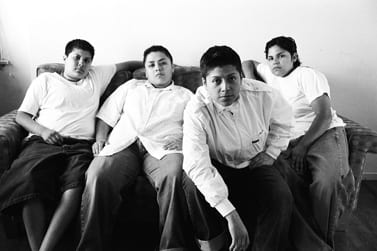 Teenage Papí: The 2nd Coming of Adolescence is the first full-length performance by those rascally Butchlalis de Panochtitlan (BdP).  BdP is a sketch-driven performance ensemble that maps Los Angeles on racialized female masculine bodies, as both characters and caricatures. The BdP are not drag kings, but butch dykes/transgender butches/genderqueer speaking subjects that are not trying to pass as men; instead, the BdP explore the in-between space of female biology and testerone-taking transexuality and the identities and neighborhoods these subjects claim and are claimed by.  Sketches include Working Class Butch Latina/o Identities (City Terrace); Interracial Desire (Montebello); Family Guilt-Latino Queerness (East Los Angeles); Bar Culture/Softball Culture (El Sereno); Gentrification (Silverlake, former home of immigrant transvestis); Class/Classism (all of LA Metro); Sexual Awakening (West Hollywood); Suburban Renditions of Queer Subjectivies (Bell Gardens). The BdP includes longtime cultural activists, performance poets and co-founders of Tongues Magazine, a Los Angeles-based queer arts journal and organizing project—Raquel Gutierrez and Claudia Rodriguez.
The show promises a multimedia buffet of queer butch wounds and triumph.
Check out these tales of tender tops and bossy bottoms, baby daddy diary entries, BDSM thuggery, ride-or-die femmes and more. Celebrate the macho cockless and shed a tough-guy tear with these talented little fellas!
https://queerculturalcenter.org/wp-content/uploads/2019/11/QCC-Logo-Updated.png
0
0
C Q
https://queerculturalcenter.org/wp-content/uploads/2019/11/QCC-Logo-Updated.png
C Q
2016-12-12 19:33:12
2019-12-13 06:15:05
Teenage Papí