Men on Men: Connecting with the Masculine
GuyWriters
June 10 at 7:30pm
The LGBT Community Center / Ceremonial Room
Tickets: $5 – $15 sliding scale

(L-R) Matthew Graham Smith, Andrew Demcak, Richard Kane, Anthony Williams, and Jay Siegel. Photo by Lynnly Labovitz
Why is it such a battle to get connected with a man these days?!  In the war for love and sex, the GuyWriters collective embeds itself with family, God, AIDS and more in this erotic, hilarious and bittersweet evening of poetry, prose and drama. Features local talents M.S. Allen, Louis Anthes, Donald Currie, Andrew Demcak, Richard Kane, Vincent Meis, Jay Siegel, and Matthew Graham Smith with a special appearance by Bay Area literary favorite Justin Chin.  Don't miss the finale: the world premiere of choral poem by Marvin K. White!
Biographies
M.S. Allen (Guywriters Member)
M.S. Allen's writing has appeared in The Georgia Review, The James White Review, New York Stories, Modern Words and The Gay & Lesbian Review. A new story is forthcoming in Descant later this year. His childhood was spent in New York City; Phoenix, Arizona; and Los Angeles. He lived later in Syracuse, New York; Boston and Cambridge, Massachusetts; and Manhattan. He now resides in San Francisco. He is currently completing a linked-short story collection, Ivan & Misha.
Louis Anthes (Guywriters Member)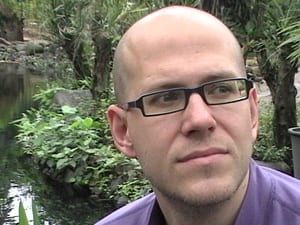 Louis Anthes writes poems, short stories, and novels.  His work has appeared in erotic fiction anthologies, Inside Him and Bear Lust, as well as several magazines. He is also the author of Lawyers and Immigrants: A Cultural History (LFB  Scholarly). He was raised just outside Chicagoland in a place called Michiana, which is sort of like the DelMar Peninsula or Texarkana, but not really. He was graduated from two universities which take their names from the cities of Chicago and New York.  He currently lives in San Francisco, working on Let It Go, a novel about gay soul-mating, betrayal, and enlightenment.
Justin Chin (Special Guest)
Justin Chin is the author of three collections of poetry, Gutted, Harmless Medicine and Bite Hard (Manic D Press); two collections of essays, Burden of Ashes (Alyson Press) and Mongrel: Essays, Diatrides & Pranks (St. Martin's Press); and a collection of performance art texts, Attack Of The Man-Eating Lotus Blossoms (Suspect Thoughts Press).
Donald Curries (Guywriters Member)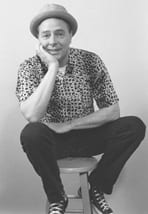 Donald Currie is a playwright and actor. In the 1960s, he helped formed a theatre group and commune called "The Gestalt Fool Theatre Family" and performed at many seminal 1960s events, including at the Fillmore Auditorium with the Grateful Dead. He then formed a musical group called "Don and Pilar" which toured the California for five years. Donald then started "Western Onion Singing Telegrams" and revived the singing telegram in America. When AIDS arrived in the early 1980s, he was one of the first people on the phones at what later became the San Francisco AIDS Foundation and the crisis led him out of performing and into studying Chinese medicine, which he has practiced for the last fifteen years in San Francisco. He returned to theatre last year after a long hiatus, performing his original one man play Sex and Mayhem at New Conservatory Theatre Center. He then appeared at Theatre Rhino in Beautiful Child and The Philanderer. He is currently working on the next live episode of Sex and Mayhem, a short portion of which he will perform at tonight's event. He attended San Francisco State University and Stanford University, where he studied theatre and earned a BA in Theatre Arts.
Andrew Demcak (Guywriters Member)
Andrew Demcak is a poet. His poetry has been published and anthologized extensively in the United States and England. He has also won numerous grants and awards for excellence in poetry. Ohio State University teaches his work in two courses: American Poetry Since 1945, and The Genius and the Madman in Literature. He has an MFA in English from St. Mary's in Moraga, California, and is half way through his second Master's Degree in Library and Information Science.
Richard Kane a.k.a. Rkane (Guywriters Member)
Richard Kane is a writer and artist. He has sold his artwork and published his poems. He intends to self-publish a book of his poems. Aside from men, his interests include cooking, creating artwork, taking classes in welding, and writing, mostly poetry. He is a 54-year-old gay male originally from Minneapolis, Minnesota. He lived in San Francisco from 1975 until he moved to Oakland in 1990.
Vincent Meis (Guywriters Member)
Vincent Meis is a novelist and playwright. He grew up in Decatur, Illinois, and began writing plays when he was about 10 – and he made his younger sisters act in them! His career choice as an ESL teacher allowed him to live abroad in France, Saudi Arabia and Spain. His fiction and non-fiction about these experiences, written from his perspective as a gay man, have appeared in magazines. Still an ESL teacher, he now lives in San Francisco, but the travel bug he developed while living overseas takes him to exotic places. He is currently working on a novel set in his most recent favorite place, Cuba.
Jay Siegel (Guywriters Member)
Jay Siegel is a poet and journalist. He grew up in Toledo, Ohio, and graduated from Bowling Green State University where he earned a degree in journalism and minored in creative writing. While journalism pays the bills, creative writing is Jay's true passion. As a poet, Jay is very inspired by how place and time impact an individual, and the Midwest provides him with a lot of material. With his boyfriend of two years and his new life in San Francisco, Jay believes he will have even more inspiration for his work.
Matthew Graham Smith (Guywriters Member)
Matthew Graham Smith is a writer, director and performer working in San Francisco and New York City. He is a member of "The Dell'Arte Company," a group focusing on classical and emerging physical theater forms including mask, dance-theater, circus, puppetry, ensemble creation, and pagaentry. His writing has appeared in Lodestar Quarterly and Lambda Book Report. The Asian American Writer's workshop in New York City commissioned his play SALT based on Monique Truong's The Book of Salt. The Northcoast Journal in California awarded his play Shadow Of Giants, a drama based on the timber wars in northern California, their honor for Best Original Play 2004. His new play, A Familiar Face, deals with soundbyte politics, sitcom government, and other dangerous jokes. The Jon Sims Center awarded him a directing residency fellowship for their 2006 winter/spring season, where he is directing Chemical Imbalance, a new play by Lauren Wilson. Contact him at [email protected]
Marvin K. White (Special Guest)
Marvin K. White, author of two LAMBDA Literary Award-nominated collections of poetry, Nothin' Ugly Fly (Redbone Press 2004) and Last Rights (Redbone Press 2004) is a poet, performer, playwright, and visual artist as well as a community arts organizer.  He is a former member of the critically and theatrically acclaimed POMOAFROHOMOS.  His poetry has been widely anthologized in both local and national publications.  He currently holds a fellowship in the national African American poetry organization "Cave Canem;" serves on the board of "Fire And Ink," a national Black LGBT writers organization and conference; and he has led creative arts and writing workshops for inner city elementary schools, youth centers for runaway kids and black gay youth support groups.  He is co-founder of B/GLAM, a California arts organization dedicated to preserving, incubating and presenting black gay male artistic expression.
Anthony J. Williams (Event Organizer and Guywriters Member)
Anthony Williams is an African-American poet, actor, DJ and cultural organizer based in San Francisco. He is a Co-Founder of GuyWriters, the Bay Area network for gay male writers, where he currently leads the biweekly poetry group.  Anthony's numerous creative adventures have included founding SHOUTOUT!: The Online Multicultural Literaray Magazine For College Students In The New York City Region; organizing multicultural poetry readings for "Men Of All Colors Together" (NYC); writing, producing and performing Army Of Love, a multimedia dance music piece that was included on the 1997 OUTMUSIC CD which toured New York City; starring as Belize in the Bard College production of Angels In America; and being a featured artist of the Chekhov Theater Ensemble in New York City. A longtime community activist, Anthony has served on the boards of several non-profit organizations, including MIX: The Lesbian and Gay Experimental Film and Video Festival. He holds an M.A. from the City University of New York, where he studied with Michele Wallace and Joan Nestle, presented a paper at a conference honoring the late Melvin Dixon, and served on the organizing committee for the ground-breaking Black Nations/Queer Nations Conference sponsored by the Center for Lesbian and Gay Studies. Anthony is also a graduate of Yale College, where he studied with Harold Bloom and John Hollander. Anthony is originally from Albuquerque, New Mexico.
https://queerculturalcenter.org/wp-content/uploads/2019/11/QCC-Logo-Updated.png
0
0
C Q
https://queerculturalcenter.org/wp-content/uploads/2019/11/QCC-Logo-Updated.png
C Q
2016-12-12 18:24:14
2019-12-13 06:15:03
Men on Men