TransForming Community 2007
TransForming Community
June 21, 2007
7:30pm
Performance & Readings
Rainbow Room | LGBT Center
TIX: $8-$15
TransForming Community explores the friction at the intersection of contemporary trans and queer communities. With a burgeoning transsexual community growing in tandem with a genderqueer movement, what are the issues that arise when non-trans queers share cultural space with transpeople and genderqueers? With distinctly different needs and identities, what needs to be worked out between the transsexual and genderqueer and queer communities?
An extensive question and answer session follows each performance.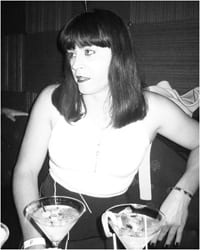 Sarafina S. Maraschino
Sarafina was born and raised in Central California and grew up on her family farm just outside of Stockton. A love of music was cultivated at an early age, and she was encouraged by her mother to sing, write, and play the guitar. She joined the Air Force after high school to receive the GI Bill and other educational benefits, and served with distinction in Europe and Asia. Though decorated in Desert Storm, she chose to leave the service to pursue her education and graduated from U.C. Berkeley with B.A. in history. She has taught English to ESL students, speaks German and Russian, and is wont to lecture on history, politics, or geography at the drop of hat. Her post-college days were spent relocating to San Francisco and immersing herself in the so-called Dot Com boom. She is a veteran of the search engine wars, the Internet start-up, and the vagaries of the Multimedia culture. As she muses: "rags to riches, and back to rags again." She began transition in 2003, shortly after getting laid off, starting her own business, and creating Lipstick Conspiracy, the world's first all female transgender rock band. Sarafina was responsible for the band's brand and visibility, as well as rhythm-guitar, lead vocals, management, administration, and public relations. The band has recorded two albums, "Don't Tell a Soul" and "A Perfect Alibi," both of which have received a variety of accolades from Seattle to San Diego, and Boston to New York. Lipstick Conspiracy has received a Stonewall award, was named Best Girl Band by the San Francisco Bay Guardian, graced the cover of the East Bay Express, and has been featured in such national publications as Curve, Bitch, Other, and Guitar Player. Sarafina is employed as a writer with a strategic marketing firm out of Redwood City, and currently lives in Potrero Hill in San Francisco.  When not changing the world with her music, she enjoys spending quality time with her beloved Andrea, and their cat, Silas. Her hobbies include (but are not limited to) cooking, debating, and napping.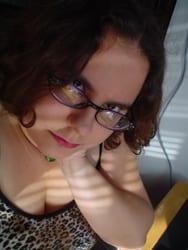 Gina DeVries
San Francisco-native Gina de Vries has been active in struggles for queer rights and sexual liberation since 1995. She is the co-editor, with Diane Anderson-Minshall, of [Becoming]: young ideas on gender, identity, and sexuality (Xlibris Press, 2004). Gina has had her memoir, fiction, journalism, and smut printed various places –including Tough Girls 2: Down and Dirty Dyke Erotica (ed. Lori Selke, forthcoming 2007); Transforming Communities (ed. Michelle Tea, forthcoming 2007); Baby, Remember My Name: An Anthology of New Queer Girl Writing (ed. Michelle Tea, forthcoming, Seal Press, 2007); First-Timers, (ed. Rachel Kramer-Bussel, Alyson Press, 2006); That's Revolting!: Queer Resistances to Assimilation (ed. Mattilda aka Matt Bernstein Sycamore, SoftSkull Press, 2004); The On Our Backs Guide to Lesbian Sex (ed. Diana Cage, Alyson Press, 2004); On Our Backs magazine, Curve magazine, and fULL zine. She curated "BOMBSHELL: queer writers on sex, war, & homewrecking" for San Francisco in Exile in February 2006, and "Cherry: queering virginity" for SFinX in August 2004. Gina is also a board member for Youth Trans & Intersex Education Services (formerly Youth Gender Project), and a volunteer at the Center for Sex & Culture. She blogs about sex, queer identity, music, large sea mammals, public transportation, and whatever else is on her mind at queershoulder.livejournal.com.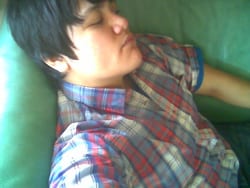 Nico Dacumos
Nico Dacumos is a Special Education teacher, performer, and writer. He develops workshops exploring race, queerness, sex, and love, and workshops comparing political movements. Workshops have been presented for Mount Holyoke and Smith College, Sistersong, Georgians for Choice, Body Positive Atlanta, and the CLPP Program at Hampshire College. He has also performed at venues such as Highways Performance Space, TMI Queer Salon, Valley Arts Festival, and for the Community Organizing Campaign (CYOC).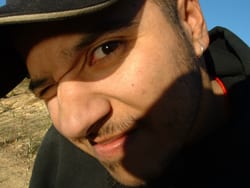 Prado Gomez
I (prado gomez) am a Mestizo dude from a pueblito (commonly known as the Mission District) that exists within an urban town (big city wannabe)  that I affectionately refer to as Frisco. I do a lot of things, one of the most fulfilling of which is to sing. The rest of the time I spend trying to be a good father, husband, son and co-inhabitant of the planet.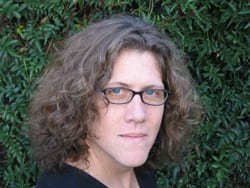 Susan Stryker
Susan Stryker, better known as an historian, gender theorist, and filmmaker, has dabbled in the arts since the early 1990s, when she performed her first spoken word piece at Red Dora's Bearded lady Cafe. She has shared conference billing with French body artist Orlan, collaborated with multimedia artist Shu Lea Cheang on a digital installation at the Guggenheim, and appeared in German experimental filmmaker Monika Treut's Gendernauts.  Susan recently won an Emmy Award for her documentary, "Screaming Queens,"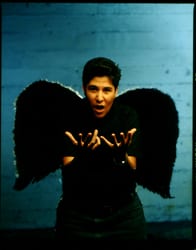 Storm Florez
Originally from Albuquerque, Storm Florez is a faggy,butchy, skirt and kilt chasin' genderqueer singer/songwriter, poet, spoken word, duct tape and performance artist, live tranny porn producer, Toltec spiritual top trickster, Mexican/a Maricon sensitive new age guy who now lives in the bay area. Storm has performed his music and spoken word across the US and co-produced and performed in the first one night pornarific cabaret Trans as Fuck in San Francisco in 2004.  Other venues include: Queer Arts Festival, 2001 and 2004, Transgiving, (Los Angeles), CB's Lounge (New York), Mable Peabody's Beauty Salon and Chainsaw Repair (Denton, TX.) and the Fat Chance Bar and Grill in Albuquerque).
Storm's writing has been published in BANG magazine (out of Stockholm, Sweden), From the Inside Out: Radical Gender Transformation, FTM and Beyond (Manic D Press) and his own self published The Pussyboy Chronicles (Sticky Press).  Look for Pussyboy Chronicles volume 2 by the end of the summer).
Buck Angel
AVN 2007 Transsexual Performer of the Year, and AVN 2006 Best New Performer of the Year.
(from his website)
As you know, I was born female and lived many years as such. I would say I was not really "feminine" but moreon the tomboy/butch side; and was always hanging out with guys doing guy things. I never felt like a girl and none of my friends ever treated me that way either. I was always perceived as a guy by everyone–even my family. But in those times sex change operations were not really talked about, so I just suffered "in the wrong body" which led to major drug and alcohol problems.
Then I saw a movie with female to male transsexual and it changed my life. I realized that I no longer had to live that way. I started my transformation, first taking hormones for 2 years, then getting chest surgery. As you can see I have become the man I have always wanted to be…it's a fucking dream come true!
I started working in the adult field making fetish videos and doing MTF websites. After a few years I noticed there was no one doing any FTM porn on the net. There have been some guys that have produced a few underground FTM porn movies but nothing on a more "mainstream" level. I realized it was time for me to move in on this and start making HOT FTM porn for the masses. So, I started transexual-man.com in February 2003 and it's been crazy, to say the least, ever since!
I am determined to get FTM porn on the map, and not as "freak porn" but as porn that people love and get turned on by and want to see. Sex is good and a positive thing. FTM guys are fucking HOT and sexy so that is what I want the world to see.
I am now distributed in over 15 different countries! I have shot a scene with Allanah Starr and Wendy Williams–both transsexual girls. This is the first in porn history of a FTM an MTF ever fucking on camera!
So I have just been tearing it up. My first two movies with Avalon are out now "The Adventures of Buck Naked Director's Cut" and " V for Vagina" .
I have also been getting lots of requests to do a documentary on my life and a reality tv show. It's great because I am about to break through that line of porn and mainstream. All the people who didn't believe me when I said the world is ready for someone like me are kicking themselves now!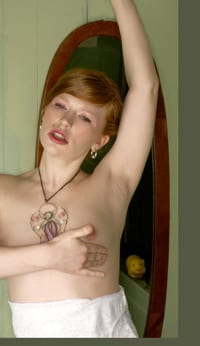 Tina Butcher
Tina Butcher aka Madison Young is a San Francisco based writer, performance artist, and international bondage model. Tina's writing has been published in such magazines as Girlfriends, On Our Backs, Bitch, Herbivore, Skin Two and in the anthology Baby Remember My Name edited by Michelle Tea. She currently writes travel articles for Velvet Park and reviews for Skin Two and is completing her memoir entitled "The Tail of a Bondage Model; Memoirs of Madison Young". Ms Butcher is also the founder and artistic director of Femina Potens(www.feminapotens.com), a non profit art gallery and performance space dedicated to the advancement of women and transgendered artists and has coordinated and produced over 200 LGBT events in the last 4 years. Madison Young has traveled the world working with some of the best bondage & fetish photographers, rope artists, models, and pornographers in the business. Madison has been published in over 100 web sites, numerous magazines including Hustler's Taboo and Leg World, a score of bondage, fetish, and mainstream erotic videos, international bondage performances and has started her own line of bondage videos and web sites including www.MadisonBound.com and www.Tied4Sex.com and intends on revolutionizing the porn industry one wanker at a time with hot aggressive queer kinky rough sex.
https://queerculturalcenter.org/wp-content/uploads/2019/11/QCC-Logo-Updated.png
0
0
C Q
https://queerculturalcenter.org/wp-content/uploads/2019/11/QCC-Logo-Updated.png
C Q
2016-11-19 05:05:04
2019-12-31 21:33:27
TransForming Community 2007