Despite queer histories of seeking less harmful ways of living –lesbian lands, radical faeire lands, urban queer collectives- creative queer visions of sustainability are often missing in the current heteronormative 'green' movement.
In a third and final episode, Dirtstar 2011 will Take Root at the Tenderloin National Forest/Luggage Store Annex with a Visual Arts Residency. This show honors the lived experience of queers, our process of having to shift through the detritus of this culture to find ourselves, our herstories, our culture, and each other. The work showcased will consist of artwork that utilizes found objects, re/appropriated imagery, and re-contextualized traditions– revealing how this work pushes queer culture and art forward. 
With workshops and a culminating Performance Night, Dirtstar 2011: Take Root at the Tenderloin National Forest / Luggage Store Annex will showcase essential sustainable living skills that expand the world queers have been creating for decades.
| | |
| --- | --- |
| | |
| Poster Design by Lex Non Scripta | Dirtstar Photo by Arrow |
Dirtstar Visual Art exhibition
June 2
Visual Art Show Opening
Opening, 7pm
FREE
Dirtstar Visual Artists' Biographies
My name is Gabby Q. Miller, and I live in between Hanoi and California. Depending on how tall you are, I can be extremely tall, or pretty average height.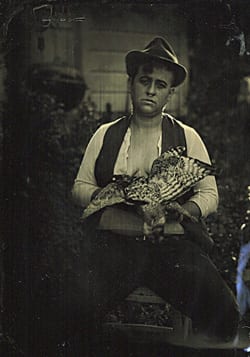 Dinah Jane DiNova, born California, 1982.  The currant project – Tin, Sin, & Kinship – in collaboration with Rosin James, is a collection of wet plate collodion portraiture focused on the dilapidated beauty of radical queer and modern day traveling hobo culture throughout the United States.
Levon Fox is interested in places that exist for short periods of time, or perhaps better, how places exist for a short period of time. He began this study with a focus on performances, movement, and the conflation of exploration (including self exploration) with tourism.  Levon was raised on the Eastern tip of Massachusetts, USA. He earned a bachelors degree at Sarah Lawrence College studying film production, fine art, and architectural history. After relocating to San Francisco, he began a career in design and production, continuing in a way his study of temporary places and conditions. His art now focuses on the narratives produced by abstract or imaginary places.
Adee Roberson is a queer black writer and visual artist living in Florida. She believes in ART as commemoration the the natural world and our ancestors. By creating through MAGIC, DREAMS, and INTUITION.
As an independent, self-taught, mixed media visual artist, Adee has curated exhibitions and shown her art in numerous galleries and alternative media/art venues across North America and Europe.  Her rich mixed media paintings, drawings, photo images, and fabric collages are influenced by punk and hip-hop music, '60s and '70s African psychedelic art, animals, nature, and her own personal [email protected] pineappleblack.blogspot.com
Jamie Q is a Canadian artist who makes paintings, drawings, zines, prints, and sculptures. She is interested in the social potential of art objects and do-it-yourself distribution strategies, and recently wrote a thesis about the politics and aesthetics of the DIY ethic. Her work is online at jamieq.net.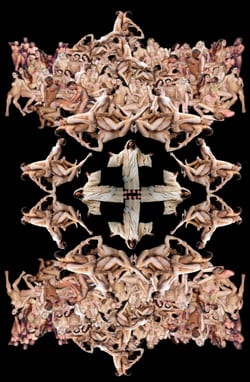 Lee Balan has been performing for more than thirty years. His assemblages and digital art has been displayed throughout California.  He creates art from discarded materials and images. He was the featured poet at the Palm Springs Museum, 2006. Lee recently published his novel "Alien Journal" about a queer alien.
Jen Lorang merges the techniques and spirit of old craft and witchery to create modern day miscellany of enchanting and healing art creations. Her work is an attempt to connect her and her community to their primordial past, one of mutual reverence for spirit, nature, healing and beauty without appropriating cultures or turning art and sustainable living into an empty commodity.  as a queer activist, she is dedicated to making art that supports the radical undercurrent by visually weaving stories of ideas and communities hidden and oppressed in our society.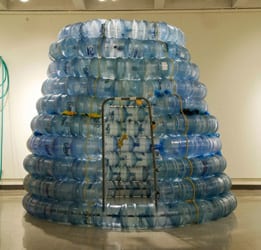 Flo McGarrell recieved a B.F.A in fibers and a M.A in Digtials from the school of the Art Institure of Chicago. He used his hybrid skills to create inflatable spaces. In 2007 he was part of the Rosewell artist in residence program where he experimented in sustainable living as sculpture. McGarrell served as the director of the art center FOSAJ in Haiti until his death in 2010.
Siobhan Flood grew up in the Bronx and has been luxuriating in the verdant Homotopia of the Bay Area for the past four years.  She vacillates between working too much and partying too hard.  She makes art out of trash because she believes our society has become disposable.  When Siobhan is not playing with rusted pointy things and lace she enjoys escaping the city to be in the nature, hanging out with her dog Buttercup, and long walks off short piers. 
Allyson Mitchell is a maximalist artist working predominantly in sculpture, installation and film. Since 1997, Mitchell has been melding feminism and pop culture to play with contemporary ideas about sexuality, autobiography, and the body, largely through the use of reclaimed textile and abandoned craft.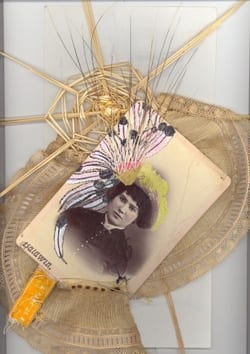 Sarah Sass Biscarra-Dilley is, according to her mother, half-Mexican and half-criminal. She is constantly exploring the spaces between the worlds; between ancestral lines, between gender and gender roles, between past and present, between sacred space and living space, between personal authority and collective responsibility. She lives in Santa Fe, NM.
Micah Bazant is a flamer, visual artist, and graphic designer. He created the trans jew zine Timtum, co-edited the Love and Justice Haggadah, and is a collective member of TransTorah (www.transtorah.org). He has been honored to be a part of many racial and social justice movements, and struggles to create work that expresses a sliver of ha-olam ha-ba – the just and fabulous world that is coming. He loves getting hid hands dirty.
Lewis Wallace is a writer and activist based in Chicago.  For the last few years, his political work has focused on supporting incarcerated people and working to build viable restorative and transformative alternatives to incarceration within local communities.  He has published articles on queer saints, women's and trans health, and injustices against trans prisoners.  He is an avid embracer of multiplicity, paradox, and the transformative power of art.
My name is Ector Garcia, I was born in California to Mexican immigrant parents, have spent much time both here and there. I am very inspired by nature, culture, sexuality, folk art, graffiti, and the many communities that have fostered me. Lately I've been crocheting a lot, inspired by memories of watching my grandmother make all sorts of beautiful things with crochet. Being an angry queer masculine man I enjoy taking a very traditional feminine craft and using it to express dark feelings.
Ariel Springfield is a queer multimedia artist who is fascinated by physical narratives, collections of ordinary objects and invisible things. Ze has a desire for the simplistic and a tendency toward the ornate.
Dirtstar presents: Take Root Performance
June 19
5 – 7pm
Tickets: $5-$20
Brown Paper Tickets: http://www.brownpapertickets.com/event/174187
Trash transformed. Seeds sown. Queer family forged. Dirtstar 2011 will Take Root in a May-June residency at Tenderloin National forest/Luggage Store Annex with weekly consciousness raising, visual art, bike tours and installation. The Dirtstar: Take Root performance will will celebrate radical queer sustainability in uncertain times. Featured performers will be, m.a. brooks, Amar/a Puri, Coral Short, Celeste Chan, Jesse Quattro, Ava Mendoza, Qilo Matzen, Glitter Twins, Queer Food For Love and many more. See http://dirtstar2011.wordpress.com/ for complete listing of events.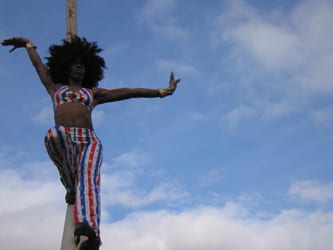 m.a. brooks. Photo by Sally Ann Rodriquez
Dirtstar Performance Artists – Selected Biographies
m. a. brooks creates textured landscapes of movement, gesture, text and voice, reconstructs cultural memories from black, queer, colonized/marginalized histories while engaging in risky physicality, interactive environments, and the creation of community through the artistic process. In San Francisco, m. a. has danced with aerial dance company, Fly Away Productions, since 2009 and in June of 2010 was granted a Djerassi choreographer's residency. m. a. attended Moving On Center School for Participatory Arts and Research and studied contemporary dance at The School for New Dance in Amsterdam. m. a. also works as a part time food justice educator for Pie Ranch Farm.
Amar/a is a byke witch, songstylist, and mixed media visual artist who uses performance and entertainment as a catalyst to transform art spaces and create massive emotional experiences. Amar/a has mastered stilt walking, costume design, stitch-witchery, theatrical makeup, and is a proud vocalist, musician, and drag performer. Drawing on a queer, mixed race, progressive experience, Amar/a seeks to disband myths and manifest legends. Down with apartheid walls, and up with the sunflowers: gardens are the source, may love be our fuel, and let song heal our wounds.
Coral Short displays the tender strength of community, explores the queer body as its own linguistic construct, and celebrates the rebirth of queer sexualities in the wake of the AIDS crisis queer communities faced in the 1980s and 90s. Short's work is social practice, revealing and rupturing paradigms. The artist also explores partial or hybrid identities. www.coralshort.com
Celeste Chan is a queer API multimedia artist and activist. Using multimedia, dance, and performance, she delves into themes of queer and cultural lineage, hidden histories, reinvention, and complex emotional states. Her recent projects include the film "Bloodlines" for the Walls project, media and curatorial work for Queer Rebels of the Harlem Renaissance, and organizing with the Shifting Narratives collective. She has performed and screened her work in the San Francisco Bay Area, New York, Vancouver B.C., and the Pacific Northwest. She is the co-Artistic Director of Queer Rebel Productions (queerrebels.com), and a Board Member of Community United Against Violence (cuav.org). Find out more at:www.celestechan.com.
Glitter Twins Anthea Black and Mr. & Mrs. Keith Murray
Anthea Black's projects in printmaking, collaborative performance, drag video, writing and curating take various forms, but most often feel at home as part of Canadian artist-run culture. Her artist-curatorial project, looking for love in all the wrong places, produces and distros posters and editions by queer artists for public spaces. Black has recently exhibited as part of Gestures of Resistance at the Museum of Contemporary Craft in Portland, OR.

Mr. & Mrs. Keith Murray
At the 2008 inaugural exhibition of the Erotic Heritage Museum in Las Vegas, Elvis and a band of drag queen flyin' nuns, witnessed the holy matrimony of Keith Murray's marriage to him/herself. Murray is a trans-disciplinary mystical pervert (aka artist/writer/curator). S/he works predominantly with make-up, costume, film, video, new media, sculpture, movement and performance. Mr. & Mrs. Murray is a lover not at fighter.
https://queerculturalcenter.org/wp-content/uploads/2019/11/QCC-Logo-Updated.png
0
0
C Q
https://queerculturalcenter.org/wp-content/uploads/2019/11/QCC-Logo-Updated.png
C Q
2016-10-25 04:09:54
2019-12-13 06:21:02
DirtStar