Jonathan D. Katz QCCA 2011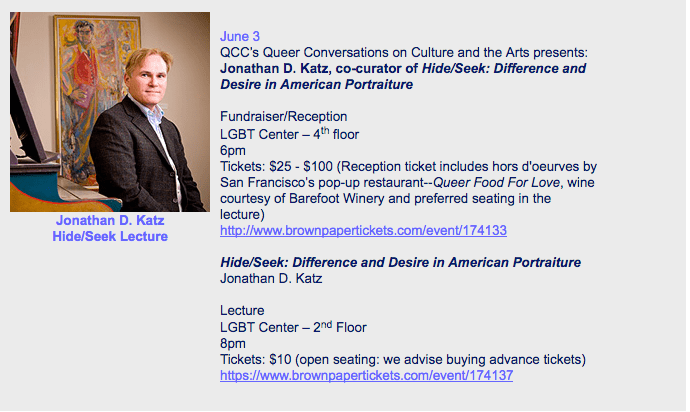 QCC's Queer Conversations on Culture and the Arts presents:
Jonathan D. Katz, co-curator of Hide/Seek: Difference and Desire in American Portraiture
A Fundraiser/Reception and Lecture
LGBT Center – 4th floor
Fundraiser/Reception: 6pm
Tickets: $25 – $100 (includes preferred seating at lecture)
Meet Jonathan D. Katz at a pre-lecture reception to benefit the Queer Cultural Center's Lecture series, Queer Conversations on Culture and the Arts (QCCA), a series of lectures co-presented by Qcc and the California College of the Arts. QCCA brings together locally and nationally renowned artists, writers, filmmakers, and scholars for a series of conversations to discuss a broad range of LGBTQI topics in the humanities and the arts. 
Reception ticket includes hors d'oeurves by San Francisco's pop-up restaurant–Queer Food For Love, wine courtesy of Barefoot Winery and preferred seating in the Lecture.
Hide/Seek: Difference and Desire in American Portraiture
Jonathan D. Katz
LGBT Center – 2nd Floor, 8pm
Tickets: $10 (open seating: we advise buying advance tickets)
In late October, The Smithsonian's National Portrait Gallery presented Hide/Seek: Difference and Desire in American Portraiture," the first major museum exhibition showing how the questions of gender and sexual identity have dramatically shaped the creation of modern American portraiture.
Jonathan D. Katz, director of the doctoral program in visual studies, State University of New York at Buffalo, will discuss his role as co-curator and will consider such themes as sexual difference in depicting modern Americans; how artists have explored the definition of sexuality and gender; how major themes in modern art—especially abstraction—were influenced by this form of marginalization and how art reflected society's changing attitudes.
The exhibition begins with late 19th-century works by Thomas Eakins and John Singer Sargent and charts 20th-century portraiture with 105 major works by masters, including Romaine Brooks, George Bellows, Marsden Hartley and Georgia O'Keeffe. It continues through the postwar period with works by Jasper Johns, Robert Rauschenberg, Agnes Martin and Andy Warhol. The exhibition addresses the impact of the Stonewall Riots of 1969, the AIDS epidemic and the advent of postmodernist attention to identities, indicating how portraiture repeatedly negotiated seismic shifts in American culture and society. The exhibition continues through the end of the 20th century with major works by artists such as Keith Haring, Glenn Ligon, Nan Goldin, Felix Gonzalez-Torres, David Wojnarowicz and Catherine Opie.
Hide/Seek: Difference and Desire in American Portraiture surveys more than 100 years of compelling expressions of American art and reveals another layer of American social history, one that greatly influenced these artists' work and American art as a whole.
This QCCA program was funded by a generous donation from Dr. Marcy Adelman.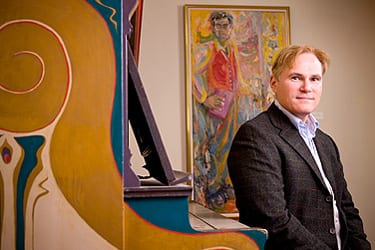 Jonathan D. Katz, a scholar of post war art and culture from the vantage point of sexuality, is an Associate Professor at the University at Buffalo, and director of its Doctoral Program in Visual Studies, as well Honorary Research Faculty at the University of Manchester, UK and Guest Curator at the Smithsonian's National Portrait Gallery. An activist academic, Katz was the founding director of the Larry Kramer Initiative for Lesbian and Gay Studies at Yale University– the first queer studies program in the Ivy League–and chair of the very first Department of Lesbian and Gay Studies in the United States, at City College of San Francisco in 1990.  He co-founded the activist group Queer Nation, San Francisco, helped direct the San Francisco National Queer Arts Festival and founded the Queer Caucus of the College Art Association, the professional association of artists and art historians. Katz has curated the groundbreaking exhibition that opened in October 2010 at the Smithsonian National Portrait Gallery entitled Hide/Seek: Difference and Desire in American Portraiture — the first queer art exhibition at a national museum in US history—and has written its accompanying book. He has also just completed a major new essay on Agnes Martin entitled The Sexuality of Abstraction to be published by DIA/Yale in their forthcoming book, Agnes Martin. His next book, for which he won a Creative Capital/Warhol Foundation book grant, is entitled Art, Eros and the 60s. His next major exhibition, sponsored by the Tacoma Museum of Art , is entitled Art/AIDS/America.
https://queerculturalcenter.org/wp-content/uploads/2019/11/QCC-Logo-Updated.png
0
0
C Q
https://queerculturalcenter.org/wp-content/uploads/2019/11/QCC-Logo-Updated.png
C Q
2016-10-25 16:27:18
2019-12-13 06:21:02
Jonathan D. Katz QCCA 2011