What stories do city walls, border walls, and prison walls have to tell us? What stories are stuck inside bedroom walls, kitchen walls, and the walls that separate neighbors from each other? How do these walls mirror the ones we learned to build inside our own bodies? And what were the consequences?
The Walls Project explores the physical and metaphorical significance of walls in our external landscapes as well as in our internal emotional and imagined landscapes, daring to imagine what might happen when stories inside walls rise up through cracks and crevices to be heard and seen in the world.
The Walls Project brings together Bay Area poets, filmmakers, storytellers, dancers and spoken word artists in the cause of liberating the stories inside walls, calling them up and out from the crevices, and transforming walls into communal gathering places from which new stories might take root and grow.
Please make preparations to ensure this event is accessible and safe for people with chemical injury and environmental illness. We request you refrain from wearing hair and body products with fragrance or clothing washed in detergent with fragrance.
Biographies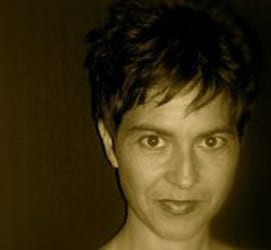 Helen Klonaris – Photo by Tina Klonaris Robinson
Helen Klonaris is a Greek-Bahamian writer living and working between Oakland, California and Nassau, Bahamas. She is the co-founder of WomanSpeak, the first and only Bahamian journal for women's literary expression, the Rainbow Alliance of the Bahamas, a Bahamian GLBT advocacy organization, and most recently, the Bahamas Writers Summer Institute, now in its third year. Her work has been published in numerous journals including Yinna, Tongues of the Ocean, The Caribbean Writer, Poui, Small Axe Salon, HLFQ, Calyx and So to Speak. She has been anthologized in Our Caribbean: A Gathering of Lesbian and Gay Writings from the Antilles, edited by Thomas Glave, Caribbean Erotic, edited by Opal Palmer Adisa and Donna Weir, and A Sudden and Violent Change, edited by Sonia Farmer as part of an interdisciplinary exhibit co-curated by Jonathan Murray. Klonaris is currently working on the completion of a collection of short stories, and teaches at the Academy of Art University in San Francisco and at the Bahamas Writers Summer Institute.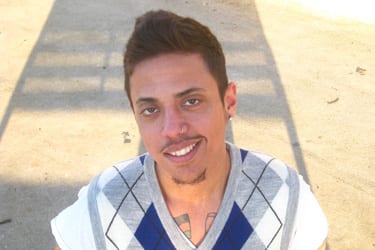 Amir Rabiyah – Photo by Rostam
Amir Rabiyah lives in Oakland, California. He received his BA in Women's Studies from Portland State University and his MFA in Writing and Consciousness from the New College of California. He has performed and read his poetry, fiction and non-fiction all over the US and has been published in Mizna, Riffrag, Tea Party Magazine, Kearny Street Workshop's anthology: I Saw My Ex at a Party, Left Turn Magazine's Revolutionary Poetics Edition, and Gender Outlaws: The Next Generation.  He was a finalist in Cutthroat Magazine's 2008 Joy Harjo Poetry Contest. He featured with the Men's Story Project at UC Berkeley, a performance and dialogue performance project which explores social ideas about masculinity.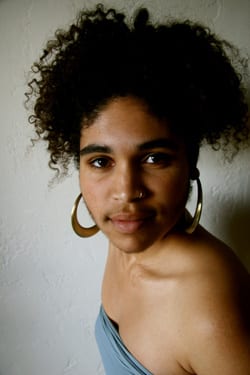 Kirya Traber – Photo by Bethanie Hines
Kirya Traber is a nationally awarded spoken word artist, a two-time 4-H Club president, a biracial child of a Swiss-German single mother, a social misfit, a country girl in the big city,  and one of the most compelling poetic voices of her generation. In 2004 she became a Brave New Voices Slam champion and has since featured at the United States Mayors Summit, Green Build International, and on tour across the nation with Sister Spit, among other notable stages. Her publications include Tiny Little Maps to Each Other by First Word Press, Other Tongues: Mixed Race Women Speak Out by Inanna Publications, and her self published chapbook, black chick. She is currently working with Youth Speaks Inc where she develops and facilitates spoken word workshops for Bay Area teens, and is hoping to attend graduate school for an MFA in acting next fall.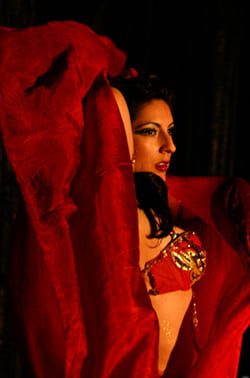 Cherry Galette – Photo by Johnny Crash
Born into a family of migrant music makers, Ms. Cherry Galette is a Moroccan and Chicana interdisciplinary movement artist fusing dance, burlesque, text, theater and more to create post-colonial fairy tales of modern resistance that celebrate queer desires, histories, survivals, migrations, and revolutions. Drawing on strong dance technique of the Arabic and Latin diaspora, she has earned recognition for expanding the genre of burlesque to explore narratives of race, power, empire, and queer bodies in diaspora, and for presenting genre pushing work based in sultry, sacred, and profane fusions of traditional dance forms with story, burlesque and ultra-gay cabaret. Cherry has danced and performed with some of the Bay Area's most noted dancers and dance companies including the award winning Hot Pink Feathers, and the legendary Shabnam.  Over the past 5 years, Cherry has produced and curated more than 60 productions for audiences across North America as both solo producer, and as Co-Director of Mangos With Chili, North America's only traveling QTPOC Cabaret. Cherry has captivated, delighted, roused and stunned audiences as a solo artist in renowned, alternative, and underground theaters, festivals, cabarets and varied stages across North America. To keep up with Ms. Galette, please visit www.mscherrygalette.com for current productions and to learn more.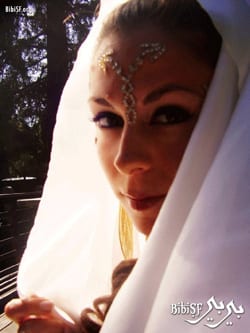 Heaven Mousalem – Photo by Heaven Mousalem
Having studied dance for ten years, Heaven Mousalem felt she was ready to explore her own cultural roots through dance.   Under the tutelage of the legendary Shabnam of Oakland,  she embarked on a journey that ultimately led her into the depths of her own soul.  She is now a multi-award winning dancer who performs solo and with Shabnam's Ooh La La troupe.  She is also a singer who performs original songs throughout the Bay area.  Heaven hopes to share this joy of life and celebration of beauty with everyone!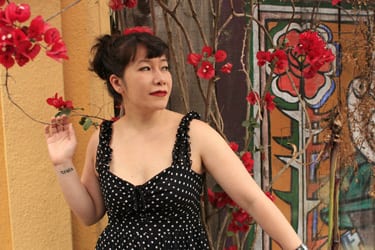 Celeste Chan – Photo by Amie Lee King
Celeste Chan is a queer API multimedia artist and activist. Her recent projects include media/curatorial work for Queer Rebels of the Harlem Renaissance, and performances for the KFW show and the QWOCMAP 10th Anniversary event. She has performed and screened her work in the San Francisco Bay Area, New York, Vancouver B.C., and the Pacific Northwest. She is the co-Artistic Director of Queer Rebel Productions (queerrebels.com), and a Board Member of Community United Against Violence (cuav.org). Find out more at: www.celestechan.com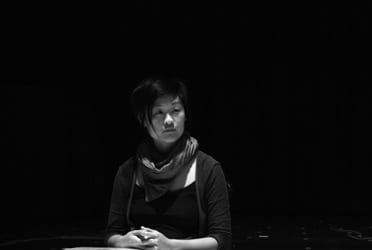 Vanessa Huang – Photo by Alicia Kester
Vanessa Huang is a poet, writer, and community organizer whose practice feeds resilience from the margins and draws on a history of collaboration with and teachings from the anti-prison, gender liberation, immigrant rights, anti-violence, disability justice, and reproductive justice movements. Vanessa's poetry manuscript quiet of chorus was named a finalist for Poets & Writers' 2010 California Writers Exchange Award. A Macondo and Kundiman fellow, Vanessa lives in Oakland, California and also works as a consultant for social justice organizations.

Tiffany Higgins – Photo by Jed Smith
Tiffany Higgins is a writer and performer. She is cowriter and assistant producer of the documentary Duas Americas. Her book of poems, and Aeneas Stares into her Helmet, was selected by Evie Shockley as the winner of the 2008 Carolina Wren Press Poetry Prize. Michael Parker chose it as his 2009 Poetry Book of the Year, and Moisés Nascimento's short film Where is the War based on her poem screened at the 2009 Split This Rock Festival. The poems challenge us to examine how we as citizens experience our current wars. Duke University's Patrick Herron said, "Tiffany Higgins' anachronistic and recast hero is one brilliantly charged nexus of exploitation and war; she is captured, tortured, and released as a sequence of heartbreaking lyrics." She performs her poems in multimedia format with original music, often with Moisés on guitar. Her current poetry addresses the pressure that diminishing resources puts on cultures globally, with a focus on the two Americas. She teaches English at several community colleges in the San Francisco Bay Area. You can find out more at tiffanyhiggins.com and duasamericas.com. Tiffany blogs at tifhiggins.blogspot.com.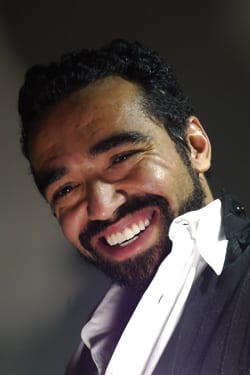 Moisés Nacimiento – Photo by Moisés Nacimiento
Moisés J. Nascimento is a filmmaker and technologist. He is director, producer, and writer of the documentary Duas Americas, which starts with a feeling of being divided between two worlds and unable to reconcile them, and leads to a global search for value. He filmed and produced the making-of DVD for the Music For the Mountains Project 2010 concert, a fundraiser to raise consciousness about the degradation of his Brazilian hometown state's watershed due to increased mining. He was hired to film the 2010 Hawaiian Ecofestival, exploring sustainable innovations. His short film "Where Is The War" was selected to screen at the Split This Rock Festival 2009. You can find out more at duasamericas.com and moisesjnascimento.com. Moisés blogs his photography and short films at cafemoises.wordpress.com.
https://queerculturalcenter.org/wp-content/uploads/2019/11/QCC-Logo-Updated.png
0
0
C Q
https://queerculturalcenter.org/wp-content/uploads/2019/11/QCC-Logo-Updated.png
C Q
2016-10-25 17:36:20
2019-12-29 23:36:16
The Walls Project