Transparent Trap with Dynasty Handbag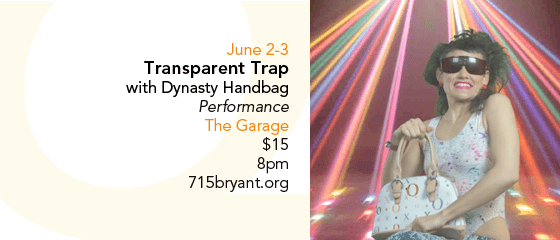 Dynasty Handbag returns to her old stomping grounds to bring you the San Francisco premier of video work Eternal Quadrangle and new live performance work, including Control Top, a mutilated reworking and vast extended remix of the 80's Janet Jackson classic that involves a car accident and a rigorous human piano solo. In Eternal Quadrangle Dynasty Handbag finds herself on a dating game show where she must choose between 4 contestants vying for a spot in her vast cosmic emptiness. The bachelors are: an aggressively ambitious professional golfer, a hard-luck stray dog, a disembodied brain, and, of course, the grim reaper himself. All have attractive qualities and perhaps sustainable methodologies for dealing with life, but must she choose just one? And why are these her only choices? Part of The Garage AIRspace residency program for queer performance.
June 2-3 @ 8pm
Transparent Trap with Dynasty Handbag
$15
715bryant.org
Tickets: BPT http://www.brownpapertickets.com/event/369111
ARTIST BIO
Jibz Cameron is a performance/video artist and actor who lives and works in New York City. Her work as alter ego Dynasty Handbag has been seen such Institutions as The New Museum NY, The Kitchen, DTW, MOMA PS1, Joe's Pub, PS122, Yerba Buena Center for the Arts, MOCAtv, OUTFEST, SXSW Film Festival and Performa '07, '09, '11 and many international dives both great and small. She has been heralded by the New York Times as "the funniest and most pitch perfect performance seen in years" and "crackpot genius" by the Village Voice. In addition to her work as Dynasty Handbag she has also been seen acting in work by The Wooster Group, Theater of the 2 Headed Calf, Kalup Linzy, Susan Lori-Parks, and Jennifer Miller among others. She is an adjunct professor of Performance and Theater studies at TISCH NYU. She is currently working on a new evening length Dynasty Handbag piece Soggy Glasses, based on Homer's Odyssey. Her second Dynasty Handbag CD, Cosmic Surgery will be released in 2013, on the interweb.
www.dyanstyhandbag.com
https://queerculturalcenter.org/wp-content/uploads/2019/11/QCC-Logo-Updated.png
0
0
C Q
https://queerculturalcenter.org/wp-content/uploads/2019/11/QCC-Logo-Updated.png
C Q
2016-09-23 20:41:44
2019-12-13 06:30:15
Transparent Trap with Dynasty Handbag