June 11, 2018
Embrace:
Emerging Artists Showcase
Curated by Mona Webb
Eastside Arts Alliance, 2277 International Blvd., Oakland
Tix: $12 – $20, NOTA
Ticket Link: https://www.eventbrite.com/e/embrace-emerging-artist-show-tickets-45282870284
MULTIDISCIPLINARY
Creating Queer Community Program
This year's Emerging Artists Showcase is a kaleidoscope of wonder, intrigue and Queer investigation. This interdisciplinary multimedia journey into Queer discovery is one of compassion, movement, music, projection and meaning, making for a night you don't want to miss.
Nicholas Vontex Chin
A 3083 mile Journey
This multi media performance engages movement and photography indiginous to the East Bay is layered with the intuitive language of this immersive experience.
A 3083 mile Journey seeks to celebrate each part of resistance that at times can overwhelm us. Far too often we can encounter burn out in the struggle for equality and freedom, so it is imperative we are able to see each side of the struggle to remind us what the work wishes to accomplish. this idea is most strongly represented in our ability to be happy, feel loved, and over come a system that seeks to destroy us. This is why we struggle.
Nicholas Vontex Chin is an East Bay native from Richmond, CA. I am the child of Polish and Jamaican-Chinese immigrants who met in the US Army while serving in West Germany. As a queer artist of color it is important for my poetry to look at the diverse intersections of identity that create all of our lives. The free form of poetry encourages me to explore a variety of narratives in a comfortable style. In my time as a poet I have worked with the San Francisco Queer Open Mic, various Burning Man stages, Oakland Sexy Beast Crawl, Waimea's Bring It, Big Island Poetry Slam, My First Love Poetry Show, and I produced Contra Costa College's Student Showcase.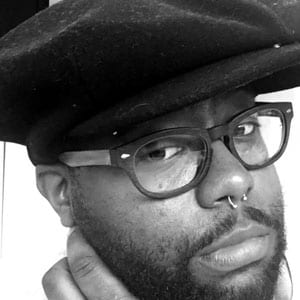 Eunuch
Leo (b. Lawrence Lyons)
Eunuch explores sexual identity and expression through the lens of a Fat, Black, Queer Body in a stunning musical production of the journey to self. Enoch arose out of a question: Why do I struggle with romantic and sexual intimacy? Eunuch is a deeply personal and autobiographical look at my journey through sex and belonging. Eunuch was chosen as the title, because Eunuchs have historically been unsexed, palatable, and invisible figures in many societies. The job of the Eunuch was to look after the emotions and ego's of others; fully selfless. Eunuch is a journey to me, my wants, my desires, and my most challenging moments.
Leo (b. Lawrence Lyons), was born in Los Angeles, CA. They received their BA in Music and Political Science from CSU Bakersfield in 2015, and has more recently received their Master's in Social Work with an Emphasis in Community Mental Health in 2017. Leo has performed around the country as a member a many ensembles, and has been a feature and collaborative artist at events around the bay area. Leo is deeply moved by the intersection of Blackness and Queerness, and seeks to explore its richness through art, social engagement and vocation.
love getaway
a hannah rogge (printmaker) & octavia rose hingle (dance artist) collaboration
Queerness has failed a dissatisfied ice skating bride and a 4 year-old ocean kraken. using sheets of imagination and printing with layers of light, they swim into layers of instinctual bliss and an adaptive assembly of resistance.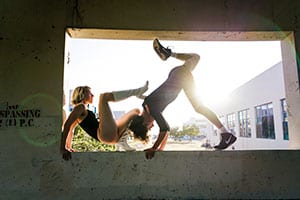 Hannah Rogge is an artist growing through printmaking, graphic design, drawing, figure drawing modeling, dance, and performance art. their current work traces experiences of shifting embodiment in relation to their gender, developmental PTSD, and sexuality, calling on instinctual bliss and spontaneous healing to aid in the adaptive reassembly of many selves.
Octavia Rose Hingle is an adaptive dance artist, educator, and nightlife producer living in their birthplace of Berkeley, California. Octavia's work dreams up visions of past and future ancestors that travel through the plastic vessel of the present moment. They hold a BA in dance from Middlebury College, and have studied with ODC/Dance, AXIS Dance Company and Headlong Performance Institute. You can see more of their work at vimeo.com/octaviarose, and find them DJing around the Bay Area as Octopussy510.
Cemora Valentino-Devine
Cemora Reigning Since
Cemora Reigning Since is an interdisciplinary musical performance that shares the story of Queer identity and discovery through Drag performance. Crafted with wit and wisdom gained through the living and loving journey of one St. Louis Drag Queen born into Beauty and Queer Royalty over 10 years in the Bay Area.
Cemora Valentino-Devine also know as Darrel, is an of Color Two – Spirited Drag Performance Artist in the Bay Area. Cemora's first time as a Drag Prom Queen was in 1998 and they were graciously elected by their community to hold such an honor. They began performing about 20 years ago when they started out cheerleading on the dance team. Drag performance began for Cemora as a form of Queer identity in local bars and clubs in town and helped them to develop a name for themselves. Cemora started sewing and singing for themselves about 10 years ago as way to express their journey to self love and healing, affirming their identities value and presence. In Cemora's time in the Bay Area they've founded the currently running Drag Performance Showcases Follies & Dollies and The Show Girl at The White Horse Bar. Cemora is also the host of The Playground at The Bench and Bar and was a founding member of The Rebel Kings of Oakland. Cemora always knew they were born to be a performance artist and it is their pleasure to live this dream in our Queer community.
https://queerculturalcenter.org/wp-content/uploads/2018/03/enbrace.jpg
200
500
C Q
https://queerculturalcenter.org/wp-content/uploads/2019/11/QCC-Logo-Updated.png
C Q
2018-03-10 04:02:09
2020-01-01 00:25:40
Embrace