Global Masquerade Program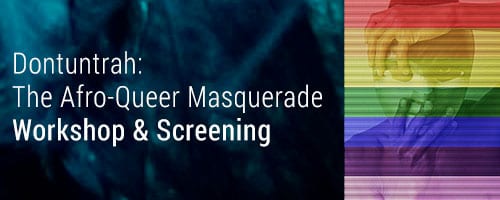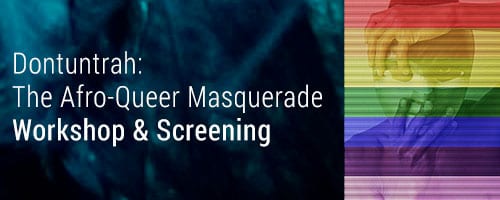 June 20 (Werk!shop-Dance Party)
The Global Street Dance Masquerade, AAACC & Qcc present
Dontuntrah: The Afro-Queer Masquerade
Werk!shop – AAACC, 7:30pm $5-10
Ticket Link: https://www.eventbrite.com/e/dontuntrah-the-afro-queer-masquerade-werkshop-tickets-45227438486
June 20th: (GSDMQ8: Multi-disciplinary presentation & Dance Werk!Shop) Join artistic director Rashad Pridgen of The Global Street Dance Masquerade – GSDMQ8 for a multi-disciplinary performance presentation. An exploration of the GSDMQ8's choreographic designs and creative engagement process with a compelling overview of past conceptual projects: The Bio Spirit Safety Suit, The Black Lives Masquerade (short film), A Masquerade 4 Prince and Ethos de Masquerade theatrical production. This multidimensional presentation will include a meet and greet, performance presentation, digital photo exhibition, short film, community Q&A and a culminating dance workshop.
June 21 (Masquerade street performance)
The Global Street Dance Masquerade, AAACC & Qcc present
Dontuntrah: The Afro-Queer Masquerade
Masquerade – GLBT, 5 – 7pm – donations welcome
Street Performance & Procession starts at the GLBT History Museum
4127 18th Street
and travels North on Castro Street to Strut
470 Castro
June 21st: (Street Performance & Procession) The Afro Queer Masquerade – Dontuntrah, reveals its dazzling spectacle for all to see in the heart of the Castro! Affirming the African and black American queer ancestors who have paved the way in San Francisco and beyond. Informed by the Afrofuturist movement, the radical Afropunk culture and the roots of HomoHop, Dontuntrah opens a creative portal for divine intervention, paying respects with the future of ancient ancestral reverence. A full body masquerade suit will honor those who have paved the way with rich legacy, sweat, blood and tears in the land of the free. Bring your prayers, adornment, dance, sing, prance and represent for DONTUNTRAH.
The Global Street Dance Masquerade GSDMQ8: is a multidisciplinary street dance ceremony, site specific performance, creative direct action and community engagement project that culminates with the creation of full body Afrofuturist masquerade suits. The GSDMQ8 honors the roots of this tradition coming from the African Continent and its Diaspora, while paying homage to the ancient traditions of masquerade's worldwide.
Creating Queer Community Program and Black Family Reunion Program
BIOGRAPHIES
The Global Street Dance Masquerade GSDMQ8: is a multidisciplinary street dance ceremony, site specific performance, creative direct action and community engagement project that culminates with the creation of full body Afrofuturist masquerade suits. The GSDMQ8 honors the roots of this tradition coming from the African Continent and its Diaspora, while paying homage to the ancient traditions of masquerading worldwide. Conceptualized, curated and choreographed by artistic director Rashad Pridgen; this projected based, on-going performance inquiry was birthed through a generous grant from the Kenneth Rainin Foundation. Creative projects include: The Bio Spirit Safetysuit at Yerba Buena Center for The Arts, Future Soul Think Tank and Field of Inquiry. The Black Lives Masquerade & Short film: Zaccho Dance Theater, Bayview Opera House, SOMArts Cultural Center, San Francisco Library photo exhibition Resilience, The Berkeley Fine Arts Museum "Black Life" Series 2017, The Portland Art Museum and Duke University Dance Black Joy 2018. A Masquerade 4 Prince present in the historic Tenderloin district San Francisco and Ethos de Masquerade theatrical production with Campo Santos and Strand Theater San Francisco. For more info: www.gsdmq8.com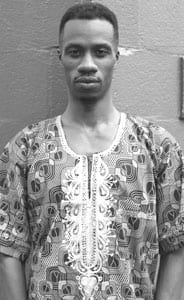 Rashad Pridgen is a performance artist, creative entrepreneur and artistic director of the The Global Street Dance Masquerade: a site specific dance ceremony presenting full body masquerade suits in urban environments for diverse audiences. Rashad's works span dance, theater, music video, fashion and creative project making, stay in touch with his artistry www.soulnubian.com
https://queerculturalcenter.org/wp-content/uploads/2018/03/DontuntrahWorkshop.jpg
200
500
C Q
https://queerculturalcenter.org/wp-content/uploads/2019/11/QCC-Logo-Updated.png
C Q
2018-03-10 04:23:44
2020-01-01 00:47:43
Global Masquerade Program