Muck and Sparkle: The Magic and Pain of Survival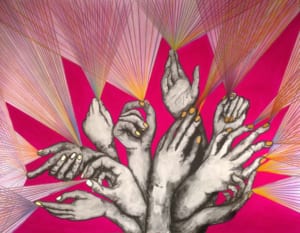 Queer Youth Productions, Galeria de la Raza & Qcc present
Muck and Sparkle: The Magic and Pain of Survival
June 2
Galeria de la Raza, Studio 24, 6pm
EPLi, Ariel Springfield & Madhvi Trivedi
FREE
Website: www.queeryouthproductions.com
Social Media: https://www.facebook.com/events/463631963830713/
With hands outstretched to the future, Queer Youth Productions' traveling exhibit, Muck and Sparkle: The Magic and Pain of Survival, brings forth the art of expanding hearts and the paradox of possibility in a candid array of artwork from LGBTQIA2S youth. The show brings with it the specter of struggle that youth maneuver to (re)claim space and carve out the complexities of their identities.
Alongside powerful depictions of self determination, this exhibit transcends the two dimensional, offering a unique glimpse into the less-often-heard-seen-thought-touched-interiority of vulnerability that comes with uncovering (un)truths of gender and sexuality. By centering voices of queer youth, we are able to reflect upon work that has been done in queer communities as well as build intergenerational conversations for envisioning supportive and liberating futures. Within these artworks is a resilient force of magic that speaks to a collective and time-defying queer tongue.
ARTISTS' BIOGRAPHIES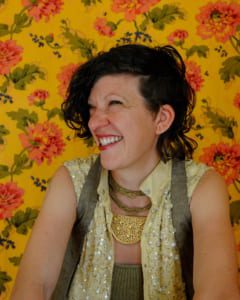 Ariel Springfield is a visual artist with commitment to community based projects and making magic with what's at hand. They have been collaborating with their respective communities as well as producing and installing their own art work for the last 16 years. Ariel has contributed artwork to The Nation Queer Arts Festival, Project NIA, and the Sylvia Rivera Law Project. As well as working with youth on experiential environmental education projects through the Mount Desert Island Water Quality Coalition and The Water Underground. They is an enthusiastic supporter of the intersectionality of the Arts and Sciences, especially when it disrupts systems of oppression. Ariel is a white, gender-queer, admirer of creativity, who's personal artwork focuses on queer bodies, physical narratives, and art as language for the inexplicable.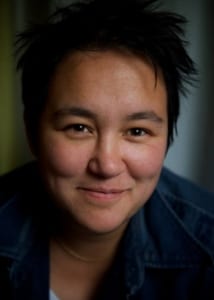 EPLi is a professional photographer and has extensive experience working with youth. Her background in education and the arts has continued to challenge and fuel her main intent in her life's work; to use art (photography) as an opportunity to help people feel heard and seen. Her work has been published in a variety of print/media including: Colorlines, Huffington Post, Autostradde, BlackGirlDangerous, East Bay Express, San Francisco Chronicle and Bitch Magazine. EPLi is a queer, mixed race, masculine of center woman, who's most happy when she's engulfed in a photo documentary project centered around an individual or community that is underrepresented by the dominant culture's limited lens.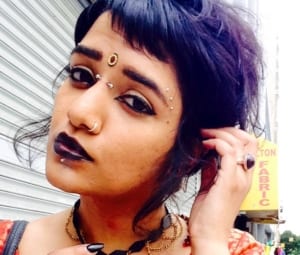 madhvi trivedi is queer South Asian artivist concocted from a hijra cauldron of turmeric flavored bitter ochre sunsets. their lispy poetry, linocut, weepy water colors, mixed media collage and inky doodles serve as tender reminders to sick and disabled queers of color that abundance, belonging, decolonial love//loving//being loved exists in this cosmic vomit we maneuver through. heart centered with social justice, they are currently free falling and seeking soft places to land.
Funded in part by The Sisters of Perpetual Indulgence, Sister Grant.

https://queerculturalcenter.org/wp-content/uploads/2019/11/QCC-Logo-Updated.png
0
0
C Q
https://queerculturalcenter.org/wp-content/uploads/2019/11/QCC-Logo-Updated.png
C Q
2016-04-14 02:16:48
2019-12-30 00:02:44
Muck and Sparkle: The Magic and Pain of Survival