Hilary Goldberg's recLAmation is a feature-length experimental documentary/narrative film shot on Super 8 in which capitalism in contemporary Los Angeles is overthrown, and queer superheroes navigate a possible future. recLAmation illuminates historic connections between private and public systems of oppression, and explores how worldview shifts caused by personal trauma rendered the capitalist paradigm nonsense.
In the first two sections—1) Consumption and Colonization, 2) Collapse—personal narratives interact with moving images of contemporary Los Angeles, stop motion animation, and sound design. Writer/director Goldberg's memoir unfolds, offering reflections on time spent with her mother's violent fiancé and in a mental hospital. Then, a fictional narrative envisions a dream of Los Angeles after it has been liberated from capitalism. Queer superheroes explore a possible future for the city that includes housing for all, truly free markets, the end of prisons, and more. The World Premiere Film Event is accompanied with live narration.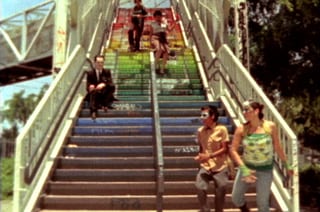 left to right: Clint Catalyst, Jessica Hoffmann, Irina Contreras, Jessica Gudiel, Joy Anderson
Biography
Hilary Goldberg's films and music videos—including in the Spotlight, Beyond Lovely, Transliminal Criminal, and Katastrophe's Big Deal—have been screened in venues around the world, from the American Cinematheque in Hollywood to the Women Make Waves Festival in Taiwan. Her filmmaking began with the 2002 release of the feature-length documentary Render: Spanning Time with Ani Difranco.
Goldberg is also a poet, writer, and spoken-word performer who has performed at the RADAR Reading Series, Bumbershoot, and Reed College, among other venues.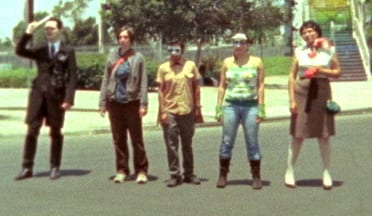 recLAmation starring Joy Anderson, Clint Catalyst, Irina Contreras, Jessica Gudiel, and Jessica Hoffmann as queer superheroes.
This event received a Creating Queer Community Commission from Queer Cultural Center funded through the San Francisco Foundation.
https://queerculturalcenter.org/wp-content/uploads/2019/11/QCC-Logo-Updated.png
0
0
C Q
https://queerculturalcenter.org/wp-content/uploads/2019/11/QCC-Logo-Updated.png
C Q
2016-10-28 18:55:28
2019-12-13 06:20:15
recLAmation