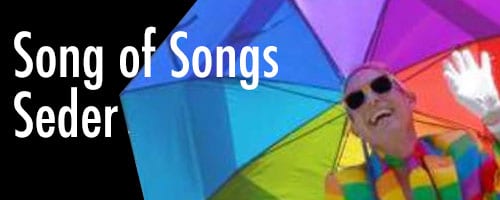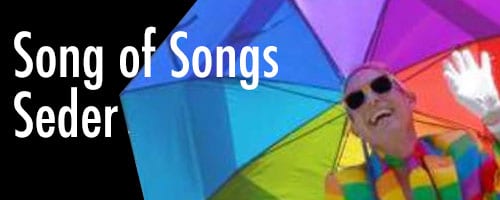 May 19, 2019
Song of Songs Seder: Celebrating Queer Sexuality
Urban Adamah, 2-5 pm
Cost is sliding scale $18 – 36 NOTAFLOF
ASL Interpreted
Wheelchair Accessible Fragrance Free venue
Tickets: https://www.eventbrite.com/e/song-of-songs-seder-celebrating-queer-sexuality-tickets-60802348461

ALL are invited to kick off Pride season with the National Queer Arts Festival's JeWitchy event celebrating queer sexuality. Open all your senses as you leisurely wander through the gardens of Urban Adamah savoring sensual delights. Renowned musician, Jewlia Eisenberg, serenades our hearts and ears. The rockin' beats of Debbie Fier on percussion entices your body to move. Rabbi Eli Cohen and Akiva Bankole lead us in queering the ancient erotic biblical poem: Song of Songs, while sharing poetry, stories and exploring our seder plate. Celebrated Jewish dance masters, Bruce Bierman and Gilberto Melendez lead the whole crowd in ecstatic Middle Eastern dance orgies. The ritual culminates in everyone casting a jewitchy magic spell.
Past attendees including non-Jews and straight identified folxs said they were moved and delighted by the experience.
Supporting LGBT Refugee Services through East Bay Jewish Family and Community Services is the tikkun olam (repairing the world) project for this event. For more info including about how you can volunteer or donate go to: http://bit.ly/HelpLGBTRefugees
Ritual foods and drinks will be provided.
Co-presented by JeWitch Collective and Aquarian Minyan. Co-sponsors include Urban Adamah Berkeley Moishe House, Oakland Moishe House, Kehilla Community synagogue, Torah of Awakening, Chochmat HaLev, Derech HaAretz: Outdoor Yeshiva and others.
Contact [email protected] with any disability needs or any questions.
MULTIDISCIPLINARY
BRUCE BIERMAN: is the author of several award-winning plays and musicals including the long running and award-winning gender bending musical, The Passion of Carmen. He participated in the National Queer Arts Festival in 2001, 2002, and 2004 as a performer, director and playwright of Intergeneration Performance Series I (2001) and II (2002) as well as a one-person show, The Blue Dress (2004). His production of Wade in the Water received the Playwright's Commission Award from the National Foundation for Jewish Culture. He is also a two-time recipient of the AIRspace grant from the Jon Sims Center for the Arts for his original productions of The Face and The Blue Dress.
Bruce was also an active member of Intergeneration: Building Queer Community of All Ages Through Art which produced a venture with IG Television. Currently, Bruce is the artistic director of the J Dance Theatre, bringing Jewish dance performances, workshops, lectures and youth education programs throughout California.
JEWLIA EISENBERG: is an American composer, extended technique vocalist and lay cantor. As founder and bandleader of Charming Hostess she coined the term "Nerdy-Sexy-Commie-Girly" to describe her genre of music which spans an eclectic range of styles. She is interested in the particular emotional, erotic and spiritual terrains that the voice can traverse. Her work explores the intersection of text and the sounding body, pushing for translation strategies between verbal and non-verbal languages. Collaborators include anarcholits Fantom Slobode, choreographer Jo Kreiter and filmmaker Lynn Sachs. Commissioned work includes Harmonices Mundi, an opera about Kepler's mother, and Red Rosa, a song cycle based on the letters of Rosa Luxemburg. She has been an Artist-in-Residence at MIT and University of Denver; she has studied with sozanda Muna Nissimova, Fred Frith and Daniel Boyarin. Hobbies include class war, knitting, and smashing SUV windshields. Brooklyn born and bred, she now calls San Francisco home. More information is available at https://en.wikipedia.org/wiki/Jewlia_Eisenberg
RABBI ELI COHEN serves as spiritual leader of Chadeish Yameinu, the Jewish Renewal Community of Santa Cruz. He grew up in a traditional Jewish home infused with Yiddish language and culture. A former public defender, he has also long been out, loud and proud in gay rights and AIDS activism. In 2005, he received smicha (ordination) from Reb Zalman Schachter-Shalomi. In the lineage of his teachers, Rabbi Eli brings a strong commitment to bridge religious and progressive values, and to carry the depth and joy of Jewish spirituality and practice into the emerging paradigm. He is currently the only Radical Faerie rabbi between the Santa Cruz Boardwalk and the Capitola Mall!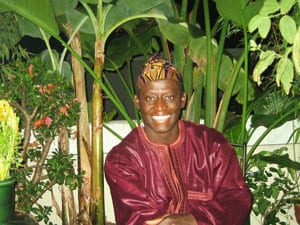 AKINDELE AKIVA BANKOLE is a German-born Nigerian-American Jew, who studied Music at Sacramento State University. As a Tenor, Bankole has performed with a number of California opera companies. As a composer, he writes his vocal lyrics in several languages, including Yoruba (his native language). He has written several piano, vocal, choral, and orchestral works, combining his traditional Yoruba tribe tonal and rhythmic melodies with western classical genre – which he calls "Classical Fusion." In 2017, his compositions were premiered by New Music Works' Orchestra of Santa Cruz, under the leadership of Conductor Phil Collins. He is very active in his local Jewish community, Chadeish Yameinu.
DEBBIE FIER: brings over 35 years of experience to her life as a performing vocalist, percussionist, pianist, composer, and teacher. In 2009 She performed in the National Queer Arts Festival with author/writer Jewelle Gomez and North African/Belly dancer, Sharon Page Ritchie. She also has performed throughout the US including Michigan and Europe working with people from Bobby McFerrin to Sistahs Steppin in Pride. She has three recordings: 'In Your Hands,' 'Firelight' and her most recent, 'Coming Home. She spends much of her time playing Middle Eastern music and leads a variety of musical Jewish rituals on a regular basis around the Bay Area. She also teaches drumming and body percussion to children and adults. More information is available at www.debbiefier.com.
GILBERTO MELENDEZ: is a performer (Dance and Experimental/Physical Theater) who studied Flamenco and Spanish dance with Lupe del Rio and Roberto Amaral, Jazz and Modern dance with Sonya Van Beer, the prima ballerina of the Dutch National Ballet. He also studied classical ballet, Jazz, and Modern dance at San Francisco City College. Credits include: Principal dancer in LA Opera Company's production of El Gato Montes starring Placido Domingo which also aired on Great Performances for PBS. The award-winning production of The Passion of Carmen at the Celebration Theater Heart of the World at Cowell Theater for the 4th festival of Colombian Culture: Palos Verdes Ballet Company's Nutcracker, The Toreador and The Gypsy Song from Carmen at the Concord Pavilion; The Minuet, Courant, and Forlane Dances with the Los Angeles Chamber Orchestra at Pasadena Civic Auditorium; A Night in Vienna at the Mozart Festival at Long Beach; and Suspiros de Espana, a theatrical blend of characters performing traditional and modern Flamenco dances of Spain at a Night Club in West Hollywood. He sees his identity as a Gay Immigrant who is a Person of Color as closely related to his desire to share his values of freedom and inclusion for all.
DEVIN PASTIKA Ph.D.: Devin is a transgender masculine person (he/him). Other words to describe him are queer, ritualist, activist, instigator, Buddhist, JeWitch, and passionate dancer. He is a recovering academic, with a PhD in Theatre and Dance, with an emphasis in critical theory and gender studies, and years of anti-racist, feminist, and queer teaching in the classroom. His dissertation focused on the history of San Francisco Bay Area Queer Theater. Now, he's grateful to do most of his research on the dance floor. Devin brings his activist work to dance and the theater/ritual pieces with which he is involved. He has co-organized and co-facilitated events that link social justice to performance and movement in ways that can re-inspire, reinvigorate, and renew. He has co-organized and co-facilitated dance events in Germany, Sweden, and the Bay Area including at the 2018 Fresh Festival. He also brings movement and political performance to a variety of pagan ritual settings throughout the year, where he explores an earth-based spirituality through embodiment.
SUSALA KAY: is a ritualist, facilitator of sacred space, and instigator of eco-feminist beloved community that strives towards an end to all types of oppression. She is also a trained Priestess in the Reclaiming Tradition who has been involved in blending Pagan and eco-feminist Jewish community together since the mid-1990s. She is a founder and steward of JeWitch Camp and JeWitch Collective . She is a White Ashkenazi Queer aging Bay Area cis gender Jew born and raised in Atlanta who lives with disabilities who cares deeply about radical access, power differentials, and liberation. She loves participating in creative non-violent direct political actions, speaking out against the Israeli occupation, protesting and singing in the streets to hold those in power accountable.
BANDELION: is Eric Kupers' ensemble within Dandelion Dancetheater, which began in 2006 when Kupers called together dance, music and theater artists to spend a year of intensive interdisciplinary investigation which culminated in the evening-length work Drop.Bandelion describes themselves as "a tribe….. found family….. committed to pushing and being pushed by each other, past familiar edges. All of Bandelion's ensemble members collaborate, develop movement, sound, theatrical & design elements. They are inspired by Physically Integrated Dance, in which people with and without disabilities figure out how to move together, create together, and set up accessible structures for performance.
Their work includes different ability levels due to disabilities & devotion to different artistic disciplines. They explore how individuals can become greater than their individual parts—like starlings flocking and want to have an impact on how other people see themselves and the world. They strive to be free of fear, free of frustration, free of capitalism, free of racism, free of binary thinking; to contribute wisdom through the stories they share, bringing forth their deepest truths. They want all the insights of post-modern identity politics to be infused with ancestral needs for live art, in concentric circles of relations. They want the unexpected. More information is available at www.dandeliondancetheater.org/bandelion/
https://queerculturalcenter.org/wp-content/uploads/2019/03/May19SongofSongs.jpg
200
500
C Q
https://queerculturalcenter.org/wp-content/uploads/2019/11/QCC-Logo-Updated.png
C Q
2019-03-19 18:35:02
2020-04-08 21:59:01
Song of Songs Seder