THE SIZE OF HER RAGE
Queer Latina and Mixed-Race Artists Respond to Domestic Violence
Friday & Saturday, June 6th & 7th 8:00pm
The SF LGBT Community Center/Rainbow Room
Tickets: $7-$12 sliding scale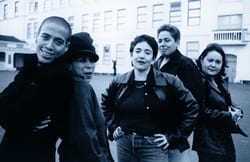 Photo © Rebeka Rodriguez.
The Size of Her Rage is a creative approach to building community and continuing the necessary discussion on the prevalence of domestic violence in same-gender female couples. The five artists bring diverse ideas of race, socio/economics, butch/femme, and other identity politics to the performance. A Q & A session with the artists will immediately follow. This production was developed through a Latina Lesbian Domestic Violence prevention workshop, sponsored by Proyecto ContraSIDA Por Vida, and funded by LLEGO's violence prevention program called ¡BASTA! (enough). Co-sponsored by Proyecto, QueLACo (Queer Latino/a Artists Coalition), Qcc, United States of Asian America Festival (APICC), and the (a)eromestiza project.
Artist Biographies
Gigi Otálvaro-Hormillosa is an interdisciplinary performance artist, percussionist, video artist, cultural activist, writer and curator of Filipino and Colombian descent. Originally from Miami, she has worked with non-profit arts organizations and HIV prevention service agencies and has collaborated with a wide range of Bay Area performing artists and curators such as Pearl Ubungen, Guillermo Gomez-Peña, Elia Arce, Afia Walking Tree and Carolina Ponce de Leon. Her work in performance and video has been presented nationally and internationally including the Phillipines, Montreal and Lima. As Artistic Director and founder of Aero-mestiza, she has created and produced major pieces that have been staged at Galeria de la Raza, the Mission Cultural Center, Bindlestiff Theater, the LGBT Community Center and SomArts. The Size of Her Rage, another original work exploring mixed-race domestic violence issues among lesbians, will premiere at the Sixth Annual National Queer Arts Festival in June 2003. Her writing has been published by Social Justice Journal, shellac, artistmanifesto.com, Antithesis Journal: Sex 2000 and an anthology entitled Postcolonial and Queer Theories: Intersections and Essays. Awards include grants from the Franklin Furnace Fund for Performance Art (2000-2001), the San Francisco Art Commission Cultural Equity Grants Program, the Zellerbach Family Fund and the Potrero Nuevo Fund Prize.
Karla E. Rosales is a native San Franciscan of Nicaraguan descent, queer femme, researcher, cultural worker, archivist, and youth advocate. Her groundbreaking thesis entitled, Papi's, Dykes, Daddies: A Study of Self-Identified Chicana and Latina Butches documents gender identification of Latina dykes in the San Francisco Bay Area. As a member of La Colectiva: LGBT Latina and Latino Historical Collective, Karla is helping to archive local queer history. Otherwise known as Sticky Girl, for almost a decade Karla has presented her creative work in various venues including in local and national queer and Latino community events, publications, conferences and receptions. Her poetry has been published in two anthologies and she co-produced The Papa Project: Cartographies of Fatherhood for Luna Sea, Women's Performance Project highlighting performance pieces by Chicana/Latina and African-American lesbian artists. Her most current performance was a collaborative piece addressing intimate violence among Latina lesbians entitled, The Size of her Rage.
Veronica Majano is a Mission-born, San Francisco filmmaker whose work has screened at the Guggenheim Museum, Film Arts Festival, Picture Talking Festival, and Women in the Director's Chair Festival. In 1999, she received a grant from the Film Arts Foundation. Currently, she is an Artist in Residence of the Mexican Museum working with middle school students teaching them video making skills. She also serves on the Board of Proyecto ContraSIDA Por Vida, a queer Latino/a HIV service agency.
Bertha Amador is a Mexican-Chinese Lesbian who was born in Mexico and raised in Los Angeles. She completed a Bachelor of Science in International Business at San Francisco State University. Having completed her degree, she moved to Boston, Massachusetts in the fall of 1994. She was active in promoting lesbian visibility and community through her work with LUNA "Lesbianas Unidas Nunca Aparte," a community based Latina Lesbian non-profit organization in Boston. Returning to San Francisco during the summer of 1996, Bertha became an active "core" member of Ellas en Acción, a non-profit organization dedicated to the political, educational and cultural advancement of Latina lesbians and bisexual women. During recent years, she has written and performed for various Queer Latino venues including projects at the Mission Cultural Center, Galería de la Raza, LunaSea Women's Performance Project, QueLACO and (more recently) for Proyecto ContraSida Por Vida on National LLEGO's BASTA Project.
Cathy Arellano is a San Francisco-born, Mission District-raised writer whose poetry, fiction, and nonfiction have appeared in books, literary journals, magazines, and grassroots publications, including Tongues Magazine, shellac magazine, Fourteen Hills, Cipactli, ALLGO Pasa, Curve Magazine, and Chicana Lesbians: The Girls Our Mothers Warned Us About. From interviews she conducted, she edited and wrote portraits of women for the publication I Will Survive: Women Living with HIV. She presented her work at many venues, including Galería de la Raza, Intersection for the Arts, the Mission Cultural Center; Yerba Buena Center for the Arts, the Queer Cultural Center, Jon Sims Center for the Arts, the Women's Building, and El Río Bar in San Francisco.. She is in her fifth year of facilitating creative writing workshops for young people.
https://queerculturalcenter.org/wp-content/uploads/2019/11/QCC-Logo-Updated.png
0
0
C Q
https://queerculturalcenter.org/wp-content/uploads/2019/11/QCC-Logo-Updated.png
C Q
2016-12-21 04:29:07
2019-12-13 06:12:33
The Size of Her Rage