Celebrate the release of Maiana Minahal's Legend Sondayo (Civil Defense Press) and Ching-In Chen's The Heart's Traffic (Arktoi Books/Red Hen Press) and these independent presses nurturing the voices of queer women! Gathering an exuberant range of voices, aesthetics, and thematic concerns, this creative showcase featuring the work of Robyn Brooks, Ching-In Chen, Ananda Esteva, Judy Grahn, Eloise Klein Healy, Vanessa Huang, Danielle Montgomery, Leah Lakshmi Piepzna-Samarasinha, Maiana Minahal, Rajasvini Bhansali, and Aimee Suzara is a celebration of the possibilities of queer women poetics, incorporating other poetic languages to reflect on the power of myth, lineage and history to expand/ limit our vision.  Civil Defense Press, local activist and collectively-run press, continues to publish work that wouldn't otherwise find a home in the mainstream publishing world.   Arktoi Books seeks to give lesbian writers more access to "the conversation" that having a book in print affords.
Biographies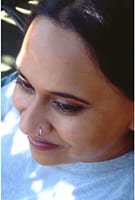 Photo by Roveen Bhansalii
Rajasvini Bhansali is a social entrepreneur, poet and dancer. Currently, she works for economic justice in San Francisco, CA.  Rajasvini was born and raised in India and has lived and worked in the United States and most recently, in rural Kenya.  Vini has over 12 years of experience in international, non-profit, public and private sectors in areas of facilitation and training; program planning and design; management; research and analysis; strategy development and institutional change.  A Kathak dancer since age 3, Rajasvini trained daily to use poetry, form, footwork, performance and percussion to embody and tell stories, from classical epics to modern ballads, under the tutelage of masters in the Jaipur and Lucknow traditions. Rajasvini's teachers in the United States include June Jordan and Poetry for the People and Sharon Bridgforth and the Jazz Aesthetic.  Rajasvini received a bachelor's degree in Astrophysics and in Interdisciplinary Studies (Social Sciences and Humanities) from the University of California at Berkeley and a master's degree in Telecommunications/Technology Policy from the University of Texas at Austin.  She has also published, performed and taught poetry for the last 12 years.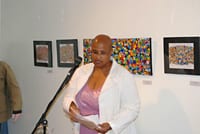 Photo by Dilcie Paschall
Robyn Brooks, poet, playwright, performance artist, former Student-Teacher-Poet for June Jordan's Poetry for the People Collective, and recipient of an Emily Chamberlain Cook Prize in Poetry, is a graduate of UC Berkeley (BA in English) and Mills College in Oakland, CA (M.F.A. in English and Creative Writing with a focus in Poetry).  Her poetry has been published in several journals and anthologies including The Walrus, The Womanist, and What I Want from You—Voices of East Bay Lesbian Poets.  In 2005, Brooks participated in Litquake—A San Francisco Literary Festival.  In 2006, she made her acting debut in Equus.  Presently, Brooks is completing her second year as a member of SF-PlayGround Writer's Pool, a playwriting residency at Berkeley Repertory Theatre. Her play, Surprise, was staged at Berkeley Repertory Theatre as part of the 2007-2008 Monday Night PlayGround series.  Currently, Brooks teaches English courses at Berkeley City College.

Photo by Sarah Grant
Ching-In Chen is the author of The Heart's Traffic  (Arktoi Books/Red Hen Press). The daughter of Chinese immigrants and a Kundiman Fellow, Ching-In has worked in the Asian American communities of San Francisco, Oakland, and Boston, as well as helped organize the third national Asian Pacific American Spoken Word and Poetry Summit in Boston.  Her work has been recently published in Tea Party, Fifth Wednesday Journal, OCHO, Iron Horse Literary Review, and Water~Stone Review.  Ching-In's poem-film, We Will Not Be Moved!: A Story of Oakland Chinatown, was screened as part of the Journey Home Sisterz! – Queer Women of Color Shorts program at the 2004 Queer Arts Festival.     Ching-In is currently at work co-editing an anthology about gender, militarism and war from the perspective of girls, women and non-gender-conforming people of color. www.chinginchen.com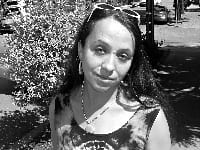 Photo by Juliette Monheit
Ananda Esteva was born in Chile and raised in the San Francisco Bay Area.  A student of the late June Jordan, she co-authored the book June Jordan's Poetry for the People: A Revolutionary Blueprint, dedicated to the teaching of poetry and formation of writing communities.  Her first solo book of poetry Pisco Sours brings you home with passion and grace.  In these poems, you will hear the rhythms of conquest and rebellion, boiling over in a furious song.  Her hair-raising essay "¡Venceremos! Words in Red Paint "appears on Seal Press' anthology Homelands: Women's Journeys Across Race, Place, and Time in January 2007.  She also co-authored of a book of poems called Explosive New Writing featuring the "Molotov Mouths Poetry Troupe," a Manic D Press venture.  Her comedic and touching short story, "Witnessing A Woman's Hands," appeared in the Manic D anthology, It's All Good.  Ananda is currently working on a novel about a young un-effeminate bad-ass bass player from Mexico City and her unexpected journeys to the United States.  Ananda Esteva works as an elementary school teacher.  In the recent past has taught poetry with the East Bay Institute for Urban Arts, Digital Underground Story Telling, June Jordan's Poetry for the People, and Writers' Corps.  She has toured across North America several times.  Ananda's writing style is innovative, direct, and speaks to the heart. Her writing weaves in a duality of culture, perspective, sexuality, and language.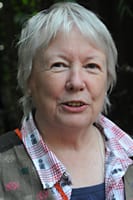 Photo by Jean Weisinger
Judy Grahn is a poet and theorist, well known in the Gay community for Another Mother Tongue: Gay Words, Gay Worlds. She teaches in the Writing, Consciousness, and Creative Inquiry Program, an interdisciplinary MFA, at California Institute of Integral Studies, and in a Women's Spirituality MA Program at the Institute of Transpersonal Psychology. www.judygrahn.org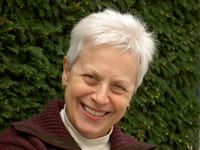 Photo by Colleen Rooney
Eloise Klein Healy is the author of six books of poetry and three spoken word recordings. She was the founding chair of the MFA in Creative Writing Program at Antioch University Los Angeles where she is Distinguished Professor of Creative Writing Emerita. Healy directed the Women's Studies Program at California State University Northridge and taught in the Feminist Studio Workshop at The Woman's Building in Los Angeles. She is Poet-in-Residence at the Idyllwild Summer Poetry Festival, the co-founder of ECO-ARTS, an eco-tourism/arts venture, and founding editor of ARKTOI BOOKS, an imprint of Red Hen Press. Her latest collection of poems is The Islands Project: Poems For Sappho. www.eloisekleinhealy.com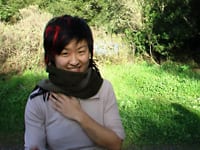 Photo by Molly McClure
Vanessa Huang is a poet, writer, filmmaker, cellist, community organizer, and consultant who has worked to integrate cultural work, digital/social media, and fundraising with communications strategy to support campaigns, leadership development, and movement building from the margins. A member of shifting narratives and the artistic core for Sins Invalid, Vanessa has a history of collaboration across the prison industrial complex abolition, gender liberation, reproductive justice, anti-violence, and immigrant rights movements.

Photo by Del La Grace Volcano
Leah Lakshmi Piepzna-Samarasinha is a queer high femme Sri Lankan writer, spoken word artist, arts educator and cultural worker. The author of Consensual Genocide (TSAR), she has performed her work widely across North America, including performances at WOW Theatre, Swarthmore College, Oberlin College, Sarah Lawrence, Bar 13, Gendercrash, The Loft, RADAR Reading Series and Buddies in Bad Times Theatre. Her writing on young feminist and queer of color and survivor issues is widely anthologized, including work featured in Homelands: Women's Journeys Across Race, Place and Time, We Don't Need Another Wave, BitchFest, Colonize This!, With a Rough Tongue: Femmes Write Porn, Without a Net, Dangerous Families, Brazen Femme, and A Girl's Guide to Taking Over the World. She is the co-founder and co-Artistic Director of Mangos With Chili, an annual touring cabaret of queer and trans people of color performance artists. Leah has taught writing for seven years to queer, trans and Two Spirit youth and as the co-founder of the Asian Arts Freedom School, Toronto's only writing and radical history program for APIA youth. .She is currently working on her second book, Dirty River, a memoir of coming of age as a young queer brown survivor in punk and queer of color land in the late 90s, touring her first one-woman show, Grown Woman Show, and finishing and touring The Revolution Starts at Home, a zine about partner abuse in activist communities. In her spare time, she's an MFA candidate at Mills College. Her website is brownstargirl.com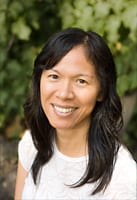 Photo by Leilani Nisperos
Maiana Minahal is the author of the chapbooks closer and Sitting Inside Wonder.  A collection of her poetry, Legend Sondayo, will be published in June 2009 through Civil Defense Press. Her work has been widely anthologized, and this year she has essays and poetry forthcoming in the anthologies Days I Moved Through Ordinary Sounds, New Narratives of Decolonization, and Experiments in a Jazz Aesthetic.  In addition to being a poet, Maiana is an interdisciplinary artist, and as an Artist in Residence at the Jon Sims Center, she created a collaborative, multi-media poetry performance called before their words; she has also created a video short called Pagsalig.  Maiana was formerly Director of the Poetry for the People program at the University of California, Berkeley; she currently teaches at Laney College in Oakland.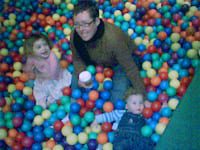 Photo by Jonah Gabriel
Danielle  Montgomery is a queer poet, mother, and partner who lives in the suburbs of El Cerrito with her family. When not busy converting to Catholicism, she likes to publish poems in magazines like anything that moves, in books like the Molotov mouths, and in her upcoming solo debut the woman you write poems about.


Photo by Iman Al-Dabbagh
Filipino-American writer/performer and educator Aimee Suzara uses poetry, theatre and movement to explore themes of home, migration and the body. Her play, Pagbabalik (Return), was awarded the Zellerbach Community Arts Grant in 2006 and 2007 and she has been published in the NAACP-nominated Check the Rhyme: an Anthology of Female Poets and Emcees (Lit Noire, 2007). She was a part of the queer [email protected] group, Kreatibo, who was featured in the Queer Arts Festival in 2004 and whose play, Dalagas and Tomboys: A Family Affair, was selected by Curve Magazine as a top ten theatre production. Her poetry chapbook, the space between, was published by Finishing Line Press in 2008 and nominated for the California Book Award. This year, she is an artist-in-residence collaborator with choreographer Amara Tabor-Smith's Deep Waters Dance Theater at CounterPULSE and Laney College. She coaches youth and adults in poetry and performance and teaches English at several local community colleges. www.aimeesuzara.net
https://queerculturalcenter.org/wp-content/uploads/2019/11/QCC-Logo-Updated.png
0
0
C Q
https://queerculturalcenter.org/wp-content/uploads/2019/11/QCC-Logo-Updated.png
C Q
2016-11-12 04:01:25
2019-12-13 06:18:52
Mythic Women