During the Winter and Spring of 2011, we've paired some of the finest emerging Bay Area poets with luminaries who span four decades of literary legacy to bring you Out of Necessity. Testing how artistic relationships support and sustain poets as they write as a means of political re-imagination and reclamation, Out of Necessity features award-winning and emerging poets, Regie Cabico and Najva Sol, Cheryl Clarke and Vanessa Huang, and Achy Obejas and Suzanne del Mazo.
Out of Necessity is co-curated & co-produced by Cole Krawitz & Arisa White.
Join us for a multi-media performance of these six writers' work, including video clips of queer poets from across the country talking about who's influenced their writing, and a discussion with Cabico, Clarke and Obejas about how mentorship influences their writing and commitment to producing work that speaks to communal stories and histories. Find out the latest information at: https://www.facebook.com/event.php?eid=199473276758444
In conjunction with the performance, Out of Necessity is offering two writing workshops:
Out of Necessity Writing Workshop – "CONFLICT IN FICTION" with ACHY OBEJAS
Co-Hosted with Galería de la Raza
Saturday, June 4, 2011 12-3pm
Galería de la Raza
$15-30
Out of Necessity Writing Workshop – "VERBAL FIRE" with REGIE CABICO
Sunday, June 5, 2011, 12-3pm
Mission Cultural Center for Latino Arts
$15-30
Please make preparations to ensure the events are accessible and safe for people with chemical injury and environmental illness. We request you refrain from wearing hair and body products with fragrance or clothing washed in detergent with fragrance.
Co-Sponsors:
Mouthfeel Press
Poets & Writers, Inc. through a grant it has received from The James Irvine Foundation
Queer Cultural Center's Creating Queer Community Grant
Sisters of Perpetual Indulgence, Inc.
VIDA: Women in Literary Arts
BIOGRAPHIES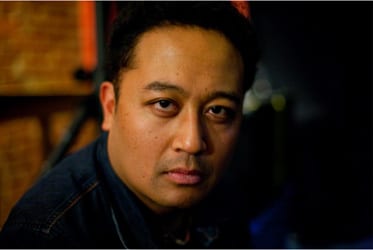 Regie Cabico is a poet and spoken word pioneer, having won the Nuyorican Poets Café Grand Slam in 1993 and taking top prizes in the 1993, 1994 & 1997 National Poetry Slams. He has appeared on two seasons of HBO's Def Poetry Jam, his work is published in over 30 anthologies, and he co-edited Poetry Nation: A North American Anthology of Fusion Poetry. He's a recipient of the Future Aesthetics Arts Award Regrant from The Ford Foundation/Hip Hop Theater Festival, three New York Foundation for the Arts Fellowships for Poetry and Multidisciplinary Performance, and a 2008 DC Commission for the Arts Poetry Fellowship. The Kenyon Review recently named Cabico the "Lady Gaga of Poetry" and BUST magazine listed him as one of the 100 Men We Love. He is the Youth Program Coordinator for Split this Rock Poetry Festival and the artistic director of Sol & Soul, an arts and activist organization in Washington, DC.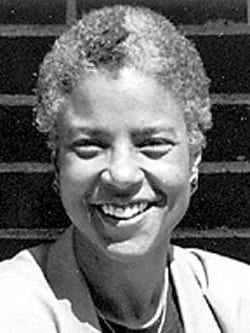 Cheryl Clarke, Ph.D., is the author of four books of poetry, including Experimental Love, which was nominated for a 1994 Lambda Literary Award, Humid Pitch, Living as a Lesbian, and Narratives: Poems in the Tradition of Black Women. Clarke served as an editor of Conditions, a feminist literary journal with an emphasis on writing by lesbians, from 1981-1990. Her poems and essays have appeared in numerous journals and anthologies including This Bridge Called My Back: Writings By Radical Women Of Color, Home Girls: A Black Feminist Anthology, The Black Scholar, The Kenyon Review, Belles Lettres, The World in Us: An Anthology of Lesbian and Gay Poetry, and Persistent Desire: A Femme-Butch Reader. Clarke is the Director of the Office of Diverse Community Affairs and Lesbian-Gay Concerns at Rutgers University.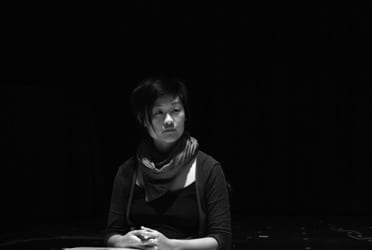 Vanessa Huang is a poet, writer, and community organizer whose practice feeds resilience from the margins and draws on a history of collaboration with and teachings from the anti-prison, gender liberation, migrant justice, anti-violence, disability justice, and reproductive justice movements. Huang's poetry manuscript, quiet of chorus, was named a finalist for Poets & Writers' 2010 California Writers Exchange Award. A Macondo and Kundiman fellow, Vanessa lives in Oakland, California and also works as a consultant for social justice organizations. http://vanessahuang.com
Suzanne del Mazo is a queer Cuban writer from Oakland, California. Her work considers intersections of language, cultural practice, geography, gender identity and social positioning. Del Mazo self published a poetry chapbook, Voluming Blue and has appeared in Breadcrumb Scabs and Painted Bride Quarterly. Currently she's completing a poetry manuscript titled Angle, Pitch & Scale.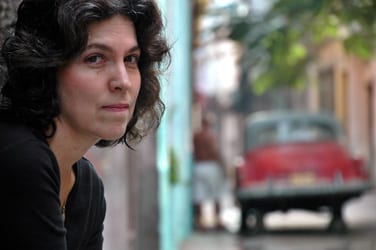 Achy Obejas is the author of the critically acclaimed novel Ruins (Akashic Books, 2009) and three other books of fiction. Her poetry chapbook, This is What Happened in Our Other Life (A Midsummer Night's Press, 2007), was both a critical favorite and a best seller. She edited and translated, into English, Havana Noir, a collection of crime stories by Cuban writers on and off the island. Her translation, into Spanish, of Junot Díaz' The Brief Wondrous Life of Oscar Wao/ La Breve y Maravillosa Vida de Óscar Wao was a finalist for Spain's Esther Benítez Translation Prize from the national translator's association. Currently the Sor Juana Writer in Residence at DePaul University in Chicago, she is also a member of the Editorial Board of In These Times, the editorial advisory board of the Great Books Foundation, and blogger for WBEZ Radio's Vocalo.org.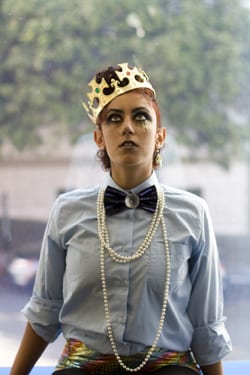 Najva Sol is a SF–based artist of all trades. Among her inspirations are glitter, adventure, scandal, and smut. At different times, she has been: a go-go dancer, a burlesque performer, a graduate student, published, a chapbook maker, a creep, a panelist, a grantee, poet, jaded, politically incorrect, and full of longing. Her web-presence hub is Najvasol.wordpress.com
ABOUT THE CURATORS
Cole Krawitz's poems and articles have appeared in such publications as Tidal Basin Review, Connotation Press, Zeek, OCHO, Newsday and The Forward. A Lambda Fellow, he received an MFA in Creative Writing from Lesley University. Cole has lectured in June Jordan's Poetry for the People Program at University of California, Berkeley and the MA in English Program at Holy Names University. He lives in Oakland, CA.
Arisa White is a Cave Canem fellow and holds a MFA from the University of Massachusetts, Amherst. Author of two poetry chapbooks, Disposition for Shininess (Factory Hollow Press, 2008) and Post Pardon (Mouthfeel Press, 2011), she was selected by the San Francisco Guardian for the 2010 Hot Pink List. Member of the PlayGround writers' pool for the 2010-2011 season, her play Frigidare was staged for the 2011 PlayGround Festival at the Berkeley Repertory Theatre (CA). Recipient of the inaugural Rose O'Neill Literary House summer residency at Washington College, she has also received residencies, fellowships, or scholarships from Squaw Valley Community of Writers, Hedgebrook, Atlantic Center for the Arts, Prague Summer Program, Fine Arts Work Center, and Bread Loaf Writers' Conference. Nominated for a Pushcart Prize in 2005, her poetry has appeared in numerous journals and is featured on the recording WORD with the Jessica Jones Quartet and in the anthology and staged production of Fingernails Across A Chalkboard: Poetry and Prose on HIV/AIDS from the Black Diaspora.
https://queerculturalcenter.org/wp-content/uploads/2019/11/QCC-Logo-Updated.png
0
0
C Q
https://queerculturalcenter.org/wp-content/uploads/2019/11/QCC-Logo-Updated.png
C Q
2016-10-25 17:23:57
2022-05-11 02:43:49
Out of Necessity