Are you a virtuous woman? Do you intend to live a virtuous life in the United States? Do you know that you are at liberty now to go to the United States, or remain in your own country, and that you cannot be forced to go away from your home? Answer questions correctly and supply proper documentation to enter the spaces of Scenes Unseen…
This production invites you to reenact the dramas of race, queerness, and nationality at such sites as the 1931 La Placita immigration raid in Los Angeles; the San Pedro, California Detention Center that claimed Victoria Arellano's life; the commandeered military installation at Subic Bay, Philippines; a border-crossing played out by you, the audience; and much more!
Featuring drag legend Miss Barbie Q, featured in Lady Gaga's "Telephone" video; performer, alchemist, and writer Byron Jose; co-producers Irina Contreras and Nico Dacumos; genre-expanding choreographer Ms. Cherry Galette; couturier and idea man Diego Gómez; hip hop visionary Juba Kalamka; experimental dance-theater by Ri Molnar; milagros and stories by Angel of Change Bamby Salcedo; diasporic warrior Amitis Motevalli as Sand Ninja; poison cupcake McLendell "Skye" Silvano;  Kristina Wong, described as "brutal but hilarious" by East Bay Express; and up and coming Jill of all trades Zouzou.
Refreshments and discussion will follow the performance.
Biographies

Miss Barbie Q, photo by Austin Young
Miss Barbie-Q (Drag Queen, Entertainer, Singer, Actor, Comedienne, Writer, Doorgirl, Host, Producer, Dancer and Chorographer) has been recently featured in Lady Gaga's video "Telephone" with recording artist Beyonce Knowles. She has just wrapped the musical feature film "Leave It On the Floor" from Sheldon Larry Productions. Miss Barbie-Q has been asked to be in an upcoming Canadian coffee table book about drag queens soon to be released in Spring 2011. She is a contributing writer for various magazines including Odyssey and The Catalyst. She has just finished taking part in EatLACMA, a project with photographer Austin Young at the Los Angeles Museum of Art in November 2010.

Byron, photo by Alma Soto
Byron is a performance artist, alchemist, and writer. As an immigrant in Los Angeles, he engages in various endeavors to deconstruct, divert, and dictate norms, situations, vices, and discourse. Through his work, he presents byproducts struggling to be free. He uses video projections, his body, and ordinary occurrences in order to create pieces that combat monotonous expectations of art, while disregarding processes and form. Byron currently directs and produces Tranza; a performance art show in Los Angeles. He can be found at bars throughout the city, writing narratives and reflections on vapid gay lifestyles and practices as part of a personal collection. He can be contacted at Mactivism.com.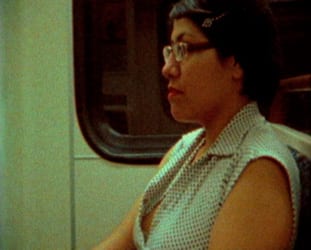 Irina Contreras, photo by Hilary Goldberg
Irina Contreras is an interdisciplinary artist, producer and writer.  Her individual and collaborative projects change form and medium but ultimately stem from a personal reflection of the collective experience. Her writing and photography has appeared in numerous anthologies, zines, public based projects and publications. In November of 2008, she was a resident artist at PA 61 in DF/Mexico City and at Kala Art Institute in Berkeley in 2009. She has shown and performed in venues and galleries such as 18th St. Arts Complex, The Lab, Tropico de Nopal, Redcat, Artists Televisions Access, UCLA as well as participating and programming several film and video based projects in Mexico and throughout South America. This is Irina's second-official NQAF and she is honored and excited to share this journey of Scenes Unseen with Mr. Dacumos and the cast and crew. She can be found at machinegunsteady.tumblr.com.


Nico Dacumos & Diego Gómez, photo by Irina Contreras
Child of a Manila-born Navyman and a central California Chicana, Nico Dacumos grew up in middle class, southern California suburbia, clinging to such influences as Public Enemy, lesbian romance novels, his parent's adult video collection, and Langston Hughes before surviving a New England women's college and then emerging in his early 20s as an angry brown transgender man with a message. These days, he tells stories grounded in body, memory, and personal and collective histories. He believes that speaking our truths is a path to our liberation, especially when those truths push the boundaries of comfort and assumptions around art, audience, performance, and identity. Since 2007, he has produced or performed in seven National Queer Arts Festival productions and proudly offers "Scenes Unseen" for 2011. He has performed regularly with the Mangos with Chili performance crew and recently represented for the Men's Story Project at UC San Francisco. His written work appears in Nobody Passes and Beyond Walls and Cages. Find him on Facebook or at nicodacumos.com.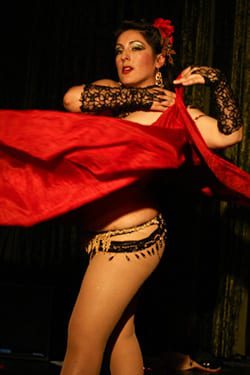 Cherry Galette, photos by Johnny Crash
Born into a family of migrant music makers, Ms. Cherry Galette is a Chicana and Moroccan interdisciplinary movement artist fusing dance, burlesque, text, theater and more to create post-colonial fairy tales of modern resistance that celebrate queer desires, histories, survivals, migrations, and revolutions. Drawing on strong dance technique of the Arabic and Latin diaspora, she has earned recognition for expanding the genre of burlesque to explore narratives of race, power, empire, and queer bodies in diaspora, and for presenting genre pushing work based in sultry, sacred, and profane fusions of traditional dance forms with story, burlesque and ultra-gay cabaret. Over the past 5 years, Cherry has produced and curated more than 60 productions for audiences across North America as both solo producer, and as Co-Director of Mangos With Chili, North America's only traveling QTPOC Cabaret. Please visit www.mscherrygalette.com for current productions and to learn more.

Diego Gómez, Photo by Jen Waldhaus
Diego Gómez is a freelance Art Director, Illustrator, Couturier, Performer, Idea man and more. A San Francisco native, his art & antics have been featured in Antebellum Gallery, Cocktailgate, East Bay Express, The International Latino Film Festival, MUNI, SF Weekly, Street Worthy, YO! Youth Outlook & World Of Wonder. Diego started his foray into comic books lettering The Adventures of Wonder Mark & Johnny Freedom, Pride High and Planet Gay XXXPress. Glamazonia: The Uncanny Super Tranny marks his debut as a comics artist. He is currently working on his first full-length graphic novel, Spicy, scripted by Dale Lazarov for Bruno Gmünder.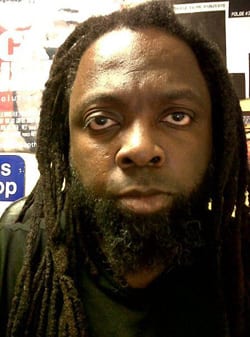 Juba Kalamka. Photo by Othear Kinney
A recording artist since 1988, Chicago native Juba Kalamka is most recognized for his recent work as a founding member of "homohop" crew Deep Dickollective (D/DC) and his development of the label Sugartruck Recordings. Noted for his dialogues on the convergences and conflicts of race, identity, sexuality and class in pop culture, Kalamka has written and illustrated articles for numerous publications and served as a speaker, panelist, and curator for organizations and conferences across the United States, Kalamka served as Festival Director for East Bay (Oakland) Pride (2003) and is the curator/director of PeaceOUT World HomoHop Festival (now in its seventh year), which features heavily in the Alex Hinton documentary Pick Up the Mic. Kalamka holds a BA in Art/Secondary Education from Chicago State University (1993) and completed an MFA in Poetics with emphasis in Queer Performance at New College of California in San Francisco in 2007.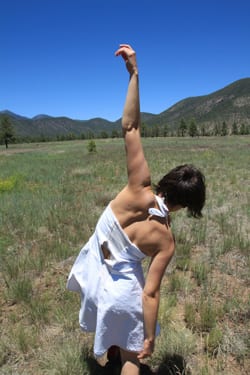 Ri Molnar. Photo by Kris Cruz
Ri Molnár is said to have danced in the womb, causing their mother to lose sleep flipping cassettes.  They began their formal dance training at the Fort Wayne Ballet School and continued to study with the School for Creative and Performing Arts in Cincinnati, Ohio and others. Their movement is influenced by butoh, contact improv and release technique, still finding depth in ballet, capoeira, traditional Hungarian dance and flamenco.  Ri has presented solo and collaborative work at Subterranean Arthouse, Mission Cultural Center, Station 40 and others. They also co-directed SpitFury: a queer feminist dance theatre troupe based in Flagstaff, AZ and was commissioned by Antioch College dance department as a resident choreographer.  Ri is not just a dancer though…they also love gardening, spinning yarn, making up songs, learning about herbs, and working with youth.  Ri thinks they make deeply personal, overtly political experimental dance-theatre with a sense of humor.

Sand Ninja, photo by Jonas Becker
Sand Ninja is a diasporic warrior who fights against neo-colonialism. During the day (and some nights) she is a professional Gold Digger. She hustles money from her adoring fans to fund her struggle against oppression and her war against bad culturally colonized fashion. Exile, her family debt, as well as financial and language constraints keep her isolated from her homeland, people and culture. She constructs an identity made up of her own melancholic recollections of her people as well as a pan-"middle eastern" look created by Western projections and stereotypes. It's difficult to pinpoint where Sand Ninja was born, but she stands for the freedom and liberation of her "people", be they South Asian, North African, etc…Her liberation strategy is "By any means" even if that means using her sexual powers. She is pushing XX age and still stunningly gorgeous, with a belligerent temper. Cultural critics have coined phrases about her such as "Sand don't crack" and "olive green is fighting mean". She works side by side with her partner Camel Toe to bring justice to the land and create dialogue to raise awareness on horrible crimes such as gentrification and criminalization of the poor to internalized colonization through grooming and surgery. Sand Ninja is a performative character of Amitis Motevalli. Transforming a derogatory name for Central, South and West Asian people, Sand Ninja is a sort of super sherHo, who uses her western constructed imagery and stereotypes as her superpowers.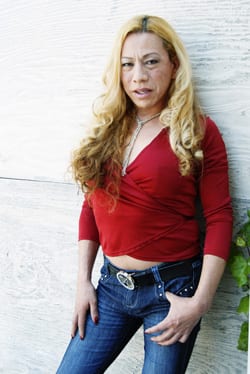 Bamby Salcedo. Photo Credit: Byron Jose
Bamby Salcedo is the HIV & Health Education Services Project Coordinator with Childrens Hospital Los Angeles. Ms Salcedo is a very proud Latina transgender woman and is the creator of the very first trans youth calendar, Angels of Change. Bamby has also being asked to speak at different protests and rallies as a voice of trans communities regarding immigration issues, marriage equality and HIV funding cuts in the state of California. One of her latest accomplishments has been to create a petition to Congress and our President for trans communities to be counted in the 2010 census, which is called "We all matter, We all count". In 2011 she was awarded the Sheila J Kuehl Trailblazer Award from the Stone Wall Democratic Club for her work in the community.

Jabez Zuniga, Clayton Shane Farris, Miss Barbie Q, Kristina Wong, photo by Diana Toshiko
Kristina Wong is a nationally presented solo performer, writer, actor, educator, culture jammer, and filmmaker. Described by the East Bay Express as "brutal but hilarious… a woman who takes life's absurdities very seriously," her body of performance work includes short and full-length solo performance works, outrageous street theater stunts and pranks, subversive internet installations, and plays and sketch comedy.  Her performances have been shown in spaces that include:  the Public Theater, REDCAT, Mark Taper Forum, Jumpstart Performance Company (San Antonio, TX), La MaMa ETC, the Painted Bride (Philadelphia, PA), Arsht Center for the Performing Arts (Miami), Coronet Theater (CBS showcase), and the Comedy Central Workspace among dozens of others.   She was awarded the Creative Capital Award in Theater and a Creation Fund from the National Performance Network to create her third full-length solo show, "Wong Flew Over the Cuckoo's Nest" exploring the remarkably high incidence of suicide among Asian American women in a world that's more nuts than we are. The performance was recently captured in Kristina's first ever concert film through the thoughtful direction of Michael Closson. The film website is flyingwong.com.  Her show "Free?" was also featured at Comedy Central's South Beach Comedy Festival in Miami. Kristina was invited as the alumna commencement speaker for the 2008 UCLA Department of English graduation. She is completing a novel started with the PEN USA Rosenthal Emerging Voices Fellowship. She is a freelance contributor to anthologies and magazines that include Playgirl Magazine. Her mail order bride website is www.bigbadchinesemama.com. Her website is www.kristinawong.com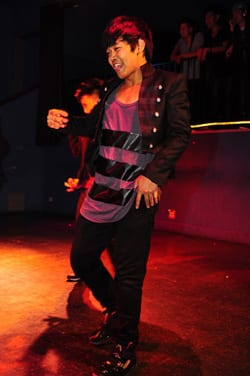 McLendell "Skye" Silvano. Photo by R. Sims
McLendell Silvano started dancing at the age of three. He is classically trained in ballet, contemporary, lyrical, jazz and hip hop under the arms of Debbie Allen Dance Academy, Millennium Dance Complex, and Ann Arbor Dance Classics. He moved to the bay area and joined DowneFX dance company and became an artistic director for the company. McLendell also was a part of the "Bakla Show" in 2010 produced by Bindlestiff Studio and hopes to do more productions with Bindlestiff. McLendell and his friends recently created their own dance company in January 2011, called Poisoned Cupcakes and he is excited to see what future holds for their company and for himself.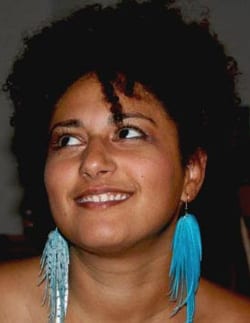 Zouzou. Photo by Pabitra Benjamin
Zouzou wears many different hats.  She is a dancer, performer, visual artist, student, poet, activist, cook, scholar, spiritual seeker and community member at large.  She currently lives in Oakland.  This is her first time dancing for an audience.
https://queerculturalcenter.org/wp-content/uploads/2019/11/QCC-Logo-Updated.png
0
0
C Q
https://queerculturalcenter.org/wp-content/uploads/2019/11/QCC-Logo-Updated.png
C Q
2016-10-25 17:11:20
2019-12-29 23:38:52
Scenes. Unseen