Slip back into a forbidden era. Re-imagine the Jazz age. Bawdy. Raunchy. Intellectually Stimulating!
Harlem's queer dandies meet dapper bulldaggers, sultry sirens mingle with soulful crooners; and cinematic truthtellers greet revolutionary poets in riotous splendor. Welcome to our queerest of queer Speakeasy.
From Langston's dreams deferred to the love affair of the Empress of the Blues; from La Bentley's tux and tails, to the liberating prose of Richard Bruce Nugent – this is Harlem's poetic rebellion.
Tonight, Queer Black luminaries commemorate our forgotten legacies. Tonight, we reclaim history and the urgency of our art and activism.
Celebrate Queer Harlem and join us for a glorious cabaret followed by sweet treats and libations.
Queer Rebel Productions is the creation of Kali Boyce and Celeste Chan. Our vision is to enhance the presence, visibility, and artistic excellence of new multidisciplinary work by intergenerational LGBT artists of color.
Find out more: www.queerrebels.com and http://www.facebook.com/pages/Queer-Rebels/202952816387774?sk=wall
| | |
| --- | --- |
| | |
| F BJ Browne (Stephfon BArtee) | Earl Thomas |
| | |
| Griot Noir | TuffNStuff |
About the curators: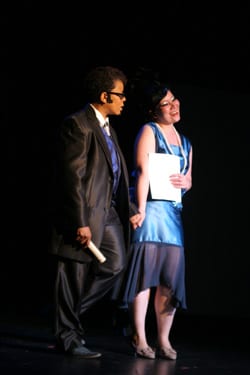 K. Boyce and C. Chan by Diana Martin
KB aka Kali Boyce is a Two-Spirit musician whose adventures have brought them from teenage punk band appearances at CBGB's in New York, to post-production audio for B-grade horror movies in LA, and on to solo Drag King blues performance as King TuffNStuff in queer San Francisco. In collaboration with Celeste Chan, Kali Boyce is the Artistic Director of Queer Rebel Productions. Queer Rebel Productions is a 2011 recipient of grants from the San Francisco Arts Commission, Zellerbach Family Foundation, and Queer Cultural Center. Find out more at www.kingtuffnstuff.com.
Celeste Chan is a queer Asian-American multimedia artist. Her recent projects include media and curatorial work for Queer Rebels of the Harlem Renaissance, and the film "Bloodlines" for the Walls project. She has performed and screened her work in the San Francisco Bay Area, New York, Vancouver B.C., and the Pacific Northwest. Find out more at: www.celestechan.com.
Biographies

Adee Roberson by Adee Roberson
Adee Roberson is a queer black writer and visual artist living in Florida. She believes in ART as a commemoration of the natural world and our ancestors. She creates through MAGIC, DREAMS, and INTUITION. As an independent, self-taught, mixed media visual artist, Adee has curated exhibitions and shown her art in numerous galleries and alternative media/art venues across North America and Europe.  Her rich mixed media paintings, drawings, photo images, and fabric collages are influenced by punk and hip-hop music, '60s and '70s African psychedelic art, animals, nature, and her own personal experience.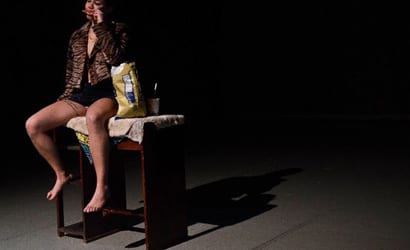 Anna Martine Whitehead by Robbie Sweeny
Anna Martine Whitehead uses video, puppets, sound, and movement to address queer, deracinated, disremembered histories. In a range of capacities – including burlesque performer, puppeteer, death metal drummer, lone wolf, and cowboy crooner – Anna Martine has shown and performed at numerous galleries, theatres, and backyards in the Bay Area and beyond (including Southern Exposure, Climate Theatre, SOMArts, and CounterPULSE in San Francisco, the Bronx Museum and Gallery The in New York, The High Museum in Atlanta, and galleri bob in Gothenburg, Sweden). Her work with Jesse Hewit/Strong Behavior recently garnered a Goldie Award in performing arts from the SF Bay Guardian, and her collaborative work has been noted in the San Francisco Chronicle, the New York Times, and LA Weekly. She is a recent graduate of California College of the Arts, with a Masters in Fine Arts, Social Practice.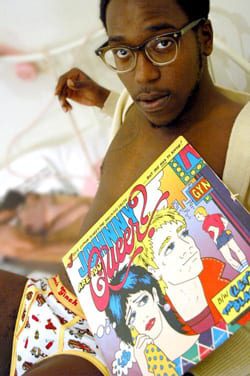 Brontez by Courtney Trouble
Brontez Purnell is a writer (Fag School, Maximum Rock n Roll) and musician (Younger Lovers, Gravy Train!!!). Most recently, he debuted "Free Jazz" and his experimental jazz company, Brontez Purnell Dance, at the Berkeley Art Museum this past February to rave reviews. Please welcome him for one night only – July 1st at "Queer Rebels of the Harlem Renaissance."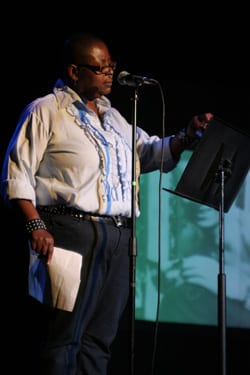 Crystal Mason by Morgan Weinert
After living in Berlin, Germany for 9 years, Crystal Mason returned to San Francisco to work for 11/2 years as the Executive Director at the Jon Sims Center for the Arts. In 2008 she co-produced and did the video for the multimedia theater piece Hey, Sailor.  Her last project in Berlin was a two-year long European Union funded film project dealing with multi-dimensional discrimination faced by lesbians of color and immigrant lesbians in Berlin. From 1997-2001, Crystal co-owned and operated Schoko Café, a women's art and culture center. In San Francisco from 1989-1995 Crystal was an AIDS activist and organizer working with ACT UP and the San Francisco AIDS Foundation in the Women's and Children's Program. From 1993-1995 she was the co-founder and co-artistic director of Luna Sea Women's Performance Space.  Crystal was also a regular behind the scenes and in front of the camera on Electric City Queer TV for several years. For the last 3 years Crystal has managed the art gallery at Black and Blue Tattoo.  

Earl Thomas by Karen Edwards
The story of Earl Thomas & The Blues Ambassadors begins at a historical crossroads where African rhythms merge with European folk music and where sorrow creates soul. Comprised of musicians from African, Asian, East Indian, and European lineage, the band fuses contemporary styles with rich melodies and compelling showmanship. Earl Thomas, who made his world stage debut in Switzerland at the Montreaux International Jazz Festival, has released fourteen critically acclaimed CDs and worked with such diverse artists as Elvis Costello, Ray Charles, B.B. King, Etta James, and Sir Tom Jones. Mr. Thomas comes from a long line of Tennessee bluesmen and his high-energy, theatrical performances form the heart and soul of his creative endeavors. From the band's first single "Standing In The Rain," to their newest release, "Introducing the Blues Ambassadors," Earl Thomas & The Blues Ambassadors evoke social commentary through traditional blues structures and vibrant, contemporary sound. www.earlthomasmusic.com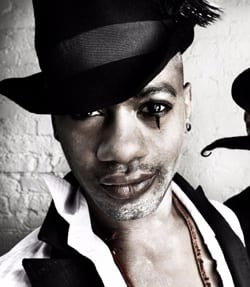 F BJ Browne (Stephfon BArtee) by Brian Kuhlmann
F. "B.J." Browne (Stephfon Bartée-Smith) learned to play the piano at the age of five by listening to the radio and replicating the music that he heard. The son of singer Lula Bartée, a lounge singer and background vocalist known for her work with blues, gospel, and jazz recording artists, Stephfon began playing alongside his mother at live music venues at the age of nine. At 13, he was recruited to perform with the "Ragtime Musical Revue" at Lincoln Center, NYC after performing with his mother at the Toronto Jazz Festival. He attended the Fiorello H. LaGuardia School of the Arts, focusing on vocal performance with an emphasis in Jazz; and performed with the European tour of "The Sound of America" before he was accepted to Julliard School at the Lincoln Center for Performing Arts and Tisch School of the Arts at NYU. After graduating from the DePaul University School of Music, Stephfon toured the United States and Canada with "Smokey Joe's Café," and later, "Ma Rainey's Black Bottom."
After relocating to San Francisco, Stephfon became an active member of the arts community. He performed at Theater Works, SFBoylesque, and Dark Porch Theater; and as a pianist in residency at Martuni's and the Sheba Lounge. He also took up a torch in the queer artistic community as an artist in residence at the former Mama Calizo's Voice Factory. During this time, Stephfon created and produced "Limelight: It's time we faced the music," which received acclaim for it's controversial subject matter involving queer people of color and modern minstrelsy.  He has performed at The Garage, SF Fringe Festival, SF MOMA, Yerba Buena Center For the Arts, ODC Theater, and Kaleidoscope Cabaret and other venues. Stephfon currently resides in Portland, Oregon where he is currently recording his first album. This spring you can catch him in Portland Center Stage's production of the Rodger and Hammerstein's classic Oklahoma, which will feature an all African American cast!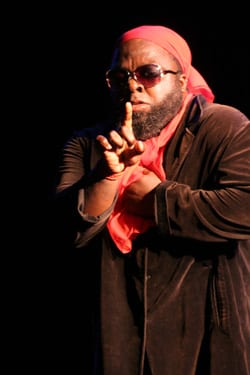 Juba Kalamka by Morgan Weinert
Juba Kalamka is most recognized as co-founder of "homohop" crew Deep Dickollective. He has been a speaker, panelist, and curator for numerous activist concerns, receiving a 2005 Creating Change Award from the National Gay and Lesbian Task Force. Kalamka served as director of the PeaceOUT World HomoHop Festival, which marked its seventh and final year in 2007 and featured in the documentary Pick Up The Mic. He later appeared in Good Vibrations' G Marks the Spot (2003), Orgasm!: Faces of Ecstasy (2004) and toured with the 2006 Sex Workers Art Show. His second solo recording, Ooogabooga Under Fascism, will be released in Fall 2010 concurrent to his feature in the lyric compendium The Yale Anthology of Rap  (Yale University Press). He lives in Oakland with his primary partner of seven years, their daughter, a neurotic standard poodle and a lovemongering lesbian cat. He practices polyamory both locally and globally. www.jubakalamka.com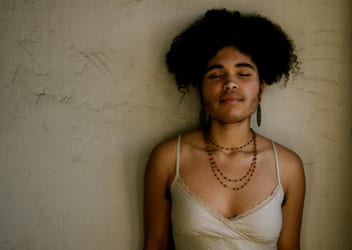 Kirya Traber by Bethanie Hines
Kirya Traber is a nationally awarded spoken word artist, a two-time 4-H Club president, a biracial child of a Swiss-German single mother, a social misfit, a country girl in the big city, and one of the most compelling poetic voices of her generation. In 2004 she became a Brave New Voices Slam champion and has since featured at the United States Mayors Summit, Green Build International, and on tour across the nation with Sister Spit, among other notable stages. Her publications include Tiny Little Maps to Each Other by First Word Press, Other Tongues: Mixed Race Women Speak Out by Inanna Publications, and her self published chapbook, black chick. She is currently working with Youth Speaks Inc where she develops and facilitates spoken word workshops for Bay Area teens, and she plans to attend graduate school for an MFA in acting next fall.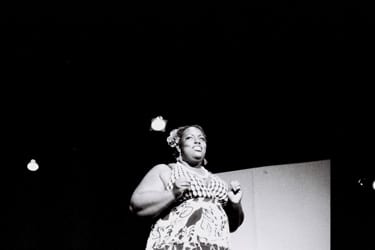 Griot Noir by Diana Martin
Griot Noir (Vanessa Rochelle Lewis, Jessica Jordan, and Chanel Timmons) is comprised of three queer, black, femme, and feminist women. They integrate poetry, theatre, movement, and music to create conscientious afrocentric feminist performance art.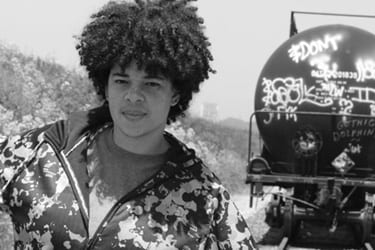 Oriana Bolden by O Bolden
In lieu of corporate jobs and/or the academy, oriana bolden makes films, videos, photographs, seriographs and trouble where and whenever she can. Until such time as there is an end to oppression of all peoples of the world, the vast majority of her work centers on people trying to get free. bolden prefers not to identify as a "starving artist," but, proudly proclaims that she is a (underpaid and overworked) justice-seeking hustler with an artistic flare. Swing by www.projectprojecting.com to see what she is up to at any given moment.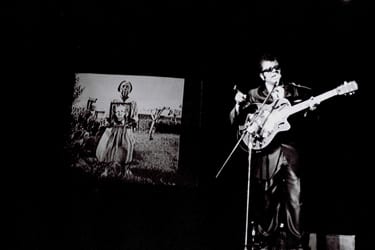 TuffNStuff by Diana Martin
TuffNStuff, the last Delta Drag King, is the love child of Eartha Kitt and Howlin' Wolf. TuffNStuff has been named "a trailblazer," "a trans hero," and "a Dapper Daddy." S/he is dedicated to bringing the legacy of gender bending Blues to our community. www.kingtuffnstuff.com.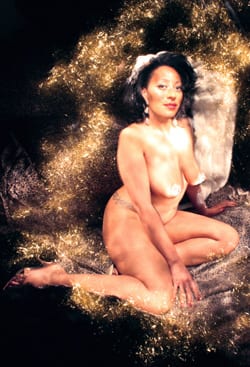 Ms Vagina Jenkins by Linda Costa
Since 2003, The Lady Ms. Vagina Jenkins has been gracing stages from London, England to Paris, and Kentucky with her sensually charged brand of classic burlesque. The Lady Ms. Vagina Jenkins uses African American vernacular dance, the conventions of vaudeville and lowbrow theatre as well as feminist/ queer performance techniques to create art that defies audience expectations and re-defines the boundaries of the modern art making process. The Lady Ms. Vagina Jenkins has been called "Atlanta's Best Burlesque Dancer", a "big, bold and beautiful treasure."  Critics have called her "Sophisticated", "Complex", and "Unique." No matter the adjective, The Lady Ms. Vagina Jenkins is sure to knock your stockings off!

m.a. brooks
m.a. brooks creates textured landscapes of movement/gesture/text and is interested in reconstructing cultural memories from black, queer and colonized histories. In San Francisco, m. a. has been dancing with aerial dance company, Fly Away Productions, since 2009 and in June of 2010 was granted a Djerassi choreographer's residency. m. a. also organizes Dirtstar 2011: Take Root! featuring radical perspectives on queer sustainability.
https://queerculturalcenter.org/wp-content/uploads/2019/11/QCC-Logo-Updated.png
0
0
C Q
https://queerculturalcenter.org/wp-content/uploads/2019/11/QCC-Logo-Updated.png
C Q
2016-10-25 23:59:56
2019-12-13 06:21:03
Queer Rebels 2011