All our lives, we've been rocked by women.
Cradled. Shaken. Moved.
In a multi-media performance, Sarah Bush Dance Project takes you on a powerful journey paying homage to the fearless women from the Women's Music Movement and beyond. Mixing the poetic, sexy sounds of pioneers from Cris Williamson to Joan Armatrading to P!nk, Rocked By Women is a story of gratitude, love, courage, and building community through the art we create.
Featuring award-winning choreographer Sarah Bush, stirring sound score, and striking iconic imagery, Rocked by Women is more than a night of dance. It's a night of history reminding us of the courage it takes to live fully as women, as mothers, as daughters, and—especially—as artists and leaders.
Rocked by Women celebrates the radical artistic expression that transcends gender barriers to sustain today's queer artistic community and inspire generations to come.
Don't miss the post-show panel and discussion with revolutionary artists and leaders.
BIOGRAPHIES

Sarah Bush: Photo by Cheryl Mazak
Sarah Bush – Artistic Director and Choreographer
San Francisco Chronicle Dance Critic Rachel Howard called Sarah Bush "a force to be reckoned with", and in 2010 Curve Magazine recognized Sarah Bush for her emerging, innovative choreography with a coveted "Curvey Award."   Founded in 1997, the Sarah Bush Dance Project is celebrated for its fierce dancers who take any performance – from "Jewels in the Square" at SF's famous Union Square to The Cal State East Bay Queer Dance Fest to Olivia Cruises – and rock the audience with their high energy, highly accessible and always transformative performances.
Founder and Choreographer Sarah Bush creates her inimitable style of movement combining years of training in modern, hip hop, taiko drumming, jazz, Afro-Cuban and more.  She has performed in the Bay Area for more than 13 years, selling out residency performances at Shotwell Studio with her innovative "In the Wake of: HOME" and three nights of "L1FE: Mine. Yours. Ours." at Dance Mission Theater. SBDP was also a featured company in the 2007 Women on the Way Dance Festival.  Sarah Bush and her company bring dance to the masses performing everywhere from nightclubs to church services, and collaborating with local queer/trans crew Freeplay Dance Crew.  She is a member of the groundbreaking dance company, Dance Brigade, and has worked with Oakland based AXIS Dance Company and the Destiny Arts Center.
"Rocked By Women" is more than another powerful SBDP performance.  This show is Choreographer Sarah Bush's personal and artistic tribute to the women musicians who have defined her as a woman, a daughter, a lesbian, and an artist.  "Rocked" pays homage to the women musicians – introduced to her as toddler by her Mother – who rocked her first steps, and the musicians who inspire her movement today.  "Rocked" is more than a night of dance, it's a night of history, reminding anyone watching of the courage it takes to fully live as women, as lesbians, as mothers, daughters, and most especially – as artists.  "Rocked" is a reflection on past women revolutionaries, and a prayer for those to come.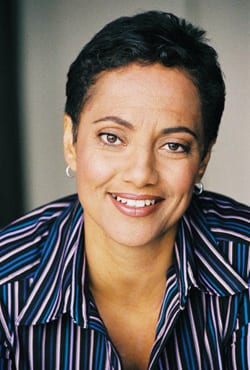 Aarin Burch – Video Producer/Director/Editor
Aarin Burch is an independent film and video producer that has worked internationally and through out the San Francisco Bay Area for the past 20 years. Some of her earliest films SPIN CYCLE and Dreams of Passion have shown at numerous festivals throughout the world. Other titles, Michigan Fever, a film about the Michigan Woman's Music Festival and Reflections Unseen, a documentary about the lives of eight HIV+ African American women have received notable recognition. In 2007 Aarin completed My People Are, Youth Pride in Mixed Heritage a 20-minute educational film exploring youth, race and identity.
Since 1991 Aarin has worked for a number of clients producing, editing and directing promotional and concert videos and documentaries as well as creating trailers for several feature length films. From 1991 to 2008 Burch worked for Olivia Travel producing all of their travel and marketing videos. Most recently Aarin completed LIFE and Little Girl, two music videos for Joshua Klipp that aired on MTV's LOGO TV. Currently Aarin is working on a full-length documentary film about the life and art of renowned artist and designer Laurel Burch. Aarin received her B.F.A. from the California College of Arts and Crafts in 1990 and served on the Frameline Board of Directors from 1995-1999. She is currently a member of the Bay Area Video Coalition and Bay Area Women in Film and Television.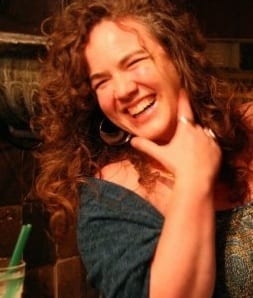 Nova Brown – Writer 
Nova Brown has been a writer and editor for 13 years, working with everyone from techies to foodies, developing stories, ghost-writing speeches, and producing anything you can print or read for the likes of TiVo, Gallo Winery, and Olivia Travel among many clients. To balance out her "day job," she collaborates with artists and musicians to help craft their stories and promote their art. As the producer and script-writer of a video of the history of Olivia Music and the women's music movement of the 70s, she also directed comedian Kate Clinton in the recording studio. She also writes for lesbian-focused publications, highlighting the contributions of community leaders and role models. Her involvement in "Rocked by Women" includes concept and story development,  storyboarding, content production, and marketing and copywriting.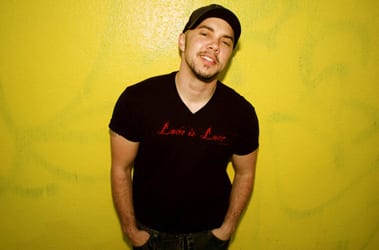 Joshua Klipp – Music Editor
Joshua Klipp edits music and creates sound scores for numerous local dance companies and choreographers including: Sarah Bush Dance Project, Freeplay Dance Crew, Zari Le'on Dance Theater, and Funk4Soul.  Since 2000, Josh has combined his musical background and technical skills to weave audio backdrops for these groundbreaking artists, and he is privileged to work once again with innovative choreographer, Sarah Bush, on Rocked By Women.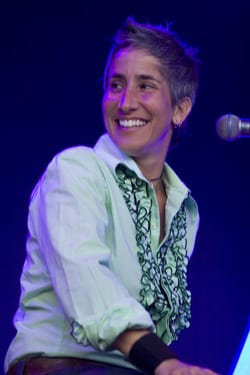 Julie Wolf – Music Consultant
Julie Wolf is a multi-instrumentalist, composer, teacher, music director and touring musician. She has appeared on stages around the world and on numerous critically acclaimed recordings. She has collaborated with Ani DiFranco, Indigo Girls, Maceo Parker, Amy Ray, Bruce Cockburn and Sia, among many others. Currently she tours primarily with Indigo Girls. She lives in Oakland, California and runs Sonic Wolf Productions, a music house specializing in composing for film and moving images, sound design, music editing and record producing. Most recently, her original music for the 2009 documentary Sweet Crude was nominated for Best Original Score at the Maverick Movie Awards and received special mention in Variety. In Spring 2010, Julie joined forces with Berkeley Repertory Theatre as Music Director for the 2010 world premiere of Girlfriend, a musical written by Todd Almond and directed by Les Waters, featuring music by Matthew Sweet.


Photo by Cheryl Mazak
Dancers

Chelsea Anderson was first introduced to dance during her years as a competitive gymnast. She is currently attending San Francisco State University for a BA in dance, and has has done a wide range of performing, including professional football halftime shows, theater performances, club scene gigs, and commercials. Her favorite style of dance is hip hop.
Joi Cox has a childhood background in ballet and jazz and, as an adult, she has spent considerable time dabbling in hip hop, modern, burlesque, male impersonation, and belly dance (tribal & classical) on the East and West coasts. By day, she teaches introductory Philosophy and is a Wellness Coordinator at a program for adults with Asperger's Syndrome.
Ingrid Elizabeth is an artist and performer of many medium-including music, dance, theater, burlesque, and spoken word–and has been gracing the stage for over 20 years. For the last 5 years, her "day job" has been touring and performing across the country as the leading lady in sultry folkroots band Coyote Grace, rocking the vocals, upright bass, ukulele, and percussion.

Amie Miller first stepped onstage in youth roles in the San Francisco Ballet's Nutcracker and A Midsummer's Night Dream. She has studied at the London Contemporary Dance School in London, England, at the Alvin Ailey American Dance Theater school in New York City, and with many notable teachers in the Bay Area. Amie is a certified Pilates instructor and has taught dance and Pilates for the Destiny Arts Center in Oakland, CA.

Sonya Smith loves movement, in all its forms, on the ground, in the air, and all the places in between. Smith's own choreography combines aerial apparatus, props, modern dance and contact improvisation. Her half evening work Falling Away was presented at CounterPULSE and, through the Women on the Way Festival, at ODC.
https://queerculturalcenter.org/wp-content/uploads/2019/11/QCC-Logo-Updated.png
0
0
C Q
https://queerculturalcenter.org/wp-content/uploads/2019/11/QCC-Logo-Updated.png
C Q
2016-10-25 22:47:54
2019-12-13 06:21:03
Rocked by Women