The Legend of Hedgehog Boy

A comic come alive! Artist Rene Capone reads his graphic novel The Legend of Hedgehog Boy live on stage with a stellar cast of local talent. Multi media visuals from the book project on screen as the cast reads the story about an abused child who rejects the role of victim and enters an alternate reality where he sets off on a dangerous adventure of revenge, self discovery, and ultimately love. a place deep in the forest where boys wear animals on top of their heads and talk to unicorns. In a battle between good and evil, our hero Hedgehog Boy, must rescue his kidnapped boyfriend and luckily make some new friends along the way. The characters, all lost or runaway children, go through magical transformations from with in as they march onward to help hedgehog boy save his friend. In doing so, they just might save the universe too.
Biographies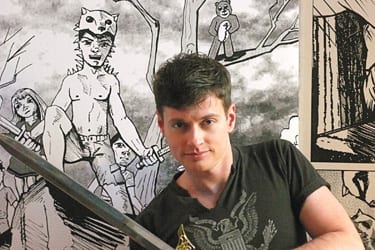 Rene Capone is a figure painter well known for his depiction of whimsical, homosexual, and erotic themes; often used together. His work has drawn global notice. Capone was born in Niskayuna, New York, one of four children and is of no relation to mobster Al Capone. Although he thinks that would be very cool. He attended the Parsons School of Design in Manhattan on scholarship for artistic merit. Upon completion in 2000, he moved to San Francisco where he currently resides. Private collectors of Capone's work can be found in the United States of America, Canada, Sweden, England, France, Japan, and the Netherlands. In 2007 Capone came out as being a victim of severe childhood abuse. That same year Rene started working on "The Hedgehog Boy" series as way to heal and deal with severe mental trauma from that abuse. With his current work he would like to empower abused children of any age to rightfully stand up for themselves, love one another and dare to be better than what the world gave them. He splits his creative time between graphic novels and the figure paintings that made him famous. He self published "The Legend of Hedgehog Boy: book 1" in 2008 and then followed it up with "The Legend of Hedgehog Boy: Book 2" in 2010. With the conclusion of his story now complete in book 3 he is actively seeking away to bring his completed vision into the broader publishing world. Other publishing achievements include: Stripped: The Illustrated Male from Bruno Gmunder. His work has been featured in XY magazine, Blue, Joey, Y&A, as well as being featured widely over the World Wide Web.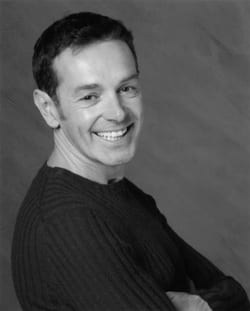 Arthur Scappaticci's theater credits include lead roles in The Cripple of Inishmaan at the Magic Theater, Mrs. Warren's Profession, A Midsummer Night's Dream, Amphibians, Juno and the Paycock, The Fox, The Real Inspector Hound, The Changeling, Abigail's Party, Mary Barnes and The Collection by Harold Pinter.  Singing credits include principle roles in the musicals A Man of No Importance (Dean Goodman award, principle performance), Oliver!, and My Gypsy. He has also appeared in the musicals Watch Me Shine, and a workshop production of Gideon's Dream both by Adam Sandel and Richard link.  Arthur won critical acclaim for his portrayal of multiple characters in The Importance of Being Oscar by Michael MacLiammoir (Dean Goodman Choice Award, solo performance) and in the hilarious adaptation of Spike Milligan's Puckoon at the Edinburgh Fringe Festival. Film credits include Of Men and Angels, Tucker, Unsolved, A Matter of Time, and Contractor's Routine, which opens at the Lumiere Theater this June. Arthur can also be seen in the feature film, The Green Bandits, which premieres at the Castro Theater this summer.  Arthur has been featured in television commercials and print in Europe, Japan and the U.S.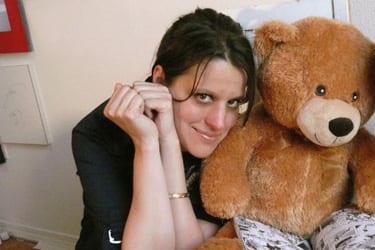 Flower Diamond hails from Hawaii but has called San Francisco home for over seventeen years. She is a notorious community organizer, artist, and author. She is noted for starting the "Sugar Valley" collective, a supportive network for artists within the Castro street fair modeled after Harvey Milk's original vision of what the Castro street fair was meant to be. In 2009 Mrs. Diamond wrote "BiliniKat And The Adventures Of The Big Red Ball", a novel empowering young girls to believe in the power within themselves. Mrs. Diamond is also credited for discovering Frank the Bear among Rene's sketches and is responsible for half the imagery in the Hedgehog Boy saga. Flower Diamond's ideology that "everyone should be invited to the party " is a notion strongly embedded within the Hedgehog Boy story.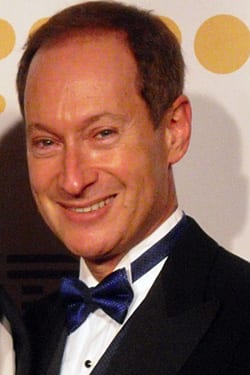 Adam Sandel is a playwright and screenwriter who's had more than 20 productions of his plays performed including the musical Watch Me Shine, which received Certificates of Honor from the California State Assembly and the City and County of San Francisco. His play Love Life was developed at L.A.'s Mark Taper Forum Lab and produced by Paramount's Chicago Theatre Project. His play This is Not My Life was developed and presented as part of the Magic Theatre's New Voices West Program. He recently completed the screenplays Dave's New World and My Wild and Secret World.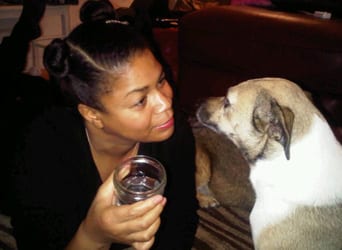 Nikk Wooldridge has lived in San Francisco since 1994. Originally from LA, she says she San Francisco. Kikki also loves Paris, dogs, sci-fi, going out to dinner, movies. She is a self described nerd and comic book fan. A former flight attendant she use to read comics on the plane. Batman, Superman, Justice League of America, X-men. She also has an obsession with anything involving Alice in Wonderland and the Wizard of Oz. Kikki spend her days in the park with her pooch Corey and Bartend at night. She comments "Life is a peach."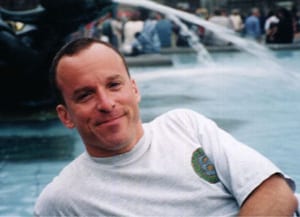 Jim Provenzano is the author of three novels, a few plays, and more than 1,000 news and arts articles, spanning from 1989 to next week. He is happy to be putting his theatre background to good use for René's show.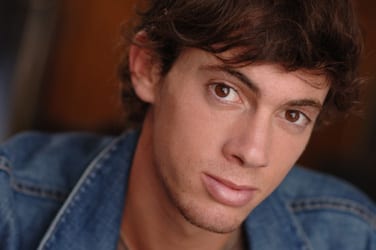 Dan Tracer attended the School for Theater, Film, and Television at UCLA before migrating north to cooler climes. He works as an editor and writer, and enjoys finding time to dive into performing projects on the side. He loves to explore and discover, seeking out the unknown wherever life's winds may carry him.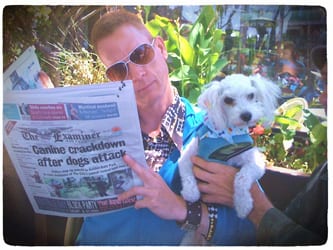 Photo by David and Cindy Lou Who by Mark Trevorrow
David Faulk is a painter and performative artist who grew up in New York but has resided in San Francisco for the last 20 years. In both his paintings and collaborative work with his partner ( photographer Michael Johnstone) and the Verasphere Group he explores the puzzling misadventures of his disadvantaged characters, the outcomes of which range from exhilarating triumph to dismal failure. With a keen eye for sardonic humor and inner turmoil his work joins the bizarre to the everyday and leaves the viewer to draw his or her own conclusions about what they see. He creates the colorful sculptured outfits and wigs of the inexplicable Mrs. Vera from inexpensive, discarded materials to be used as graphic 3-dimensional props for the 2-dimensional photo series Mrs. Vera's Daybook, an on-going project begun in 1994.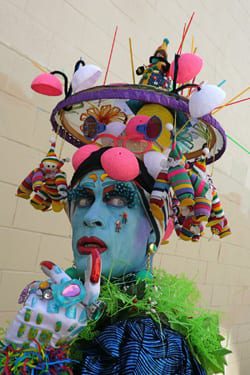 Photo by Michael johnstone
Mrs. Vera (That's me!) is a local fixture-like color soaked hambone who has been irritating everyone in San Francisco for the past 20 years with her pathetic shenanigans and constant need for attention, spoiling picnics and street fairs with her completely unrequested presence and noisy, focus-pulling costumes. She paints (I do!), as well as constructing the apparel worn for the photograph series titled Mrs. Vera's Daybook (begun in 1994) , a documentation of her infinite variety by her partner-in-whatever, the inestimable Michael Johnstone. Contact with her is alleged to be contagious, but harmless, and preferably avoided. While meaning your planet no harm, she is nonetheless wearing that embarassing dress someone's mother wore to a P.T.A. meeting back in 1972, and is responsible for an occasional fabulous traffic accident. She is excited to be working with Mr. Capone on the staged reading of his graphic novel, but remains a little depressed by just how many crayons her box is missing :(
https://queerculturalcenter.org/wp-content/uploads/2019/11/QCC-Logo-Updated.png
0
0
C Q
https://queerculturalcenter.org/wp-content/uploads/2019/11/QCC-Logo-Updated.png
C Q
2016-10-25 18:03:20
2019-12-13 06:21:04
The Legend of Hedgehog Boy