Love, Humiliation & Karaoke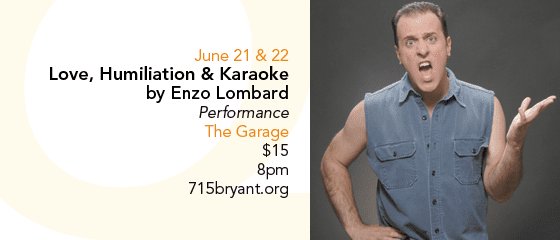 Directed by W. Kamau Bell. Enzo really does not want to end up cut into little pieces and deposited on the side of the highway.  Yet he's risking just that by driving 600 miles to meet SanDiegoDavid, a complete stranger he met online. Enzo's not looking for love, he's just way behind on an assignment for his Berkeley psychic class. Even though "David" could very well be a serial murderer, to Enzo he's still safe. Safe because David is a non-contender for dating, having three out of five of Enzo's rigid non-negotiables. To be safer still, Enzo's meeting him at a Del Taco parking lot. But when he arrives at their meeting place, the guy's car is left parked across the entryway making it impossible for anyone to get in or out.  David's psycho potential has just gone through the roof. Who does that? What has Enzo gotten himself into? This is humiliating, and even worse, TOTALLY UN-PSYCHIC.
June 21-22 @ 8pm
Love, Humiliation & Karaoke by Enzo Lombard
$15
715Bryant.org
TIckets: BPT http://www.brownpapertickets.com/event/369103
ARTIST BIO
Kamau Bell is currently the creator and star of the FX Series Totally Biased with Kamau Bell, produced by Chris Rock, in addition to featured guest appearances on Rachel Maddow and Craig Kilborn. Totally Biased in based on his provocative and acclaimed solo show "The W. Kamau Bell Curve" and he has directed the solo shows "don't make me look too psychotic," which ran for a total of 81 weeks, and the critically praised, "I Heart Hamas: and other things I am afraid to tell you." Kamau is the leader and head teacher of The Solo Performance Workshop, home to a new generation of emerging performer/writers.
www.enzolombard.com
https://queerculturalcenter.org/wp-content/uploads/2019/11/QCC-Logo-Updated.png
0
0
C Q
https://queerculturalcenter.org/wp-content/uploads/2019/11/QCC-Logo-Updated.png
C Q
2016-09-26 20:45:23
2019-12-13 06:30:13
Love, Humiliation & Karaoke