Edmund White
Friday, June 9; 8 pm
Location: Harvey Milk Civil Rights Academy, 4235 19th Street @ Collingwood
Tickets: $15, Qcc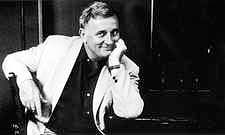 Join us for a reading and book signing with author Edmund White as we celebrate the release of his new work, The Married Man.
EDMUND WHITE was born in Cincinnati in 1940. He has taught literature and creative writing at Yale, Johns Hopkins, New York University, and Columbia, was a full professor of English at Brown, and served as executive director of the New York Institute for the Humanities. He now teaches at Princeton. In 1999 he was made an Officier de l'Ordre des Arts et Lettres. For his book Genet: A Biography (1994), he was awarded the National Book Critics Circle Award and the Lambda Literary Award. His other books include Forgetting Elena, Nocturnes for the King of Naples, States of Desire: Travels in Gay America, A Boy's Own Story, Caracole, The Beautiful Room Is Empty, The Farewell Symphony and a short-story biography of Proust. He lives in New York.
Edmund White's new book, The Married Man
"Written with characteristic brilliance and the particular flair for poetic detail that so distinguishes his books, Edmund White's new novel is arguably his best to date. . . . The great elegist of an AIDS-devastated generation . . . far from being a depressing book, White's novel is marvelously life-affirming. . . . Nobody since Proust has written so well of Paris and paid such scrupulous attention to visual detail. . . . In short, nothing less than brilliant."
–Jeremy Reed, Times of London
https://queerculturalcenter.org/wp-content/uploads/2019/11/QCC-Logo-Updated.png
0
0
C Q
https://queerculturalcenter.org/wp-content/uploads/2019/11/QCC-Logo-Updated.png
C Q
2016-12-29 19:59:21
2019-12-13 06:05:07
Edmund White